2019 Climbing Shoe Review: Lowa Rocket
Snug Life
Heading out the door? Read this article on the new Outside+ app available now on iOS devices for members! Download the app.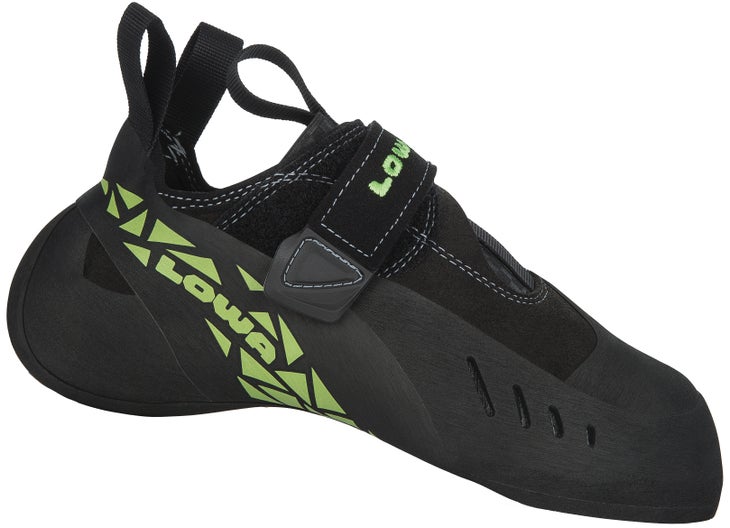 Fit
The Rockets favor low-volume feet, especially with the high rubber side rands, which, while they protect the foot, don't let bigger dogs expand to fill the shoe. If you have narrower feet, wear your street-shoe size; for wider feet, consider coming up a half-size.
Specs
Downturned, asymmetrical shoe. Split-grain leather upper; unlined footbed; slingshot rand; 3 mm Vibram XS-Grip sole.
Pros
Stiff, supportive, hyper-precise edging shoe that homes in on micro-footholds. Shoe is overbuilt and highly durable, and will hold up to punishment. Rocket stays anchored on foot thanks to narrow entry and well-designed single Velcro strap. Redesigned heel was much improved at hooking.
Cons
Smearing can be tricky—"hard to drop the heel and maintain contact with the rock," said our tester. Rubber rands felt restrictive for our tester's wide feet, and he noted an air pocket over his big toe even with a snug fit.
Field Notes
While we have reviewed the Rocket previously, in both its Velcro and lace versions, Lowa's rock shoe was retooled this year with a better-fitting (read: narrower) heel that also reinforms the last, powering up the big toe. Climbing on the Flatirons' 30-degree overhanging $00pr kr33m (5.13a), which requires precise toeing into small sandstone divots and credit-card edges, our tester's foot "felt like a dart flying toward the bullseye of every hold"—the Rocket, with its aggressive fit and stiff, predominantly rubber build, went gangbusters on micro-holds (though was only middling for smearing). As for hooking and scumming, our tester noted "rubber in all the right places"—though maybe too much of it—and a well-fitting heel that, once he got used to the ridge along the spine, hooked well and helped him redpoint the climb, with its notably heel-intensive opening crux. With its sock-like fit and narrow foot opening, the Rocket stayed firmly anchored and had killer arch support, which makes it a great choice for gymnastic sport, bouldering, and gym climbing.
Available at