The TC Pro, Great All-Arounder Just Got Greater
Updated gear often takes a step back from the original design, but this redo of a classic is actually better.
---
Basics
Stiff, all-around rock shoe ideal for all-day wear, long routes, face climbing and cracks, and even El Cap.
---
Pros
• Comfortable and high-performance
• Added durability in rand, laces, tongue
• Tongue less bunchy than original model
• ECO leather upper with metal-free tanning
• Amazing performance on technical granite
Cons
• Not ideal for steep bouldering and sport climbing
• Heavy, clunky
---
Price
$199
Brand
La Sportiva
---
Heading out the door? Read this article on the new Outside+ app available now on iOS devices for members! Download the app.
I generally hate it when a tried-and-true rock shoe gets "updated." Why? Because the new model is often inferior (if it ain't broke, don't fix it!). So when I heard that the TC Pro—the shoe worn by Tommy Caldwell on the Dawn Wall and Alex Honnold on Freerider—had been remodeled, I wept. Why on earth would La Sportiva alter the shoe that's graced the gnarled feet of countless top-notch tradsters? After all, the original design was comfortable, durable, and jammed better than anything on the market, yet also had the uncanny ability to edge up techy face and smear on holdless slabs. Many considered the TC Pro the most comfortable, high-performance boot ever made.
Well, I'm here to tell you my tears were for naught! The new TC Pro is the same granite boss as ever, including its last and flat, stiff outsole (4 mm Vibram XS Edge). You can expect identical (read: outstanding) performance on face holds. Plus, its new ECO leather upper—which, like the first generation, molds to one's feet—is made without heavy metals during tanning. And the shoe boasts added durability vís-a-vís small, yet meaningful, improvements.
One ubiquitous issue with the original model was folding and/or rand delamination on either side of the forefoot from jamming. I checked out my old TC Pros, and sure enough, every pair suffered from varying degrees of rand peel. While usually not a showstopper—I haven't yet retired a pair because of this—it was certainly a weak point that slightly decreased jamming performance and increased discomfort. So testers paid special notice with the new version. Now, the medial rand, protecting the instep, comes up to the laces (about twice as high as the OG model), while the lateral rand is a single strip of rubber (the original was two), which eliminates the rand edge that used to fold. Further, when you're jamming, the laces at the instep are better protected from fraying by a thin leather sleeve covering the lower eyelets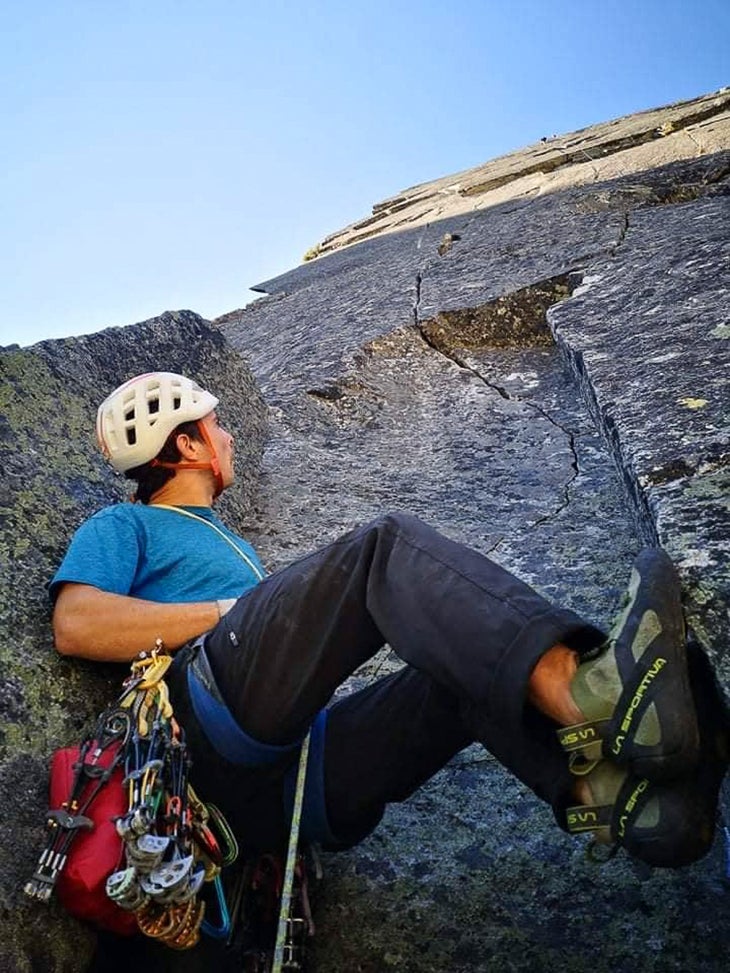 The result? One tester logged more than 20 days in Squamish and the Canadian Rockies with no sign of rand peeling or premature wear. I jammed my own pair in the sandstone of Eldorado Canyon, Boulder Canyon's granite cracks, and a wide roof crack on Tensleep limestone—and boom! zero folding. While any shoe stuffed and torqued in cracks will eventually wear out, the new TC Pro is more bombproof than ever.
That said, bombproof shoes don't exactly feel light on the feet. One critique of the TC Pro, old and new alike, is its tendency to feel clunky—it's a stiff shoe with some heft, an "old-school" feel that takes some getting used to. But it wouldn't stand up to granite cracks for very long if it weren't .…
Another improvement is the addition of leather on the tongue toward the toebox, which enhances durability and helps prevent tongue bunching—yeah, it's a thing—when putting them on. Testers felt that the sizing ran the same as ever: Size down for improved micro-edging and up for more jamming and all-day comfort. Finally, a new olive tone and the subtly embossed topo lines of Dawn Wall and Freerider upgrade the look.
In a twisted world where "update" often equals "RIP," the new TC Pro is a rare, superb exception.