Review: Our Top 5 Smart Climbing Ropes
Smart features increase performance and safety on these five cords
Heading out the door? Read this article on the new Outside+ app available now on iOS devices for members! Download the app.
This story originally appeared in the July 2015 issue of our print edition.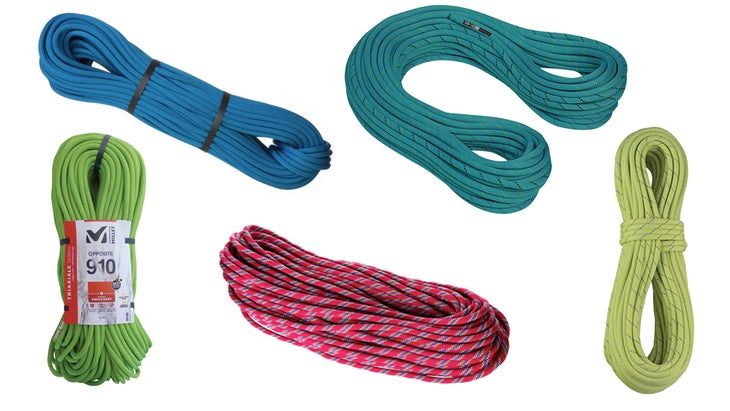 The hot trend in ropes for the past few years was ever-smaller diameters. Now, with lines reaching what seems to be the terminus of the skinny spectrum, manufacturers started looking to innovate in different ways. The result is ropes with defining features that significantly improve safety or customize the cord for a very specific purpose. That means extra peace of mind when you're five pitches up a long alpine route or heading out for a day of projecting—all without adding any weight. Our testers have been thrashing these five ropes from Quebec to California with more than 100 days of testing, and while no two ropes are exactly the same, each of them proved the value of their higher-intelligence features.
Superior Sport
Review: Millet Opposite TRX 9/10
With this dedicated sport climbing cord, you get two ropes in one. Fifty meters of 9mm rope merges with 30 meters of 10mm cord to create an ideal projecting line. Read the full review.
Safer Workhorse
Review: Mammut Sensor 10
This workhorse rope has a surprisingly simple but effective system for alerting the user when he is reaching the middle or the ends, and its continued high-level performance after a year of use speaks to its durability. Read the full review.
Armored Core
Review: Beal Tiger 10 Unicore
The Tiger has been a sport and trad climbers' favorite for years, but the addition of Unicore means big wallers, alpinists, and even route developers can find peace of mind and extra durability in high-rockfall arenas. Read full review.
Rope-End Awareness
Review: Edelrid Python TouchTec 10mm
A durable, reliable, basic rope with one very important safety feature that's excellent for beginners and veterans alike. The fatter diameter means a longer lifespan and the price is more than budget-friendly. Read the full review.
Lightweight & Core Protected
Review: Edelweiss Performance 9.2 Unicore
A cut sheath on this skinny and super-light cord doesn't mean disaster anymore with the added protection and stability of Unicore, and its rating as a single, half, and twin means you can use it almost anywhere. Read the full review. 
Understanding Dry Treatments
Until this year, rope dry treatments were sort of a crapshoot. There were no standards or regulations in place, so a manufacturer could slap any ol' chemical on there, call it "dry treated," and up the price. The problem became that some ropes were very water resistant and others still absorbed water like a sponge. The UIAA, climbing's safety regulation association, decided to create a standard, so when you see "dry treated" on a tag, you will know exactly what it means. From here on out, look for the UIAA Water Repellent label to find ropes that have met the new standard. A rope must absorb no more than five percent of its weight in water after being lightly abraded and then submerged for 15 minutes. Many ropes that are currently on the market and labeled dry absorbed 20 to 40 percent of their weight. Our past research indicates that a wet nylon rope loses 15 percent of its strength and has up to a 70 percent reduction in dynamic performance. What this means for you is the knowledge that all dry-treated ropes will have a high level of water resistance, but it could also mean that prices across the board go up as companies must improve their dry-treatment processes to hit the UIAA's numbers. —Kevin Corrigan