Why Rocky Talkies Are a Mandatory Part of My Multi-Pitch Rack
Heading out the door? Read this article on the new Outside+ app available now on iOS devices for members! Download the app.
I remember the first time I encountered rock climbers using walkie talkies. I saw a father and son using them in the Gunks. God, that's a good idea. I should get some, too, I thought to myself. I then promptly forgot all about it and never acted on that impulse.
Why don't more climbers use walkie talkies on climbs? In areas that I like to think of as having "multi-pitch trad cragging"—places like the Gunks or Eldorado Canyon—crowds, combined with the high stakes of miscommunication, are a dangerous mixture. Direct, unconfusable communication—where you can hear your partner whether she is 20 feet above you or 200; a way to filter out all the noise of other parties, whether it's windy or dead calm—is invaluable. I know this in my bones. So again, why didn't I buy walkie talkies in my earlier years of climbing? Part of me just didn't want the hassle of having to find something appropriate and make sure it was good enough for my purposes, of having to jerry-rig some system to keep it on me during a climb.
That's no longer something anyone as lazy as me has to worry about. I recently acquired a pair of Rocky Talkies—walkie talkies designed with climbers and other outdoorsfolks in mind—and I'm a changed man now. I've used them for missions of all sorts, from Eldo adventures to ice climbing to big alpine traverses, and I can honestly say the benefits of walkie talkies are even greater than I anticipated, the advantages far outweighing any disadvantages.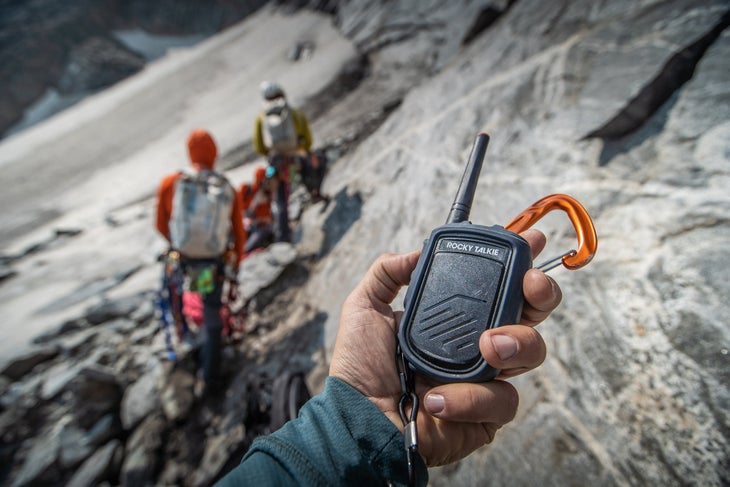 Firstly, the Rocky Talkies are light, weighing just 4.8 ounces (136g). If you were reluctant to use them because you were envisioning some brick that would weigh you down, rest assured the Rocky Talkies are far from a burden.
Secondly, the attachment system is simple and reliable. The back of the unit has a thermoplastic loop through which a Mammut wire-gate carabiner (included!) fits snugly. For me, I got the most benefit out of the Rocky Talkies when I was climbing in an alpine setting with a backpack on, so that I could clip this carabiner directly to the pack's shoulder strap. In this configuration, you can simply push the talk button, tilt your head toward the Rocky Talky, and you're golden. If you don't have a pack, you can clip that secure carabiner to a harness loop. In this case, since you'll need to unclip the unit in order to bring it closer to your mouth, there is also a back-up leash: in case you fumble the radio, it's still attached to you and not going all the way to the ground. (The carabiner on the back-up leash is more akin to one of the non-rated souvenir carabiners that have "Not Intended For Climbing" stamped on their sides, so it truly is just to prevent you from losing the unit when you have a case of the dropsies.)
The performance of the Rocky Talkies are excellent.The company says they have tested the units successfully at distances over 25 miles (with clear sight lines). For technical climbing, you'll probably never need more than a rope-length of operational range, so that's way more than sufficient. When I used the Rocky Talkies in the Cirque of the Towers, in Wyoming's Wind River Range, even weaving in and out of gendarmes on Wolfshead peak, when my partner and I were out of sight of each other, the Rocky Talkies delivered our voices clearly to each other.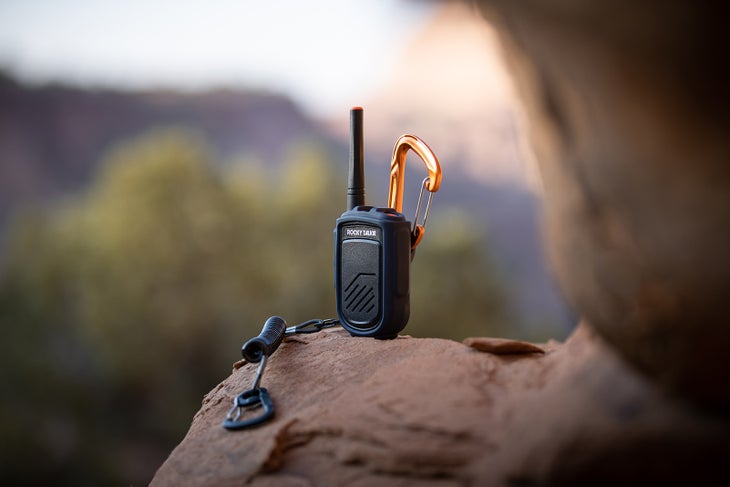 The Cirque underscored the value of the Rocky Talkies to me more than any other location in which I used them. The winds were at times so strong that I couldn't hear my partner's words even when he yelled them at me from 15 feet away. We found ourselves using the Rocky Talkies for even simple, nearby communications, to make sure the messages were delivered clearly and so we wouldn't have to yell.
The materials used in the Rocky Talkies are rugged. The thermoplastic shell can take a beating. And the LED display on the front is "shatterproof," according to the makers; having dropped it at camp several times, and dragged it up chimneys, I buy it.
Finally, the battery life on these are great. They have built-in rechargeable (via mini USB-C) Lithium-ion batteries. We kept the Rocky Talkies switched on for our entire 15-hour day on the Cirque Traverse, and there was still over half the battery life left (visible on the LED display). The batteries also perform well in cold weather. I used them on some frigid below-freezing days while ice climbing, and was impressed with how they always stayed powered up (even while my cell phone died from the cold).
The Rocky Talkies are $110 each, but there's no reason that they shouldn't last you a long time. For me, they're worth the price: they've fast become an indispensable part of my kit.
Read More Reviews: