Review: Scarpa Booster S Climbing Shoe
Heading out the door? Read this article on the new Outside+ app available now on iOS devices for members! Download the app.
This story originally appeared in the October 2014 issue of our print edition.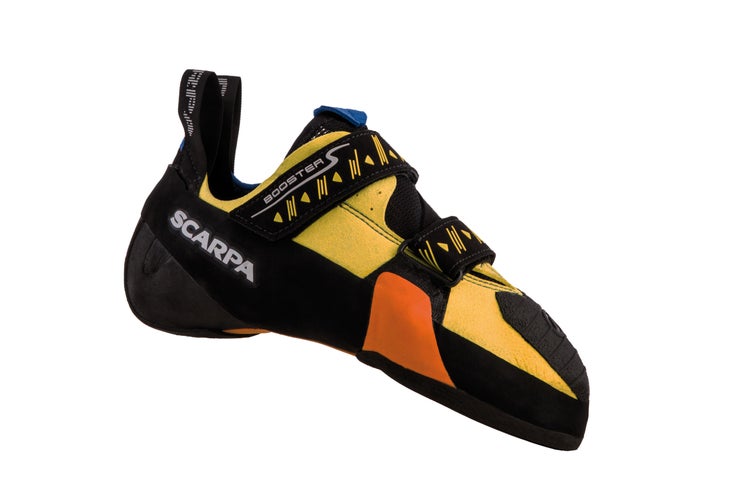 Performance
"These are like a decked-out Formula 1 race car—they just scream performance," one tester said after using the Booster S on roofs in Wild Iris, Wyoming, and American Fork Canyon, Utah. "The ultra-downturned platform and perfectly chiseled toe combined with ample rubber on the top of the forefoot and a suction-cup heel make this a masterpiece of a rock shoe. It has ruined me for all other shoes." Testers found the toe to be very sensitive (especially compared to the manufacturer's other high-performance shoes, which are stiffer) and the midsole incredibly flexible, which together made finding the sweet spot on the tiniest nubs and toeing in hard on steeps quite easy. Proprietary Tri-Tension Active Randing places a piece of rubber on the midsole that funnels power and precision from the sides and the back of the foot to the forefoot and toe, without sacrificing any flex or sensitivity. "The amount of power my toes get is unbelievable, considering how lightweight and minimalist this shoe is," another tester said. The two Velcro straps dialed in a great fit—better than other Velcro shoes in the test—thanks to the design that places one strap low over the top of the foot and one high, with opposite tightening directions, meaning one closes on the right and one closes on the left. Con: Price is high.
Profile

Conclusion
If your project is past vertical, in a cave, has a roof—this is the shoe for you. A sensitive and precise toe sits in front of a flexible midsole that offers maximum torque, which then leads into a narrow, snug-fitting heel that's wrapped with a band of rubber that pushes power to the toe.
$175; scarpa.com
Further Reading
Review: Our Top 11 Rock Climbing Shoes