Edge Where You Want with Scarpa's Vapor Lace, Field Tested
Scarpa's stiffest, most supportive shoe, the Vapor Lace, is an edging machine.
Basics
Scarpa's stiffest, most supportive shoe, the Vapor Lace, is an edging machine. Its tensioned heel disperses pressure away from the Achilles; dual-density rubber toe patch provides precision, grip, and malleability in equal amounts; and a welded TPU construction ensures a consistent shape over the life of the shoe. It's slightly downturned and asymmetrical with a full-length sole, finished with 3.5 mm of Vibram's stiff XS Edge rubber.
---
Pros
Supportive on small foot holds  // Stiffness reduces foot fatigue on long multi-pitches  // Toe patch is protective for crack climbing and super sticky for toe hooks and heel-toe cams // "PAF" heel system takes the pressure off of the Achilles while micro edging // Feels light and airy, especially with the newly breathable tongue
Cons
High-volume toe profile doesn't slip into thin cracks well  // Its stiffness makes it difficult to toe in and "grab" marginal footholds on steep terrain  // Oddly long laces
---
Our Thoughts
If your vertical (or slightly off-vertical) project has micro edges, divots, foot jams, toe hooks—or any other element of vert-climbing trickery—the updated Vapor Lace is a worthy tool for the job. The shoe is as stiff as Scarpa makes them, but just a hair less than what we've found with other edging shoes currently available. A soft M50 rubber toe patch provides protection and a technical leg up for granite-weirdness, and the "PAF" heel takes the heel-biting edge off of rope-stretching pitches—or on day-stretching multi-pitches.
---
Size Reviewed
41
Weight
230g; 8.1oz (1/2 pair size 40)
Price
$195
Brand
Scarpa
---
Heading out the door? Read this article on the new Outside+ app available now on iOS devices for members! Download the app.
As you can tell from the stats above, there's a lot of tech going on in Scarpa's updated Vapor Lace. The updates, while relatively minor, are important tweaks to an already-great shoe; a shoe which we gave rave reviews to two years ago, and that remain as relevant as ever today. But I have to be honest: shoe-tester that I am, I am a climber first, and if I bring a rock shoe up a hard-for-me route, it's not to "test"—it's to give me any possible advantage to succeed. And that's why, while climbing on Washington Pass's Thin Red Line this summer, I almost didn't bring the Vapor Lace.
First, about my testing: I used these shoes for two steady months of mainly granite crack and face climbing, with a couple days of techy limestone, quartzite, and gneiss thrown in to round things out. Throughout this time I also tested the new Katana Lace, a fantastic edging shoe itself, and I often climbed the same pitch twice wearing both pairs. The Katana Lace is stiff, downturned, and, most importantly, has a very pointed and low-profile toe. In Squamish, where I primarily climbed, many of the crags and multi-pitches are vertical or less, which means there are a lot of fun, "hard" routes that have thin, tips-crack cruxes. This is where I began to pick sides in my shoe testing, as, compared to the Katana Lace, the Vapor Lace has a noticeably taller toe profile, which I struggled to slip into 0.2–0.4-sized cracks.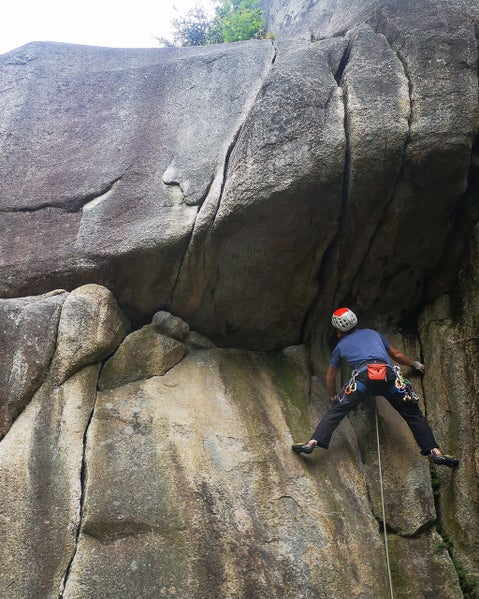 But Squamish has more to offer than just finger cracks, of course, so I kept at the Vapor Lace and brought them up steep corners, roof cracks, offwidths, techy faces, and, crucially, pitches with side-to-side crack switches. Here, they began to shine.
D2 rubber toe patch
Perhaps my favorite part of the Vapor Lace is its ingenious toe patch. Scarpa merged two types of rubber into the same sheet while they were still in liquid form, and when the rubber set they became married to the same piece—without a seam or delamination-prone edge to tear them apart. Around the toe rand, the stiff rubber guarantees precision while micro edging, and a softer rubber traces the top of the foot. This yellow rubber is more pliable, to accommodate your scrunched-up toes, and sticks like duct tape to toe hooks.
Many crack-climbing shoes don't have a rubber toe patch (Maestro Mid, TC Pro, Katana Lace, etc.) and this is a shame. The toe patch inspired confidence while hooking on a balancey right-to-left crack switch, while resting on heel-toe cams in a roof crack, and while steadying my deadpoints with a toe drag. It also provided a degree of protection while jamming hand cracks. (The main downside to the toe patch, and why I'm sure it hasn't become a staple for other models, is the increased volume for jamming thin cracks.)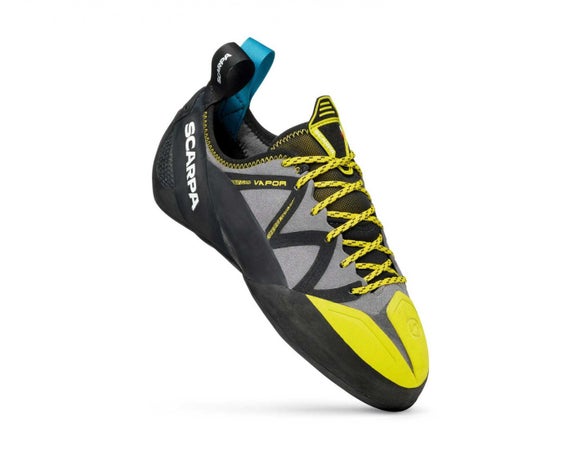 Sensitivity
For such a stiff shoe, I was surprised to find the Vapor Lace to actually be softer than the Katana Lace. Its thin (3.5 mm) XS Edge sole is likely the culprit (compared to KL's 4mm) and I grew to love it. Sometimes—in fact, most times—micro edges are not positive edges. They are sloping nubs, dimples, knobs and a slightly softer shoe can actually be better to feel those horrendous feet and adjust your weight accordingly. This 3.5 mm rubber was especially effective in steep friction corners, where I wanted to bear down on micro edges on occasion, but also needed to drop my heels and stick as much rubber as possible onto the slick granite.
Why I (almost) didn't bring the Vapor Lace
After climbing all kinds of terrain in the Vapor Lace, I felt like I had a solid idea of where the shoes excelled and where they felt short. So while packing my mini haul bag the night before Thin Red Line (a tough route for me, with two 5.12 pitches and four 5.11), I figured I would only bring the Katana Lace. One of the cruxes is a roof, I thought, of course I'll want their downturn. And the other crux is a stem corner…probably lots of small edges to exploit. But, truthfully, just the thought of spending all day in those sized-down weapons made me whimper, and my partner suggested I bring the Vapor Lace too, to wear on the easier pitches. So I started the day in the Vapor Lace—but I never swapped them out.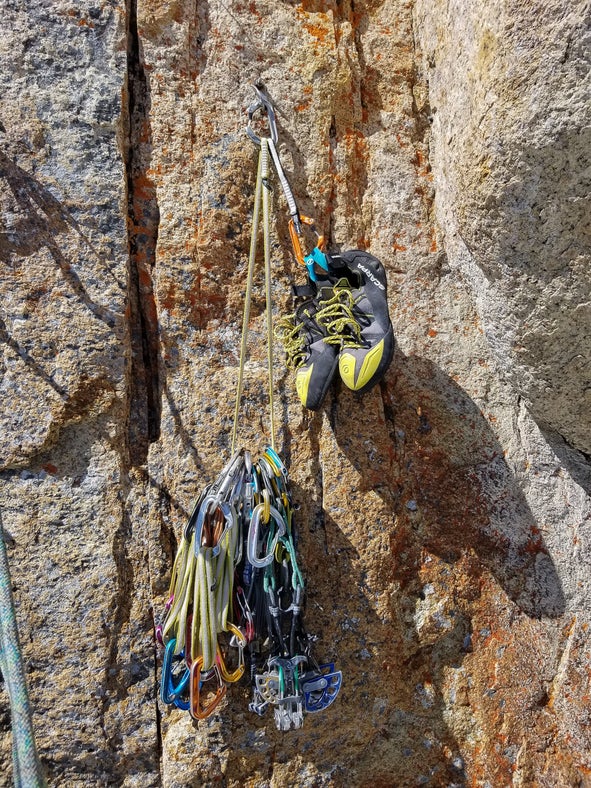 I plodded up the opening 5.10 slab, smedging and edging with confidence, and kept them on for the first 5.11: insecure laybacking to pass multiple small roofs. The shoes felt intuitive, like I could edge and press on whatever I wanted, yet they provided a degree of sensitivity while stemmed out on smears. More pitches flew by, and though I took my shoes off at each belay (they were performance fit, after all) I happily cinched them tight again and again. Scarpa's Pressure Absorbing Fit (PAF) is likely to thank here, which splits the slingshot rand around the Achilles to maintain tension without the ache, something that I didn't think was possible for nine pitches of off-vertical techy granite. By the time I arrived at the hardest pitches, I had reached a better understanding of the Vapor Lace's abilities, and I didn't think to swap them out. I stemmed, edged, and toe-dragged up the first 5.12 corner, and slotted a double toe hook beneath the second crux roof, spanning out to better holds, while locked in with the M50 toe patch. 
I didn't redpoint this pitch, I should note, but the Vapor Lace certainly wasn't the thing holding me back. It edged, smeared, and hooked admirably, and I (unfortunately) couldn't blame my performance on the footwear. Maybe it was the weight of those extra shoes in the haul bag.
---
Anthony Walsh is a digital editor at Climbing.