Review: Tension Simple Board
Heading out the door? Read this article on the new Outside+ app available now on iOS devices for members! Download the app.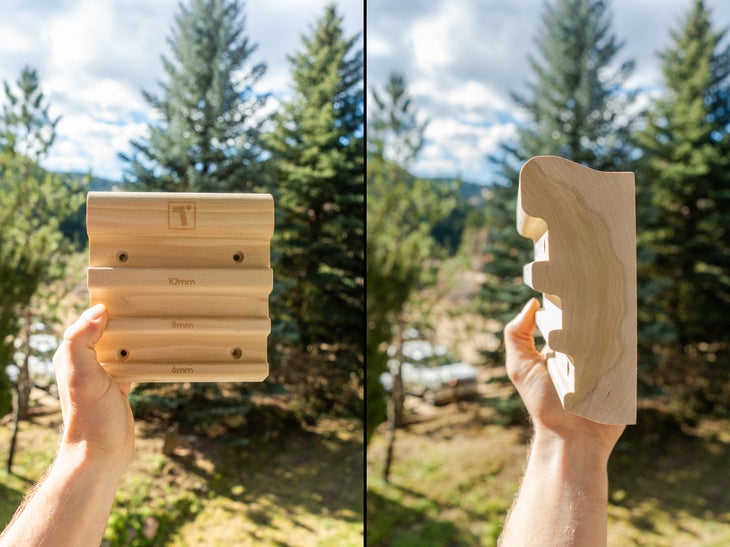 The Simple Board is a modular hangboard system designed to take you back to the basics of training. No unnecessary edges and no pockets—what you get is a simple cut of wood with three or four edges depending on which model you select. To break it all down:
The J2015 has a large top hold for warming up and pull-ups, and tapered 20mm and 15mm edges. Both the 20mm and 15mm edges are labeled for reference.
The J1086 has the same warm-up jug but then boasts a 10mm, 8mm, and 6mm edge in place of the 20mm and 15mm edges; these are also labeled for quick reference while training.
Both models come in either a solid board that's 22 inches long or in pairs that are 5.5 inches long each. (The solid board starts at $85, while the paired mini-boards start at $50.) I trained on both the J1086 and J2015 blocks, and added the optional end caps. These pieces of machined metal attach to your board ends to offer additional hold selection and training options, boasting a flat space to attach any Tension hold that's 5 inches or less in diameter. This allows you to attach crimps, slopers, and pinches, helping you train specialized grips as needed. Another added bonus is that the end caps are tilted to allow your wrist to operate at a neutral angle. This means you won't incur wrist pains when training compression holds or doing weighted hangs.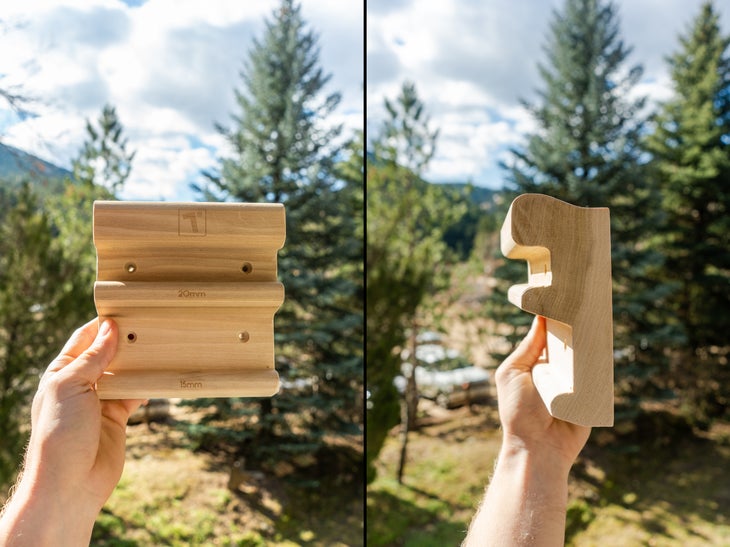 Basically, as my testing revealed, Tension Climbing has built the hangboard you need, not the one you want—this hardcore, spartan tool makes you check your ego at the door, and that's what I've loved about it. The tapered edges make each hang more difficult than it would be using an incut or flat edge. Tension added the taper to keep the edge comfortable and not bite into your skin, allowing you to hangboard multiple days in a row or after a climbing session that's worn down your skin. The taper also lets you train two- and three-finger hangs without the need for a pocket—on other boards, with flatter or more incut edges, trying to train "pockets" this way would often create biting at the crease in my fingers or even open splits. But on Tension's Simple Board, I was able to hangboard at least a little bit every single day without feeling like I was overworking my fingers. (While hangboarding every day seems like a recipe for disaster, my approach was very different than a normal hangboard session—I wasn't trying to beat my pulleys into submission but rather increase strength and endurance through gradual daily work, like a jogger running at a casual pace daily versus a sprinter who may need a day to recover before running at top speed again.)
I enjoyed the versatility of the Simple Board as well. Although it isn't covered in edges and holds, I never felt a need for something more than it provided. And I was able to easily adjust it to my needs. For example, I mounted the modular blocks to form a hand jam between them, letting me work one-armed hand-jam hangs. And I was able to create a compression hold by pairing the end cap with a smaller, flat edge to mimic my boulder-problem project.
I would recommend the Simple Board to anyone who's serious about getting stronger—at any skill level. For most people, I'd suggest the pair of J2015 blocks with the end caps, as the 8mm and 6mm edges on the J1086 are just insanely small unless you're climbing at an elite level. Also, I preferred the blocks over the single, 22-inch board because of their versatility—using the blocks kept me from being limited to the 20mm and 15mm edges (if you only own the J2015) as I progressed. I am excited to see how the climbing community reacts to this simple tool and the dramatically different approach this board takes vs. your standard hangboard.
$50–160, tensionclimbing.com