Review: The North Face Chalk Bag Pro
Heading out the door? Read this article on the new Outside+ app available now on iOS devices for members! Download the app.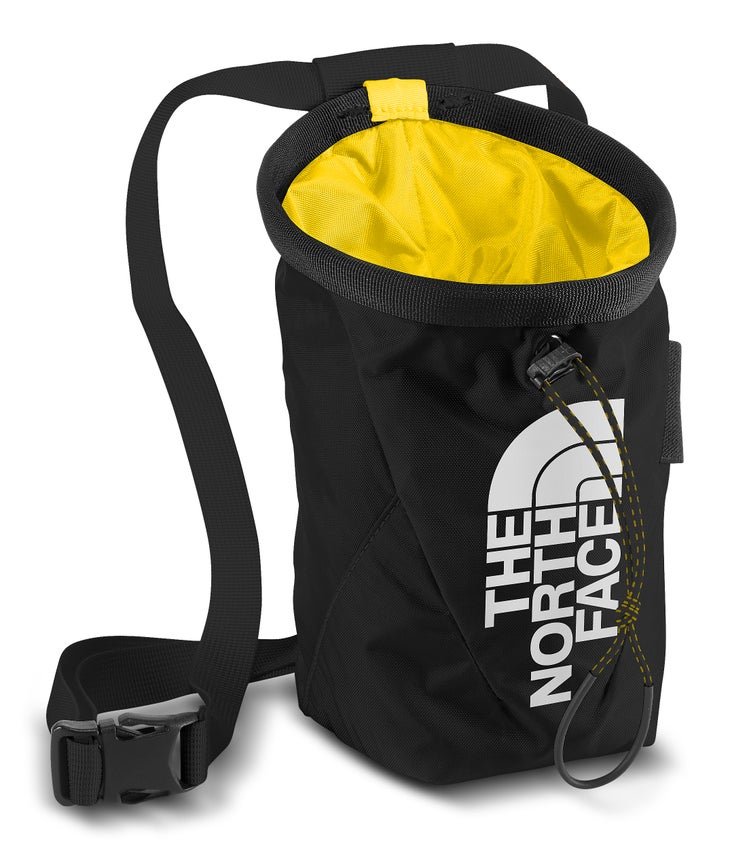 The North Face has been in soft goods since forever, with a reputation for hard-wearing, well-built climbing and alpine apparel. They've taken their trademark approach—and ubiquitous logo—ever closer to the hardware market with the new Chalk Bag Pro, a light (4 oz), bomber versatile little chalk bag.
Chalk bags have one primary function—to dispense chalk—which they all do reasonably well given a wide-enough opening and deep-enough interior. I give the Pro high marks in both respects. It's got an ergonomic cant to the opening—high in the back, where it contacts your back, and low in the front—and a wide, circular mouth with a stiff brim that made it very, very easy to dip into, with zero snaggage or fuss (unlike our current president, I have big hands, so this can be an issue). Clearly, some thought went into how climbers access their chalk, and into how to make our precious powder more accessible. The bag is also deep, with a soft, fleecy lining; it was big enough to hold a block-plus of chalk, which is good for mad chalkers like me or times when you need a lot of powder on hand, like marking bolt placements or chalking new holds on fresh routes or boulder problems.
Other than that I constantly lose them at the rock gym, my biggest issue with the chalk bags I've owned is that eventually the pull strings get manked or the toggle breaks, and what should still be a viable bag ends up in the landfill, even if the body is still in perfect condition. I mean, really, how many chalk bags should you have to buy over a lifetime? Here's where the Chalk Bag Pro shines: the pull string is bomber 2.5mm polyester, hard-wearing as heck and with a rubberized guard on the bight you tug on to tighten the closure—kind on your fingers and protective against wear. Meanwhile, the toggle is a tough, low-profile nylon clasp that held up nicely to the rough use dished out trad climbing in Eldo (thrashing up flaring slots) and bolting and climbing new routes in Boulder Canyon. After a couple months of use, I'm not seeing the usual entropy I've seen with other bags that foretell their imminent demise. It's nice seeing TNF's bomber construction brought to a seemingly simple item that has, for years, been mostly underbuilt relative to the real-world demands.
Meanwhile, the bag body itself is stonker, made of carbon-coated Shredstop fabric that holds up nicely to rock abrasion. An elastic toothbrush sleeve and wallet-sized zipper pocket round out the package. For a bomber, well-built, ergonomic chalk bag, especially for climbers who like to batter and thrash, have sharp rock at their local area, or go often into the jagged heights of the alpine, the Chalk Bag Pro is a solid, trusty companion.
$25, thenorthface.com