Review: The North Face Women's Beyond the Wall Jacket
Heading out the door? Read this article on the new Outside+ app available now on iOS devices for members! Download the app.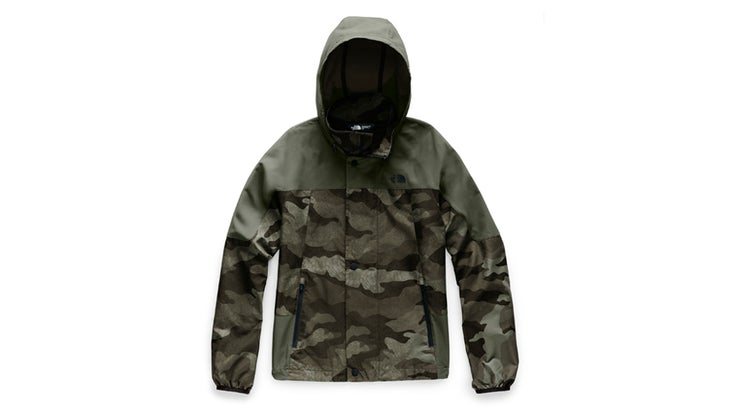 The North Face Women's Beyond the Wall (BTW) jacket is designed for the active life. Lightweight yet sturdy, it has been serving me well as an outer layer for keeping the chills at bay while also never allowing me to get too hot. Plus, the camo coloring makes me feel stealthy while moving through the woods en route to the cliffs.
At my current home in the High Rockies at 9,000 feet, summer never arrives the way I was accustomed to growing up in Philly. During my childhood summers, I'd almost always leave the house in shorts and a tank top without a single extra layer. No rain in the forecast and you had no problems! Alas, this is not the case in Colorado, especially at higher altitudes. I cannot think of a single instance in Summit County when I have worn shorts for an entire day without either regretting it or having to change into pants and/or a shell. Only a fool would venture farther than their front yard without at least one extra layer.
This is where the Women's BTW jacket comes in. The lightweight, water-resistant polyester comprising the shell stops the wind and will protect you from a light rain, thanks to the FlashDry coating. It is also incredibly breathable, so unless the sun is on full blast or you are truly working up a sweat, this jacket will keep you cool. Two small ventilation holes can be found below the armpits to further enhance breathability: I've found a distinct lack of moisture in this area, a fact that I attribute to this extra ventilation. It should be noted that the lightness comes at a cost—the jacket is only water resistant, not waterproof, and will get waterlogged if the precipitation is steady. Still, even after getting soaked, the BTW jacket will be completely dry 10 minutes later—with the Rockies' monsoonal storms coming seemingly out of nowhere, I've come to trust this jacket to keep me warm and dry during a full day of climbing.
The material is another major draw. Worn over a tank top, the 100 percent polyester has been soft against my skin, especially notable since the BTW jacket is unlined. The ample fit also makes it easy to wear over bulkier layers. Paired with a sweater, sweatshirt, or long-sleeved T, the BTW jacket remains loose, allowing for great movement. Plus, coupling this jacket with a cozy sweatshirt creates a truly pleasant combo that will keep the chills and wind where they belong—outside your clothing.
There are a few other climber-friendly features worth mentioning. Two easy-access side toggles let you cinch the hem, which was a nice feature on multi-pitch climbs—I could wear the jacket outside/above my harness without it getting in the way of my gear. The snug-fitting hood, while not large enough to accommodate a climbing helmet, also has a toggle system that lets you tighten it around your face in case of inclement weather. On the sleeves, tight elastic cuffs do a good job of slippage when you raise your arm. Finally, the collar is separate from the hood, a fantastic feature that keeps your neck warm even when the hood is down.
The BTW jacket is the perfect layer to put on between send attempts. As mentioned above, I also wore it on a multi-pitch route. Consistent with this spring, the weather that day was chilly, cloudy, and threatening rain and snow. Although it ended up being a beautiful day, it never really warmed up and I ended up wearing my BTW jacket throughout the entire climb. I layered it with a puffy, a long-sleeve tech shirt, and a T-shirt, a combination that kept me warm but didn't restrict movement. That day of using the BTW jacket on the wall backed up what I had already been thinking—this light, versatile, all-around shell is an excellent addition to any woman climber's closet.
Available fall 2019.
$140, thenorthface.com