Review: YETI LoadOut GoBox 30
Heading out the door? Read this article on the new Outside+ app available now on iOS devices for members! Download the app.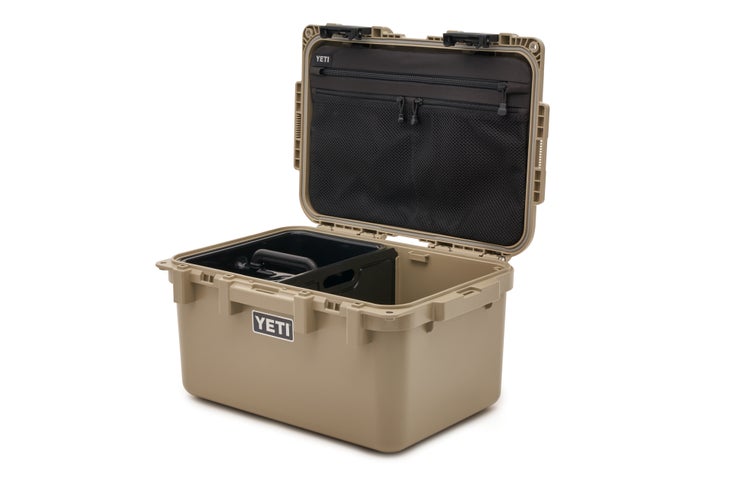 Prior to the YETI LoadOut GoBox 30, I was king of the milk crates. My climbing gear was a knotted mess of carabiners, cord, and slings in plastic crates on my bedroom floor—I would reach in for an ATC and pull up a 12-pound rat's nest of trad pieces and quickdraws. The LoadOut GoBox is a nearly indestructible tackle box that has completely revolutionized my gear storage and organization. A removable divider separates the box in two halves—one half perfectly fits my rack, and in the other half I keep my climbing shoes and harness. Above the shoes and harness is an organization caddy with multiple compartments where I keep my belay devices and assorted anchor-building materials. In the zippered pack attic pouch attached to the lid, I usually store some snacks, along with a first-aid kit. 
There could not be a more apt name for this product than the "GoBox," because it allows me to go at a moment's notice without having to waste precious time getting my craving kit together. I zip home after a day at the office, grab my GoBox that's already loaded with all my climbing gear, throw it in the back of the car, and drive up Boulder Canyon to catch some evening pitches. No more questing through three tangled milk crates of gear when I'm rushing to get out to the crag.
I'm not currently living the #vanlife, but if I were my climbing gear would certainly be living in a LoadOut GoBox in the back of the van. It protects soft goods from the sun and any contaminants, the waterproof and dustproof design protects hard goods from dirt and grime, and it looks inconspicuous—like a cooler. Some ne'er-do-well might peep through the back window and guess you have $4 worth of beer in there, not $1,200 worth of trad protection. It also has lock ports on the corners, in case you do want to throw a padlock on there to protect your precious gear. The outer-anchor-point tie-down slots allow you to securely strap it down in the truck bed or on the roof-rack if you need to free up some space in the back of the car. The only thing that could make the LoadOut GoBox any better is if it was a cooler as well… But alas, it's built to keep gear organized and secure, not to keep beer cold. 
$250, Yeti.com