Rock Shoe Review: Part 1 – No 231 – June 2004
Heading out the door? Read this article on the new Outside+ app available now on iOS devices for members! Download the app.
Tester (and Climbing Production Manager) Trina Ortega putting the Evolv Rockstars through their paces on the local limestone.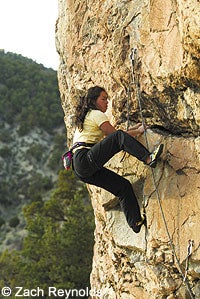 High-performance sport climbing models
The Test Results High-performance sport lace-ups High-performance sport Velcro High-performance sport slippersHigh-performance edging shoes
It's a golden time to be in the market for shoes. In the past few years, innovative new companies have burst onto the scene, and established manufacturers have stepped up their R&D in response. We now have an unprecedented array of shoes from which to choose, with over 125 models on the market. This year alone, there are 38 — yes 38 — new models on the market. If you can't find a shoe that fits and meets or exceeds your performance expectations, you're likely in need of a podiatrist. With so many new shoes on the market, we've separated the field. This issue we review the 18 high-performance sport models debuting this year, while our next issue, due on newsstands June 15, will cover high-performance trad, all-day comfort, mid-level sport, and women's-specific shoes. Shoe testers can fall into several traps. The easiest is to criticize a shoe's performance when in fact the tester's foot simply didn't fit the shoe. Each shoe is formed around a specific, foot-shaped "last" (see below), and if the last doesn't match the general shape of your foot, the shoe won't fit, and won't perform. Most companies use a variety of lasts in their lines, so they can fit a variety of foot types. The second tester mistake is to judge a shoe in a performance category for which it was never intended. To complain that an unlined, midsole-less leather shoe designed for radically overhanging terrain doesn't edge well on slabs is nothing more than a disservice to the manufacturer. To prevent these errors and to give you some inside information, we solicited each manufacturer for explicit fit and performance data, which we've listed for each model reviewed. If a tester's foot didn't fit a particular model, he or she was disqualified from testing that shoe. The overall grade we've given each shoe reflects our judgment as to how well the shoe actually met the manufacturer's stated performance intentions.Sizing. Buying the wrong size shoe is the harshest purchasing error you can make. While you generally will be able to deal with performance nuances, if you size your shoes too large or too small, too narrow or too wide, you'll end up tossing them in the closet, where they'll gather cobwebs with your step-aerobics cross trainers. Shoe companies offer comparison charts cross-referencing U.S., U.K., and European sizing methods. Don't trust them. Different models made by the same company fit differently, and even the same style can vary in fit from pair to pair. When you go to the shop to try on shoes, be prepared to spend some time finding the ideal fit. I know one climber who, when shoe-purchasing time comes, visits every shop in his metropolitan area and tries on every pair in his size, keeping detailed fitting notes for determining his final purchase. While the shop clerks may roll their eyes in exasperation, that climber has no cobweb-covered shoes in his closet.Lasts. Climbing shoes are built around a three-dimensional form known as a last, which largely determines a shoe's fit. Traditional lasts are modeled on the shape of a relaxed foot, but many newer lasts take the shape of an active, pointed foot, ideal for the demands of modern climbs. A climbing shoe can be either board lasted or slip lasted. Board lasting uses a stiff, supportive insole as a platform, plants a last on top of that, and forms the upper around the "board" and the last. A slip-lasted shoe's upper, in contrast, is constructed in a rough, sock-like shape, then slipped over the last for forming, with midsole and rubber added afterward. Slip lasting delivers greater sensitivity and flexibility than board lasting — great for technical and difficult climbing, bouldering, and climbing on plastic. Board-lasted shoes typically are more supportive and all-day comfortable, suited for easier climbing, multi-pitch outings, hard edging, and certain kinds of crack climbing. Most modern climbing shoes are slip-lasted, including all the shoes reviewed in this issue. Some lasts are flat, while others are downturned or cambered. A downturned last cants the toe box downward to focus the shoe's power onto your toes. A true cambered last forms a shoe that curves radically upward from the heel, up through the arch, and back down through the toe. This dramatic, spring-loaded shape concentrates power onto your big toe, making it the focal point of the shoe. Downturned and cambered lasts, and occasionally flat lasts, are also asymmetrical, meaning they follow the true anatomical perimeter of the foot. Every shoe on the market is lasted differently, so take the time to try on every available model of the style you're interested in. We've included general lasting information for each shoe in the review, but make no specific assumptions as to which shoe will fit you.Midsoles. The midsole is situated — duh — between the shoe's inner and sticky-rubber outer soles. Materials and dimensions vary, from traditional hardened-leather sheets that run the full length of a shoe, to lens-shaped composites, sometimes less than a millimeter thick, that reinforce just the toe box. Always determine a slip-lasted shoe's midsole design. Its shape, material, thickness, and placement help determining how a shoe performs. With a thick, firm midsole, a slip-lasted shoe can be as stiff as a board-lasted shoe. Many manufacturers cup or curve the midsole to help focus power on the toes or stiffen the toe box's perimeter, leaving the inner area soft for better smearing. A few manufacturers are even contouring midsoles to mimic the foot's sole, to better match the outsole to the foot's anatomy.Uppers. Rock shoes have been traditionally made of somewhat stretchy leather, but manufacturers are increasingly using synthetic leathers, marketed under names like Cowdura, Ultrasuede, and Durahyde. Synthetic leathers are more consistent than real leather, and offer minimal, predictable stretch. More recently, some manufacturers have begun to use mesh fabrics and stretchy synthetic fabrics that have no resemblance to leather whatsoever. Still, many purists argue that nothing beats leather for conforming to your feet for a truly personalized fit.Lining. The lining of a rock shoe, if it has one, serves two purposes. First: to reduce stretch. While unlined shoes can stretch up to a size and a half, unlined shoes may only stretch a half size or not at all. Second: to provide structure and shape. The lining helps support and retain a down-turned or cambered shoe's active-foot structure, helping transmit power through the shoe to the toe. Lining also increases durability of any shoe. Still, many shoes are unlined, which results in greater sensitivity and a more customized fit as the shoe breaks in. Linings can either be natural — typically canvas — or synthetic. With either material, bacteria growth in linings can be a problem, leading to pollution of personal air space or odd biological micro-climates incubating among one's toes. Some manufacturers are starting to use anti-microbial-treated fabrics to combat this.Fit system. Shoes using a lace-up closure used to dominate the market, but now Velcro and slipper models constitute a significant number of shoes sold. Still, nothing beats a lace-up for fine-tuning fit. For high-performance lace-ups, make sure the laces reach as far down the toe box as possible. Velcro closure systems strike a solid compromise between lace-ups and slippers: good adjustability with easy on-off convenience. Velcros pull on fast when you're itching to climb, and you can open them at belays or between boulder problems to relax your feet, but they can pop open while you're engaged in rigorous foot-torquing moves. Slippers feature some sort of stretch fabric that allows you to pop them on and off without laces or tabs, but some models are extremely difficult to put on, taking minutes to wriggle into. Slippers have other family characteristics, though not all models share them: they often are sensitive enough to feel the slightest bumps or ripples; they flex so easily that trying to edge in them builds your foot muscles, making them excellent for training; and they also work painfully well in thin cracks — if that's your intent, size them a bit larger than normal so your toes can lie flat.