Unique Find: A Brush That Tightens Bolts!
Heading out the door? Read this article on the new Outside+ app available now on iOS devices for members! Download the app.
We've all seen them: Those Mountain Project posts about a loose bolt someone came across, or worse, a bolt that's fallen out of the rock: "Hey, someone should fix this!" I was  up in the Flatirons, Colorado, last Sunday, bouldering at the base of the Slab formation, and I topped out on a ledge where a sport climb starts only to see a hanger and stud clipped to the first bolt, having somehow come out of a hole higher on the climb. Not having a wrench, as is common, the climbers who'd either found or pulled the bolt had simply left it there, hoping that someone else—a "bolting expert"?—would come along to fix it.
Well, here's the deal: Tightening bolts is not rocket science. Anyone can do it, and we all should be any time we come across a compromised bolt—you could literally save your own or someone else's life. If you can tighten a screw with a screwdriver, you can tighten a bolt. Just use common sense: Get everything snugged up, but don't crank things down so tightly that your eyes are bugging and steam's coming out your ears while you torque the wrench. Yes, it is possible to over-tighten and weaken or break bolts, but it usually has to be done deliberately, with a shit-ton of force, as you might apply with a long socket bar.
However, I have to admit, even as an active first ascentionist who knows how quickly bolts can loosen on well-traveled climbs, I don't often carry an adjustable crescent for these repairs. I'm lazy; most of us are—we just want to climb. And while some nut tools have holes that work in a pinch and Metolius invented the ingenious Torque Nut Tool, with four wrench sizes for various bolts, how often do any of us bring a nut tool out sport climbing?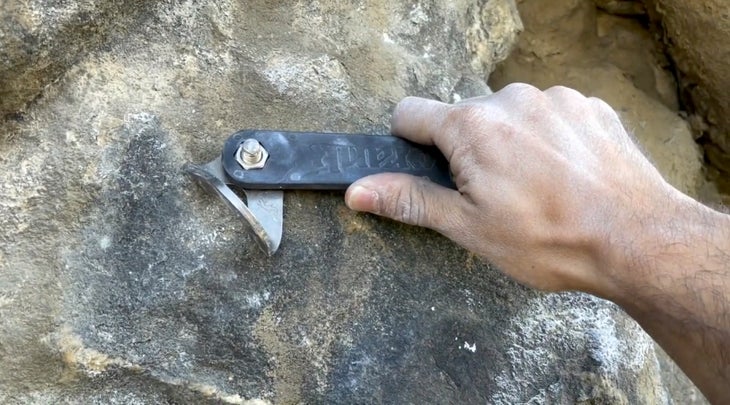 A Boar's Hair Brush for Tightening Bolts
We do, however, always have a brush—or we should. After a near-miss because of a popped nut on a wedge bolt, Ricky Lambert, a climber in the Front Range of Colorado, figured, Why not merge a wrench and a brush? The result is his Crank Brush, a boar's-hair brush with a 9/16″ wrench cutout in the end  to maximize leverage while tightening. Lambert picked that size because it's the most common—9/16″ is the size of the nuts used with almost all 3/8″ wedge bolts and the size of the hexagonal head on 1/2″ five-piece (Powers) bolts. The plastic brush is 1″ wide by 6.5″ long, and, says Lambert, the body, which is made of a the strongest plastic he could source, modeled after bike-tire-changing levers, can be recycled once you use up the bristles.
A Field Test
I took the Crank Brush up to Hillbilly Rock in the Flatirons to play around. Lambert is going to ask $10 for the brush, which puts it on par cost-wise with other plus-sized/bouldering brushes, and it comes with a nice, dense full head of boar's-hair bristles. I used it to clean the holds on a bouldering traverse I've been using to warm up for Hillbilly, and it worked great, getting chalk and mossy grit off the holds nicely. No complaints there. This is a great little brush, and it worked great up on my sport project as well, dusting off its razor-blade micro-crimps.
For the wrench test, I passed the brush off to a climber, Lynn, who was working a route on Hillbilly that has, in the 1.5 years since it went up, seen the bolts consistently loosening. Perhaps this is because the climb zigs and zags, but it may also be due to softer rock underneath the surface patina, as is common on sandstone. In any case, that day, the bolt at the first crux had come out a half-inch, having slowly unscrewed, and was a ticking time bomb. Lynn was able to quickly tighten that clipper and a few other semi-spinners with the Crank Brush, and felt it did a solid job—no stripping, spinning, or hand pain, and the bolts snugged up. The brush's ample, 1″ width and location of the wrench at the brush end make it a comfortable tool.
As for the risk of over-tightening? Lambert has been playing around with that. "I did a bunch of testing with the digital torque gauge and broke a few prototypes at an average of 16 foot-pounds of torque, which basically required me putting most of my bodyweight over the wrench," he says. "I calculated it as 64 pounds of pressure at 4 inches [roughly the distance between your hand and the wrench hole], likely more than the average person would produce while hanging from a rope and tightening a bolt with one hand." Given that, for example, you need to apply 20 foot-pounds of force to damage a 1/2″ 5-piece bolt, this means that the Crank Brush itself would break well before you were able to compromise a 1/2″ bolt. Lambert also plans to include instructions about the correct amount of torque to use, to avoid over-tightening.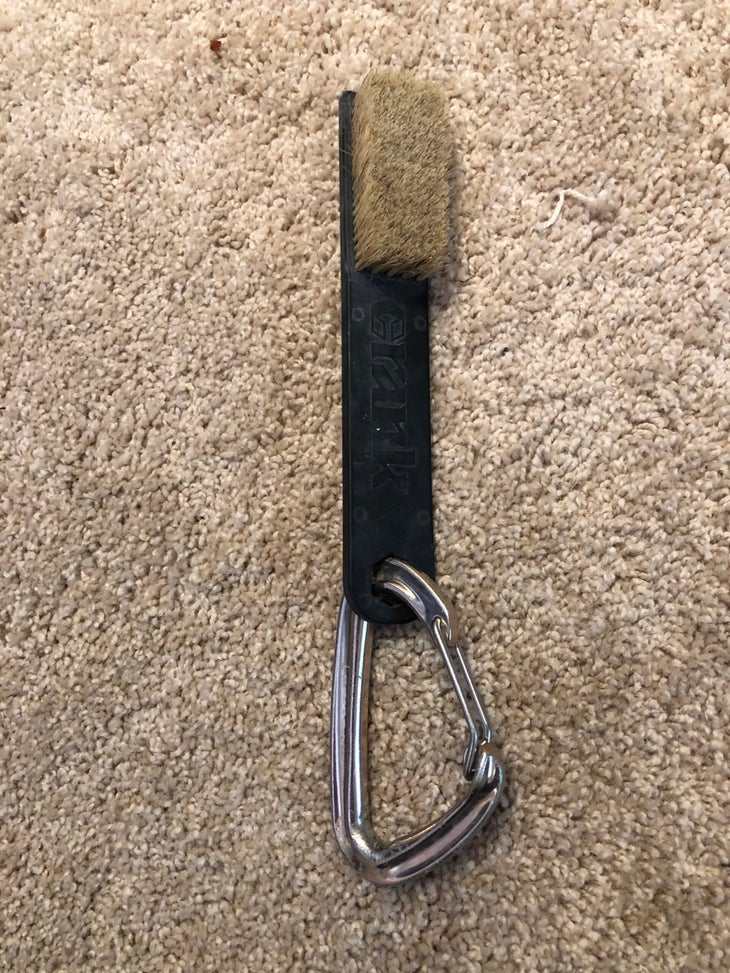 Parting Thoughts
I look forward to continuing to use the Crank Brush, and it's taken up permanent residence in my pack. It's a unique and promising idea that could help make us all better crag stewards, capable with very little work of making bolted climbs safer: Catastrophic accidents can and do happen when bolts fail.
One consideration is that the brush is too wide for narrow chalk-bag brush holders (as on my Black Diamond bag), in which case the best way to carry is to clip the wrench eye with a carabiner and hang it off a gear loop. It's basically a bouldering brush with a wrench, though clearly making a brush with a handle skinny enough to fit all chalk-bag brush holders—the narrowest included—would never give you enough surface area for a wrench. The Crank Brush is thus a logical compromise. I also wonder about putting a metal hexagonal insert in the wrench hole, glued in place, to reduce stripping and give you that much more torque. While the wrench has yet to strip or even ding with use, it is plastic, and if you're hasty or overzealous with your wrenching, I could see some strippage happening. But maybe not—this is tough plastic.
As for the idea's genesis, says Lambert, "I almost broke my leg in a fall after a nut came off the wall, and I don't want anyone to get hurt sport climbing over something as preventable as that. That night, I went home and looked up the route on Mountain Project, and someone had  commented, 'I finger-tightened the bolt, but someone needs to come back with a wrench!'" Concludes Lambert, "No joke. He probably had a climbing brush on him too. #EndFingerTightening."
To help support the Crank Brush, visit Lambert's Kickstarter Page, which closes November 8.