Garnbret Vulnerable, Battles Raboutou and Grossman. Results.
It was a World Cup filled with surprises: Garnbret off the back in qualifiers. World speed champ misfires. But Team USA once again adds to its medal collection.
Photo: Lena Drapella/IFSC
Heading out the door? Read this article on the new Outside+ app available now on iOS devices for members! Download the app.
The IFSC's World Cup season continued this weekend with Lead and Speed competitions in Villars, Switzerland. All in all, the pit stop on the current "European swing" of the circuit proved to be not only historic, but also full of surprises and edge-of-your-seat moments.
Much of the initial intrigue at Villars revolved around two competitors, specifically: Team USA's Colin Duffy, who made headlines at last week's Innsbruck World Cup by becoming the first man to win Lead and Boulder competitions at the same World Cup; and Slovenia's Janja Garnbret, now consistently on the circuit in the Lead discipline after having taken a long hiatus from most of the Boulder events.
To that point, a big question heading into the Villars World Cup was whether Duffy and Garnbret could both be golden again, just as they were in Innsbruck. But there were plenty of other competitors on their own hot streaks, including South Korea's Chaehyun Seo, Team USA's Brooke Raboutou, and Italy's Laura Rogora in the women's division, and Japan's Ao Yurikusa and Team USA's Jesse Grupper in the men's division.
Here's what happened when the action in Villars finally kicked off and all those competitors went head to head on the wall.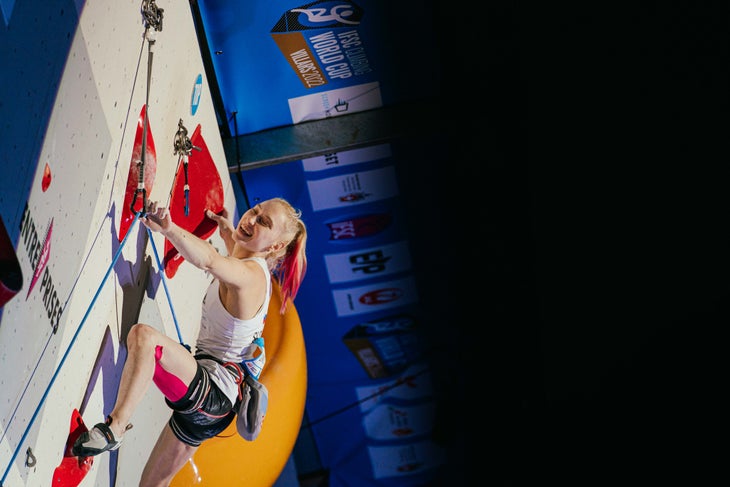 China stomps the Speed competition
The spotlight in the Speed discipline at Villars was squarely on Indonesia's Kiromal Katibin during the discipline's qualification runs. Katibin broke his own world record twice and was unquestionably the heavy favorite heading into the men's final round. However, once the finals kicked off, it became clear that fans were in for some twists and turns. Two of the other biggest Speed names in the men's field—Iran's Reza Alipour Shenazandifard (a former world record holder) and Italy's Ludovico Fossali—were both disqualified from races due to false starts.
Shortly after those DQs, the biggest surprise of all occurred when Katibin slipped near the top of the route in a losing race against his Indonesian compatriot Veddriq Leonardo. Katibin's shocking fall altered the standings—and fans' expectations—significantly. By the time the men's bracket field funneled down to four competitors, Leonardo of Indonesia was joined by Peng Wu, Jinbao Long, and Jianguo Long—all from China. The surprises kept coming when Leonardo, himself, slipped in a Small Final race for the bronze medal against Jinbao Long. Fortunately, the Big Final race was a much cleaner and closer affair, with Jianguo Long edging out Peng Wu by just 0.01 seconds to win the gold medal. This resulted in a clean sweep of the men's podium by Team China. The China sweep was particularly noteworthy since a robust Chinese team had largely been absent from international competition since the start of the pandemic. In fact, the gold and silver medalists—Jianguo Long and Peng Wu—had never before competed outside of Asia prior to this Villars World Cup.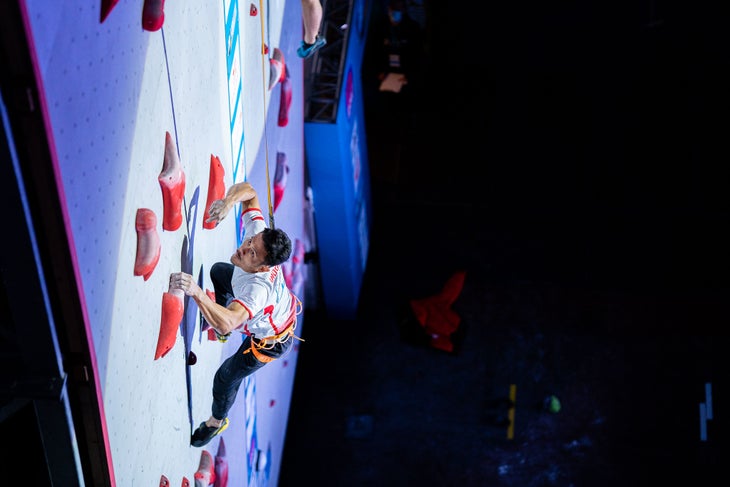 The women's Speed division had its share of unexpected moments too, including a false start by China's Shengyan Wang and a slip by France's Aurelia Sarisson in the final round. But the most stunning slip of all happened when Poland's Aleksandra Kalucka—a multi-time medalist this season—stumbled near the top of the route in a race against Polish teammate Anna Brozek. In a split second, Brozek was able to capitalize on Kalucka's mistake, take the lead, and win the race in a time of 7.521 seconds. Brozek then beat Team USA's Emma Hunt too, but eventually lost in a race for the bronze medal against Indonesia's Desak Made Rita Kusuma Dewi. The Big Final race to determine the gold and silver medalists featured Lijuan Deng and Di Niu, both of China. The clash was hotly anticipated given how well each competitor had run throughout the weekend, but an unfortunate low slip by Niu allowed Deng to cruise to a gold medal with a time of 6.875 seconds.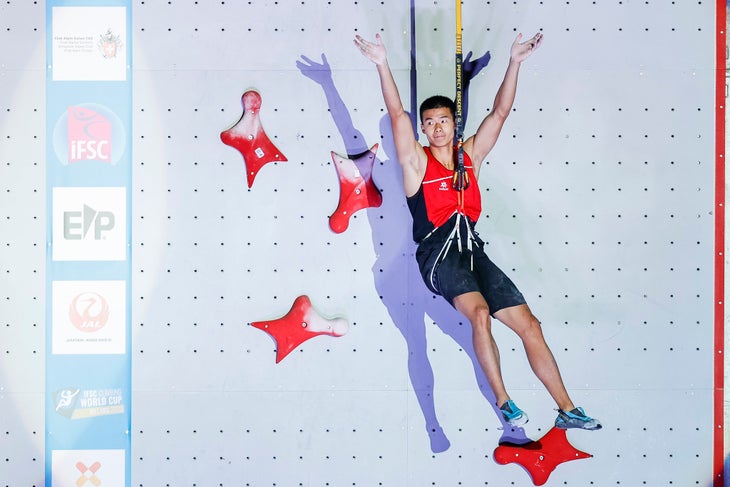 American men soar, but can't quite catch Homma
Colin Duffy and Jesse Grupper have emerged as the big American standouts in the men's Lead division this season, and their early results in Villars reinforced this. Duffy topped one of the qualification routes and finished near the top of the pack, just a single score point behind the round's leader, Japan's Yurikusa.
Grupper was a bit lower in the qualification standings, flanked by Germany's Alex Megos and Japan's Taisei Homma. However, in the semi-finals that followed, Grupper rocketed to the top of the standings. He motored through the route's lower section of Flathold pinches and slopey pockets, and then went beyond a cruxy section of crimps that had stopped several other competitors (including Slovenia's Luka Potocar and France's Paul Jenft) and bottlenecked the scores around the 29-30 mark.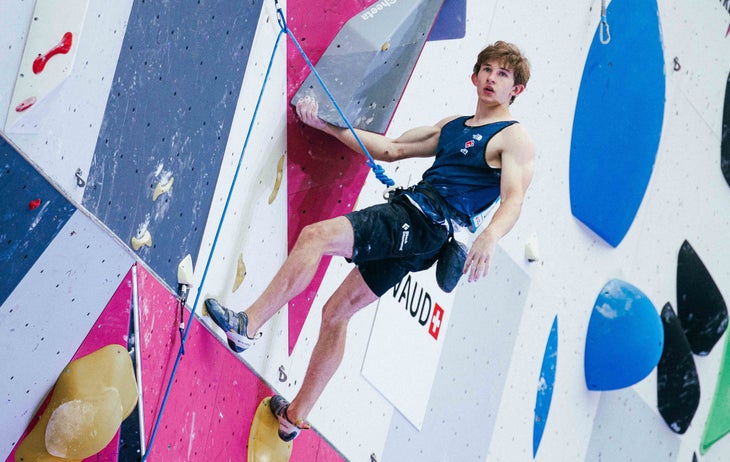 Grupper continued climbing over the lip and onto the headwall. Yet, in one of the most peculiar moments of the semi-finals, Grupper was given a yellow-card penalty for continuing to climb even though his time had expired. Ultimately it didn't matter; Grupper's concluding semi-final score of 36 was nonetheless enough for a comfortable lead. Duffy battled to the lip of the headwall as well and finished right behind Grupper in the standings with a score of 34.
In the final round, Japan's Homma set an early highpoint, progressing to a sequence of yellow dual-tex spheres on the headwall for a score of 36+. Homma's score would remain unmatched as additional competitors fell in a crimpy midsection beneath the headwall. Even Germany's Yannick Flohé, another standout of the season, could only notch a score of 33…still a few moves shy of Homma's mark.
Duffy, as the penultimate climber, surpassed Flohé's place and finished with a score of 34—and eventually a bronze medal—following a right-foot slip on the headwall. Grupper climbed last and was able to earn a fraction of a point more than Duffy, but could not reach the highpoint that Homma had set earlier in the round. As a result, Grupper (with a score of 34+) was awarded the silver medal, and Homma was presented with the gold.
"Raboutou vs Garnbret" is the newest intriguing battle
One of the most surprising aspects of the women's division was that Slovenia's Garnbret was not in first place heading out of the qualification round. In fact, she wasn't in second place or third place, either. She topped one of the qualification routes and notched a score of 42 on a second route that saw higher marks by a few competitors (and a top by Team USA's Brooke Raboutou). This put Garnbret in a rather unfamiliar position of being behind in the scores for the next round. Still, there is a reason why Garnbret is widely considered to be the greatest of all time. She soon showed such greatness in the semi-finals by blitzing through a series of yellow slopers at the lip of the headwall—a cruxy section that stymied several other competitors, including Slovenia's Mia Krampl, Japan's Mei Kotake, and France's Manon Hily.
In fact, Garnbret was the only woman to reach the top of the semi-final route. This vaulted her back into the leader position on the scorecards. "She seems to have made tweaks…during Boulder [season] when everyone else was competing," Matt Groom stated on commentary, noting Garnbret's aforementioned hiatus from the bouldering circuit and the positive benefits it had on her lead climbing abilities.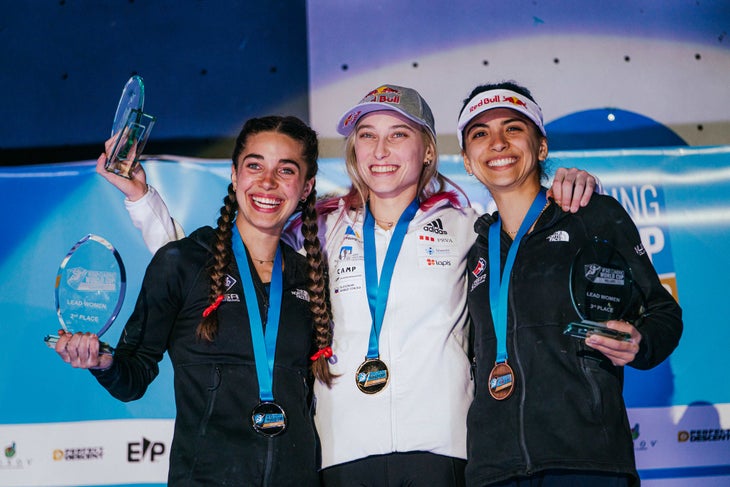 However, somewhat ironically, the ensuing women's final route did feature a number of "bouldery" moves, including a lateral dyno midway up the wall. This jump proved to be too big for a couple of finalists—Japan's Natsuki Tanii and South Korea's Chaehyun Seo—and even those competitors that did stick the dyno still had to exert great effort to control the resultant wild foot swing. Team USA's Natalia Grossman managed to get through this low leaping crux and eventually set a highpoint of 35+ on the headwall that stood for a while.
Yet, the women's final round featured its own peculiar moment when France's Hily climbed and was given a low score of 8+…but was then brought out to attempt the route again. Apparently Hily was given something of a mulligan after having been short-roped during that first attempt. The score for Hily's second attempt (28+) was much better than her first, but still not good enough to catch Grossman. Italy's Rogora couldn't catch Grossman either and fell while going for a right-hand crimp at the 31+ mark.
It wasn't until Team USA's Raboutou climbed that Grossman's highpoint was finally surpassed…and Raboutou did it in spectacular fashion. She climbed fluidly into the steep route's upper section and had her fingertips reaching sideways for the 38th scored hold before falling, mere inches from the top of the wall.
As incredible as Raboutou's effort was, Garnbret climbed next and closed the show in emphatic fashion. Instead of reaching statically sideways for that 38th hold, Garnbret jumped dynamically for it while planting her feet securely on a large prism feature. She rested comfortably in that standing position on the feature, and then continued successfully through the next couple of moves too and clipped the chains—yet again the only top of the round—to win the gold medal. Raboutou earned the silver and Grossman the bronze.
At this point in the season, Garnbret is performing as good as she ever has—and that's really saying something when talking about someone who has already been dubbed "The Queen" of the modern competition era. But Raboutou should be applauded as well, having now made the podium at both Lead events of 2022. Hopefully Garnbret and Raboutou will continue to encounter each other in final rounds this Lead season, as they seem to bring out the best climbing in each other.
The IFSC's current swing through Europe and the Alps continues next weekend (July 8-10) with Lead and Speed competitions in Chamonix, France.
Results
Men's Lead
Taisei Homma (JPN)
Jesse Grupper (USA)
Colin Duffy (USA)
Yannick Flohé (GER)
Satone Yoshida (JPN)
Yoshiyuki Ogata (JPN)
Mejdi Schalck (FRA)
Ao Yurikusa (JPN)
Women's Lead
Janja Garnbret (SLO)
Brooke Raboutou (USA)
Natalia Grossman (USA)
Laura Rogora (ITA)
Manon Hily (FRA)
Chaehyun Seo (KOR)
Ryu Nakagawa (JPN)
Natsuki Tanii (JPN)
 Men's Speed
Jianguo Long (CHN)
Peng Wu (CHN)
Jinbao Long (CHN)
Women's Speed
Lijuan Deng (CHN)
Di Niu (CHN)
Desak Made Rita Kusuma Dewi (INA)