In Big-Time Comeback, Ondra Wins in Chamonix; Garnbret Still Golden. Results.
The World Cup circuit swung through Chamonix, France, this weekend for a World Cup extravaganza that included Speed and Lead disciplines. 
Heading out the door? Read this article on the new Outside+ app available now on iOS devices for members! Download the app.
The World Cup circuit swung through Chamonix, France, this weekend for a World Cup extravaganza that included Speed and Lead disciplines. 
Backdropped by the hulking silhouette of the highest peak in the French Alps, Mont Blanc, the Chamonix World Cup added more intriguing chapters to an ongoing 2022 season narrative that has already seen multiple world records shattered, the return of competitor widely regarded as The Greatest of All Time, the rise of Team China, and more shiny hardware for the American squad.   
Here's what happened when the action kicked off…
Again, China Rules in Speed
The Speed discipline began with figurative fireworks when Indonesia's Kiromal Katibin broke his own world record in the men's division by clocking a run of five-seconds-flat. The achievement seemed like a good omen for Katibin; however, a slight bumble in the opening run of the finals resulted in a loss to teammate Alfian Muhammad Fajri and dashed Katibin's chances of winning a medal.  
Muhammad Fajri continued to cruise through the finals' tournament-style elimination brackets until losing to another Indonesian teammate, Veddriq Leonardo. However, the Chinese team was rolling through the bracket as well, led by a string of wins from 21-year-old standout Jinbao Long. Long eventually beat Chinese teammate Jianguo Long and Indonesia's Leonardo to meet Spain's Erik Noya Cardona in a race for the gold medal. Noya Cardona had thus far experienced a peculiar tournament path—with his three prior opponents slipping during runs—but Jinbao Long provided a much cleaner race. Long and Noya Cardona stayed relatively neck-and-neck on the wall until Long rocketed away in the route's upper section to clock a time of 5.11 seconds and win gold; As a result, Noya Cardona was awarded the silver medal, and Indonesia's Aspar Aspar beat compatriot Leonardo for the bronze. 
Team China had big moments in the women's Speed division as well, with victories in the initial heats of the final round by Lijuan Deng and Guizhen Xie. Additionally, China's Di Niu automatically advanced to the later brackets of the finals after her teammate and opponent, Yufang Xie, withdrew early in the round due to an injury.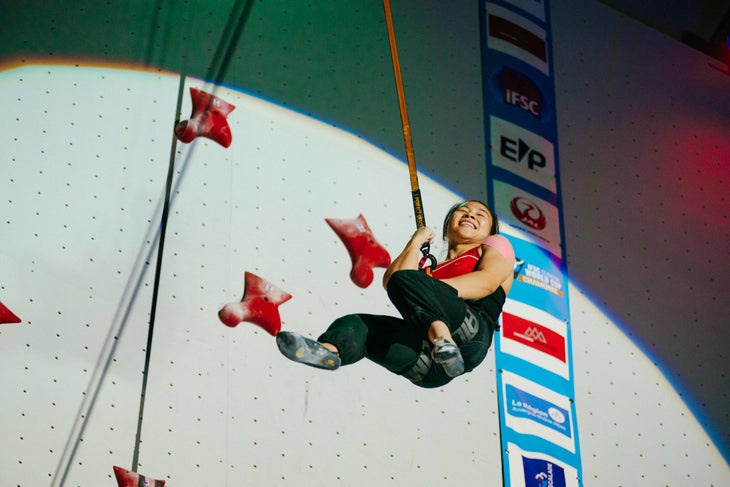 But while Xie and Niu eventually lost in races (to Indonesia's Desak Made Rita Kusuma Dewi and Poland's Aleksandra Kalucka, respectively), Deng continued to romp through the competition—particularly by beating a trio of Indonesian crushers: Nurul Iqamah, then Made Rita Kusuma Dewi, and finally Rajiah Sallsabillah. This resulted in Deng eventually racing Poland's Aleksandra Kalucka in the Big Final showdown. In a razor-close race, Deng clocked a blazing time of 6.55 seconds to secure the gold medal; Kalucka was awarded the silver. Made Rita Kusuma Dewi earned a victory in a Small Final race against Sallsabillah for the bronze.
This gold in Chamonix was the second in a row for Deng, as she also won last weekend's World Cup in Villars. Beyond that, her winning time of 6.55 was only 0.02 seconds off the women's world record (currently held by Poland's Aleksandra Mirosław, who was not present in Chamonix). This makes the potential matchup between 22-year-old Deng and 28-year-old Miroslaw one of the most hotly anticipated face-offs of the modern speed climbing era in the women's division. Similarly, excitement is already building for a potential race between Jinbao Long and Kiromal Katibin at some point down the road in the men's division; the turbo-charged pairing might be the key to get someone to run under five seconds for the first time in history. 
Ondra Is Back 
Much of the hype in the men's Lead division revolved around the Czech Republic's Adam Ondra, who was returning to the World Cup circuit for the first time in more than a year. Showing no signs of competition rust, Ondra rolled through the qualification round at Chamonix by topping both routes…but so did 10 other competitors, including Japan's Taisei Homma, Slovenia's Luca Potocar, and the United States' Sean Bailey. 
The abundance of tops continued in the semi-finals, but a series of slopey crimps on the headwall proved to be a crux that stopped a number of competitors (such as Japan's Kokoro Fujii and Masahiro Higuchi). The semi-finals also featured a buzz-worthy moment when Germany's Alex Megos topped the route but was later downscored to a much lower mark of 13 after the judges determined he had weighted a quickdraw. Still, when the round concluded, it was once again Bailey, Ondra, and Potocar situated at the top of the leaderboard after topping the route.
Japan's Homma climbed first in the finals and rocketed through the route's smattering of yellow and gray pinches. Then, high on the headwall, he dynoed for the top hold but couldn't secure a grip. Still, Homma's concluding score of 39+ stood as the highpoint for much of the remaining round, as a string of finalists soon fell much lower on the wall: Great Britain's Hamish McArthur (25+), Switzerland's Sascha Lehmann (20+), Germany's Yannick Flohé (29+), France's Sam Avezou, and even Slovenia's Potocar, to name a few.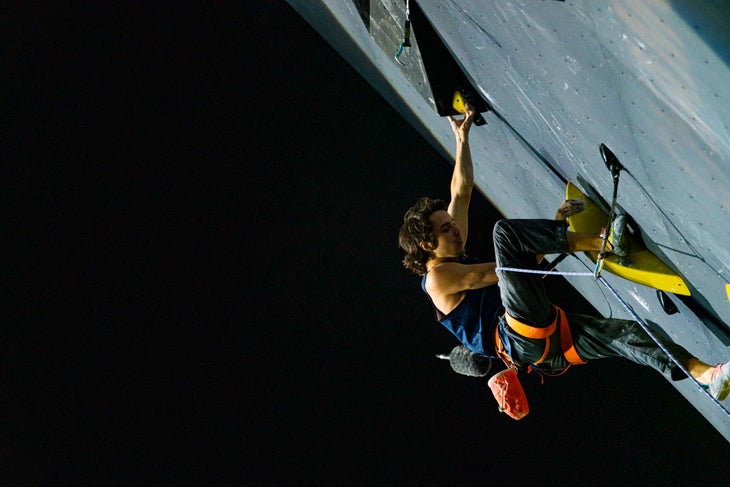 Ondra climbed at a blistering pace—something the commentators noted at several points—and promptly found himself launching for the top hold just as Homma had. Like Homma, Ondra was unable to secure a grip on it, but Ondra still took the lead based on countback. Team USA's Bailey, climbing last, had a chance to out-point Ondra, but couldn't find secure footing while launching for a slopey scoop. Bailey finished with a score of 29+, enough for a bronze medal. Ondra—in his highly anticipated comeback to World Cup action—was awarded the gold, with Homma earning the silver. 
Garnbret Continues Her Streak
Beginning in the qualification round, the women's division had its own profusion of tops, which eventually prompted a general consensus among fans that the routes were majorly undercooked. For example, five women topped both routes in the qualification round (including Slovenia's Janja Garnbret and Team USA's Natalia Grossman and Brooke Raboutou). 
The semi-finals separated the field somewhat, particularly with a number of cruxes on the route's crescent-shaped volumes and unforgiving crimps. Garnbret was undoubtedly one of the standouts, progressing smoothly through one of those cruxes—a leftward bump on a slopey crescent at hold 24—and eventually topping the route. The route was also topped by Japan's Natsuki Tanii, Italy's Laura Rogora, and Team USA's Grossman and Raboutou (although Raboutou's score was later downgraded to 37 when it was deemed that she had timed out). 
Garnbret Vulnerable, Battles Raboutou and Grossman. Results.
This all led to a star-packed final round under a dusk of orange clouds and bright white spotlights. The plethora of tops continued, starting with a smooth ascent by Austria's Jessica Pilz. Shortly thereafter, South Korea's Chaehyun Seo and Italy's Rogora were also able to motor through the requisite pull-and-press sequences on crimps and jibs and reach the top. Raboutou and Grossman both climbed well in the finals, but fell while launching for crimps high on the headwall; they finished with identical scores of 43+. Garnbret caused some spectators to gasp when she fumbled with a clip midway up the wall, but she quickly recovered, cruised through a section of prism-shaped volumes on the headwall, and successfully deadpointed for the top. She was awarded the gold medal, with Rogora earning the silver and Seo earning the bronze.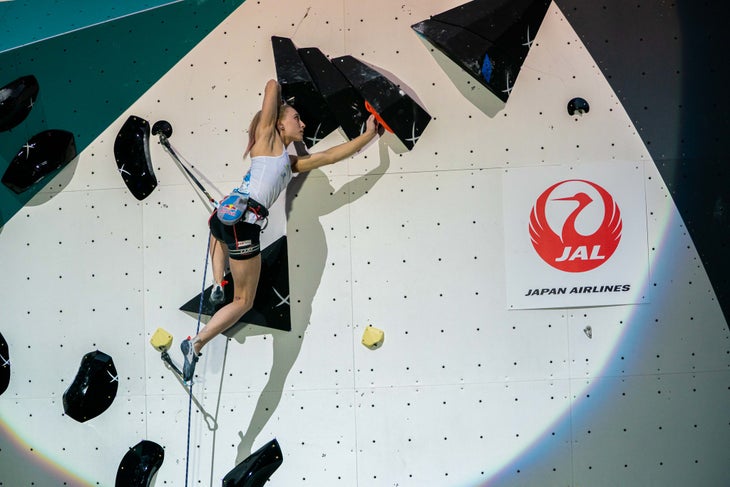 Criticism of the abundance of tops is valid; it's always unfortunate when everyone on a podium topped the route and previous standings (or, in some instances, time) have to be the deciding factors. But that should not cloud all the great takeaways from the Lead portions of Chamonix: Powerhouse national squads like Team USA and Team Japan added to their medal collections, Adam Ondra returned in a big way, and Janja Garnbret won her third Lead gold medal in a row. That creates a lot of buzz for the next World Cup, which will be in Briançon on July 22-23. 
Results
Lead
Men
Adam Ondra (CZE)

Taisei Homma (JPN)

Sean Bailey (USA)

Luka Potocar (SLO)

Yannick Flohé (GER)

Sam Avezou (FRA)

Hamish McArthur (GBR)

Sascha Lehmann (SUI)

Satone Yoshida (JPN)
Women
Janja Garnbret (SLO)

Laura Rogora (ITA)

Chaehyun Seo (KOR)

Jessica Pilz (AUT)

Natsuki Tanii (JPN)

Natalia Grossman (USA)

Brooke Raboutou (USA)

Mia Krampl (SLO)
Speed 
Men
Jinbao Long (CHN)

Erik Noya Cardona (ESP)

Aspar Aspar (INA)
Women
Lijuan Deng (CHN)

Aleksandra Kalucka (POL)

Desak Made Rita Kusuma Dewi (INA)