Don't tear that hammy! Prep for heel hooks with these three exercises
The heel hook is a common and very necessary move in climbing, especially on overhanging rock. But it's also the source of much woe, from hamstring tears to knee injuries. Do these three simple exercises every week to prep for heel hooking and prevent injury to your legs.
Heading out the door? Read this article on the new Outside+ app available now on iOS devices for members! Download the app.
In climbing, we frequently use heel hooks on overhanging terrain to suck our hips into the wall. To activate the heel, we pull with our hamstring; usually our heel is pointed in toward the wall, placing the leg into external rotation. This is a risky position, and can cause serious, load-based injuries—to the hamstring tendons, IT band, popliteal muscle or tendon, lateral collateral ligament, posterior cruciate ligament, or lateral meniscal or posterior joint capsule injuries within the knee itself—that often enough require surgery.
These injuries happen because in our day-to-day life, we rarely stabilize the knee against rotation using a pulling motion of the hamstring, hip, and calf. Yet in climbing, we use these areas heavily in ways and at angles that no other sports mimic—especially when heel hooking.
Moreover, heel hooking is often a "full-effort" move, and we may even pull so hard that tendons can avulse, or pop off the bone (as we see up into the buttock, where the hamstring tendons can separate from the "sits bone," or the ischial tuberosity you feel when you sit on a hard surface). The best way to prevent injuries is to strengthen these areas preemptively, so that we're ready when it's time to climb.
Show Up Prepared!
Let's say you're going on a trip, and your project has a big, mandatory heel hook. Step back and picture the scenario: Imagine that you're headed toward the climb. What are you wearing? How does your body feel? Are you tight, stiff, jittery? Excited—perhaps you've had too much coffee? (In my own mind, I'm at Shelf Road, Colorado, and I'm so jazzed!) Ok, good, keep the visual going. Now, working backward to make sure you're prepared for your climbing to be absolutely perfect, what does your warm-up look like? Did you do any preparation for the specific movements you'll be doing? Mentally? Physically? Perhaps nutritionally?
Now, let's step back again, and work backward through the days and months prior. Did you prep your body for the climbing-specific loads you'll encounter? As an example, I do more shoulder-intensive work for overhangs. But what about the lowly heel hook?! Have you ever personally prepared the back of your hip, knee, and hamstring?
Probably not. Very few of us do—again, it's a move that activates a neglected and easily overlooked part of our body.
Here's how, in three simple, progressive exercises you can do at the beginning or end of your gym session, or on any day, really. These drills will strengthen and create resiliency in your knee stabilizers (so it stays a hinge joint under load), and add strength to the tendon attachments of your knee, hamstring, and buttocks. If you get too sore with any one of these exercises, add more rest days or back off the reps. Even two to three days a week will make a huge change as spring and summer roll in. See you on the other side!
Stage 1: Bridge Pose
 Start with 12 reps x 3 sets, with a 2–4 second hold at the top of your Bridge. Bonus points for keeping your hips level as you raise and lower them.
Begin by lying on your back with your knees bent. Feet are flat on the floor and arms are resting at your sides.
Tighten your abdominals and slowly lift your pelvis up into a bridge position. Keep your back straight, with a stiff torso and trunk.
To be specific for your outer hip, imagine pushing your knees into side walls, engaging the outside of your hips. Push your hips up higher!
Hold for 2 seconds and then slowly reverse.
Repeat.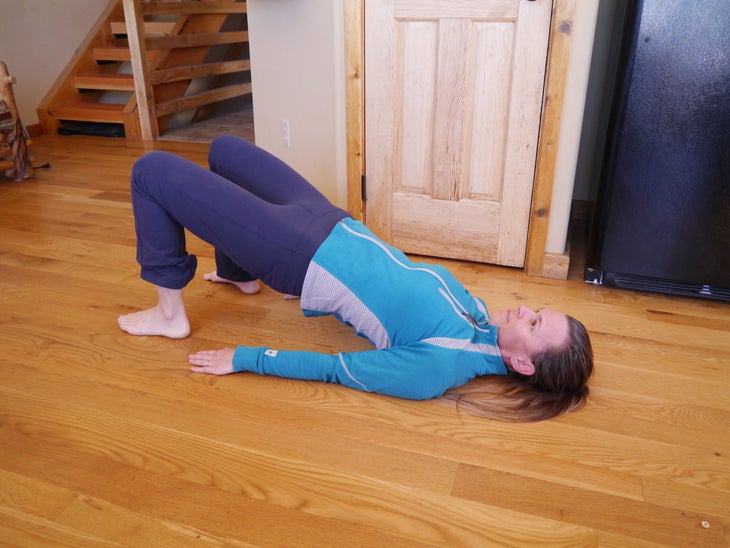 Stage 2: Ball Hamstring Curls
Once Bridge Pose starts to feel easy, you're ready for Ball Hamstring Curls. Do 12 reps x 3 sets, with a 2-second hold; rest one minute between sets.
Tools: Yoga ball, or the bumper of your Sprinter van if you're a van-lifer.
Begin lying on your back with your feet resting on a yoga ball.
Tighten your stomach muscles and then lift your hips up into a bridge position. Try to keep your hips level as you raise them.
Maintain your bridge while bending your knees and curling your heels toward your buttocks.
Hold for 2 seconds and then slowly reverse.
Repeat.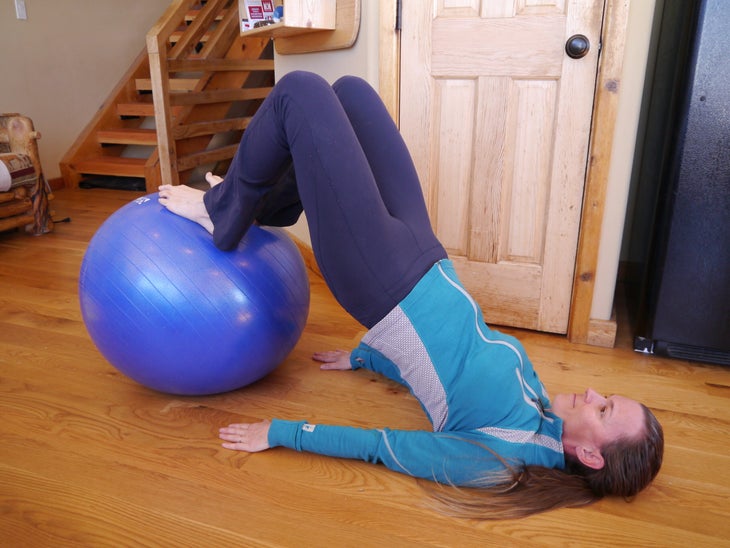 Stage 3: One-Legged "Heel Hook" Hamstring Curls
Once Ball Hamstring Curls feel easy, you're ready for the one-legged version. This highly effective exercise takes a single sports-medicine drill and modifies it to be entirely climbing specific—it adds all the force and load right to the outer hamstring, knee, and calf. Your goal is 8–12 reps x 3 sets. Work slowly up to this drill, and if you notice stiffness, pain, or aching decrease the reps.
Tools: Yoga ball, or the bumper of your Sprinter van
Lie on the floor facing upward, with your knees bent at 90 degrees.
Place the yoga ball under your feet (or prop your feet up on your van's bumper).
Move one foot off the yoga ball so that the heel of the other foot remains centered on the top of the ball.
Mimic a heel hook by rotating your grounded hip and knee outward until only the outer part of your heel comes in contact with the ball.
Push into your heel, lifting your buttocks off the floor and balancing your weight on your foot and upper shoulders only. Your neck is relaxed. Your arms are relaxed.
Hold for two seconds and then slowly reverse.
Repeat.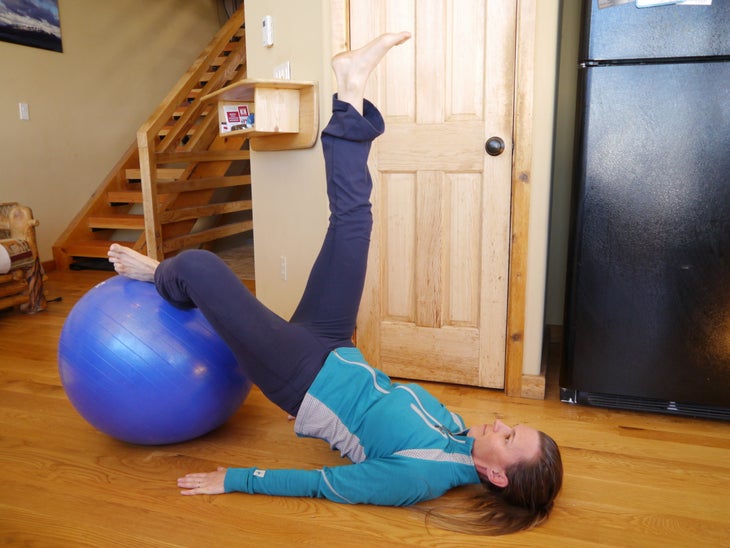 Dr Lisa Brin @theclimbingdoc is past USAClimbing medical & the host of Un-Sprained, a climbing-injury podcast. She teaches climbers, parents, and coaches skills to avoid injury, train smarter, and recover faster using step-by-step plans. Learn more at climbinginjuriessolved.com