One Major Thing Your Training is Lacking: "Sport Seasons"
Many of us attempt to perform at our highest ability all the time. With access to outdoor climbing and the constant availability of the gym, it's easy to be in "go" mode 24/7. However, in order to push to your true limits, you also need careful planning and preparation to create discrete performance peaks.
---
Join Climbing
Create a personalized feed and bookmark your favorites.
Join Climbing
Create a personalized feed and bookmark your favorites.
Join for free
I remember when I first moved from Virginia to Denver, Colorado: I was fresh out of college and ecstatic to move west to the mountains. During my four years in college, the closest climbing gym had been over an hour away and the closest outdoor destination was over three hours away. Now, in Denver, the gym was a mere 10 minutes down the road and world-class bouldering was in my backyard. To say I was psyched would have been an understatement.
I moved to Denver in the thick of the summer alpine bouldering season. It was long days of hiking and climbing at altitude on the weekends, then intense gym sessions during the week. By the time the alpine season ended, I was feeling rugged and tired… but there was still an opportunity to climb! Subalpine areas had cooled down enough to explore, and Joe's Valley, Utah, beckoned that fall. Winter rolled in, but the 300 days of annual sunshine in Colorado meant that climbing in the lower Front Range was still a go. Soon enough, spring arrived, cycling back to perfect subalpine conditions and right back into summer alpine season.
I loved how much climbing I was able to throw myself at throughout the year, but I soon started to notice a plateau in performance coupled with lower energy levels. I was trying to push my limits every day, every week, and every season, but after a year I'd begun to realize this wasn't sustainable. In fact, attempting to be at peak performance level full-time had had the opposite effect: My overall performance took a hit. It wasn't until I became a coach that I realized there is a big conversation missing from climbing: one about seasonal planning.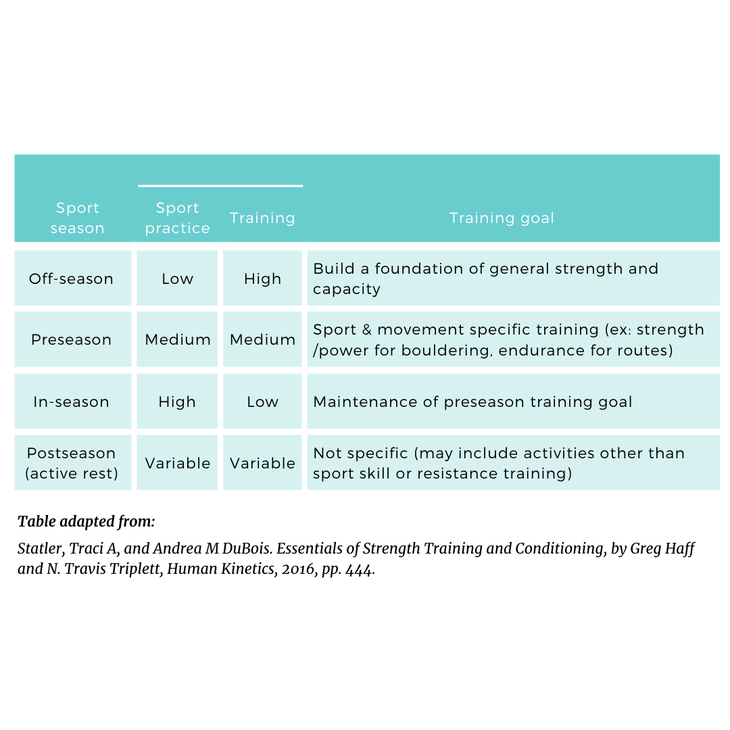 What is seasonal planning?
In short, seasonal planning is the act of zooming out past only thinking about your next session or your next week to instead encompass a big-picture view of your entire year. From here, you then work backward to decide when you want to peak. There are four general sport seasons: off-season, preseason, in-season, and postseason. Each season prioritizes training versus sport performance differently.
In-Season
The best way to plan out your year is to first nail down what will be in-season for you, then work backward from there to determine the other phases. In-season should be a performance-focused period—for example, when conditions are prime at the local crag, a planned climbing trip, a competition season, etc. All available time and energy are dedicated to performing at a peak level, while training is put into maintenance mode. The length of this performance period can vary. It could be a three-month stretch of good conditions or a 10-day trip. Generally, however, the shorter the desired performance window, the closer to your limit you can push.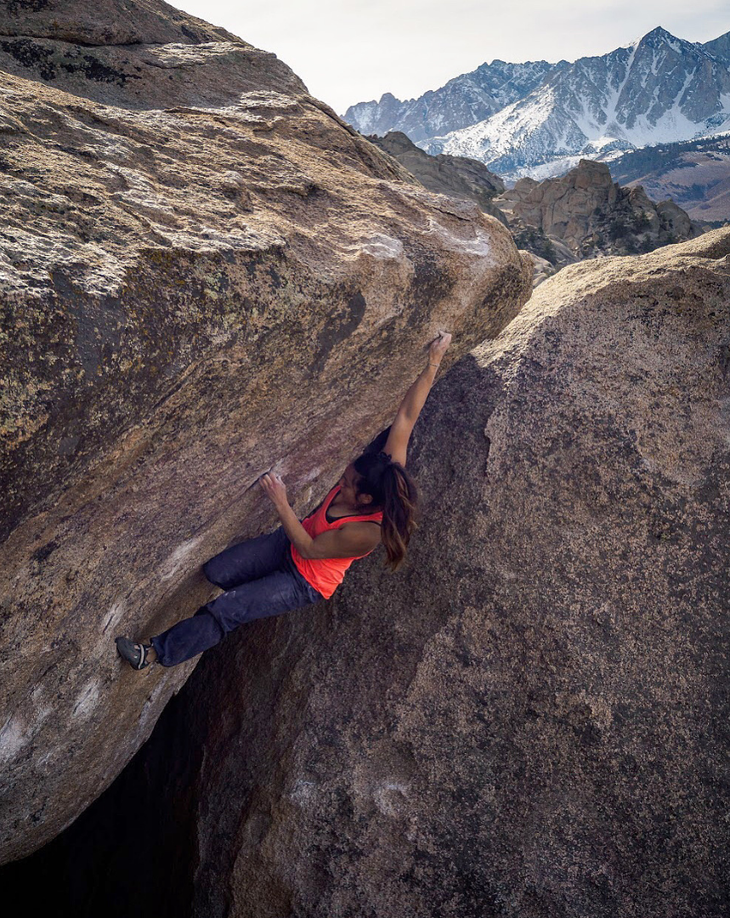 So what did I do when I lived in Colorado and there was climbing available year-round—how did I choose when to peak? The answer lay in goal setting. I looked at what I wanted to accomplish during my year. If there were particular projects I wanted to send, then I would base my peak around the best conditions for those specific climbs. If it wasn't in-season, I had to be OK with hunkering down in the gym to prepare even if it was climbable outside.For example, when I wanted to send my project at Area A in Mount Evans, a lower-elevation alpine-bouldering area, I decided to take July and August to train for it. Even though others were still climbing and sending at higher-elevation alpine areas during those months, I knew that the training would pay off for me in early autumn.  In contrast, if my goal was to climb more volume, then a discrete peak was less important. Either way, taking this step back helped me gain clarity.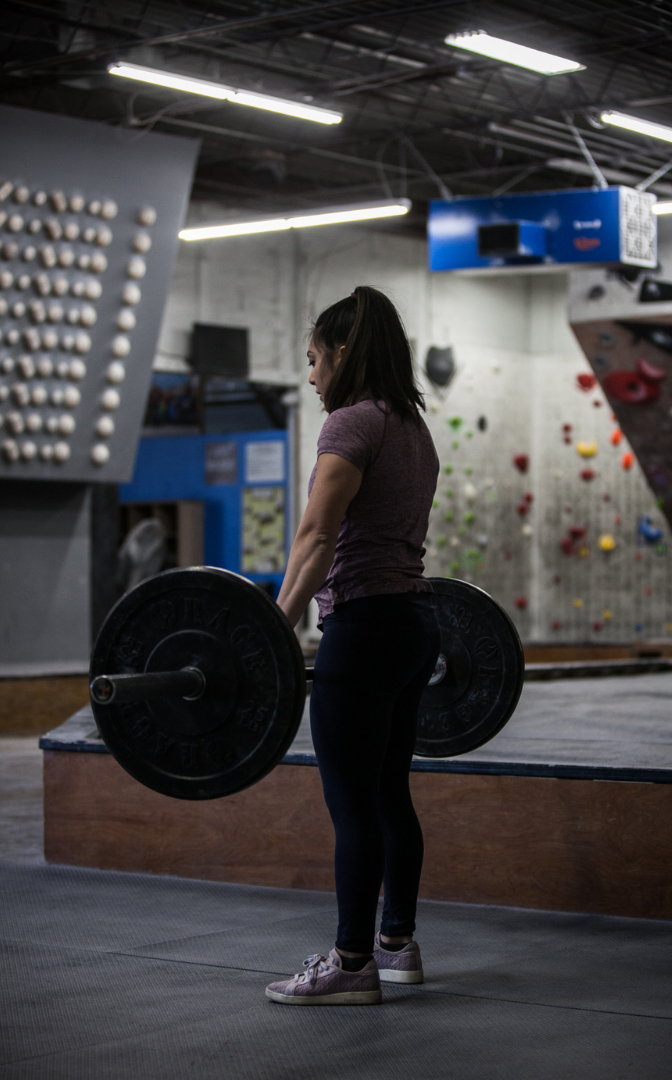 Off-Season
Once you've figured out your in-season time frame, the next step is to figure out when to prepare for your performance goals. This is exactly what the off-season is for: It's a season to focus your energy on preparation, one during which you prioritize training, putting performance on the back burner. I generally recommend planning for eight to 12 weeks of off-season training prior to a performance peak. This allows sufficient time for training adaptations to occur without the risk of burnout of overtraining that can come from longer training durations.
Preseason
Think of the preseason as a transitional season. Rather than dedicating 100 percent of your time and energy to either performing or training, you instead go for a 50/50 split. The length of the preseason can be anywhere from a quick two-week transition to a full eight-week period, depending on when you've timed your in-season performance peak for. This is a great way to ease the switch from training to performance by reintroducing more climbing-specific training and skill practice than is typically present in the training/off-season.
During this period, you increase the frequency and duration of your climbing sessions. Additionally, you can work on climbing adaptations specific to your goals—for example, increasing capacity for longer projecting sessions, or working power-endurance or endurance. You can also combine general strength sessions with skill practice sessions.
Postseason
Lastly, the postseason prioritizes rest and recovery—in other words, taking a break. This break can look different for different athletes. It might be a full break from climbing and training, for example enjoying some summer beach time. Or it could look like climbing purely for fun at a lower level, without any pressure or expectations on performance. You can also dedicate the postseason to focusing on a different sport. For example, if you enjoy both climbing and running, you could put climbing on the back burner and train for running. The postseason ultimately can help your increase athletic longevity by helping you avoid overtraining and burnout.
Customize Your Plan
Here are a few steps to help plan out your sport seasons:
Write out a list of goals. Include both short-term goals (a time frame within a couple of months) and long-term goals (annual or multiannual).
Create a rough draft of an annual plan: When are conditions ideal in your area? When are you taking a trip? When do you want to take a break?
Determine your performance peaks (in-season)
Determine your training periods (off-season)
Determine your transitional periods (preseason)
Determine your recovery periods (postseason)
Juliet Hammer (julietamanda.com) is a remote climbing coach based out of Chattanooga, Tennessee. She helps climbers of all levels reach their goals through technique and strength training.