What Is It Like to Train With a Legend? Find Out For Yourself.
"My talent is being a masochist. My training totally breaks your body and your mind. But it's worth it to be a champion."
---
Join Climbing
Create a personalized feed and bookmark your favorites.
Join Climbing
Create a personalized feed and bookmark your favorites.
Join for free
My forearms felt like they were ready to burst open like over-cooked tomatoes. Nevertheless, I strapped on the weight vest while watching the clock tick down painfully fast. I pulled onto the wall right as the clock hit zero. 60 moves later I collapsed onto the padded floor once more, nothing left of me but glassy eyes and pumping lungs. "One more set," I heard Patxi Usobiaga tell me from across the world. I closed my eyes and eagerly anticipated ticking the session off. I wondered if Usobiaga had updated my schedule for the final month of training.
Patxi Usobiaga, 41, is 5-foot-9 with a fighter's build. His dark, scruffy beard complements his dark curly hair and intense blue eyes. Usobiaga has a tattoo of his Jack Russell terrier on one forearm and his PUC Training logo on his bicep. Through his PUC Training program and years of climbing experience, Usobiaga has become a training master for the world's best climbers. Before becoming a leading sensei, Usobiaga was a competition frontrunner. He was the Overall Lead World Cup winner in 2006 and 2007, the 2008 European Champion and, at 28, the 2009  Lead World Champion.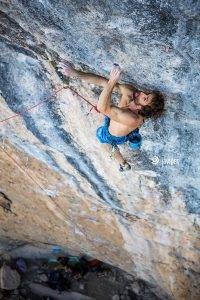 "I was small, had no finger strength, biceps or anything when I first started climbing," Usobiaga told me in an interview for Gym Climber after I completed his program. In the film "Progression," Usobiaga said: "The other climbers are really talented so they don't need to train as hard as I do. But I have to work fucking hard. My talent is being a masochist. My training totally breaks your body and your mind. But it's worth it to be a champion." Usobiaga lived his life with circuits, campusing and carefully measured portions of food.
I'd heard about Usobiaga from years on the comp circuit myself, though he unfortunately retired a year before my first international competition. Following his World Championship victory in July of 2009, Usobiaga underwent shoulder surgery in late December. Just as he was recovered and re-gaining fitness, he hydroplaned his car during a storm.
"I finished 2010," said Usobiaga, "without being able to look up." With a herniated disc in his neck and following a painful year on the sidelines, Usobiaga retired from climbing for nearly three years. 
"That break gave me a very different perspective of climbing," Usobiaga said in the recent interview. "I now enjoy it in a different way."
Usobiaga made his way back to the sport in 2012, after a friend begged him for a belay one day.
"As soon as I put the climbing shoes on," Usobiaga said in an interview with EpicTV, "I felt something special, something like I need to start again."
Soon his outdoor ascents were as impressive as his competition accomplishments. Usobiaga sent several 9a+ routes, including his long term project Pachamama (9a+, 5.15a). After working with a handful of other athletes, he discovered that his training methods were widely effective. He formed the PUC Training service, which stood for Patxi Usobiaga Climbing. It took off. Usobiaga's detailed—and called by some sadistic—training plans were used by Adam Ondra, Chris Sharma and Daniel Woods, to name a few.
"I plan everything super systematically," said Usobiaga. For his own training, he "tries it and I'm going A MUERTE until I get it." He expects the same attitude of his clients.
It was with that in mind that I signed myself up for a three-month online course. Why do the best climbers in the world seek him out? How much would his training help someone like me, who's been climbing for over a decade and has already worked with other top-caliber coaches? I was going to find out.
Like any good training plan, his started with a self-evaluation. At the time, I was painfully close to sending Solid Gold (5.14c), in Saint George, Utah. Temps were about to change as the season ended, and it was becoming clear I would remain only painfully close until fall, if not the following year. My hopes were high that Usobiaga's program would not only help me finish the route, but also push me into sending more Rifle projects, nearer to my home in Carbondale, of a similar grade.
My first workout included TRX exercises, hard boulders, circuits and finger training—it was both mentally and physically challenging to get through. The workouts didn't change much for the next three months, but they alternated between endurance, power and power-endurance days. They increased in intensity and volume until the very end, when they tapered to allow recovery before project go-time.
So did I get stronger? They say there aren't any new stories, just retellings of familiar tales with different words. That's not the case with training, especially for climbers. Our sport is constantly evolving, and likewise so are the best techniques to send the gnar. I didn't find Usobiaga's program to be particularly insightful or revolutionary—it was more of the same stuff I'd done with other coaches I've worked with in the recent past, with the obvious theme of suffering with high-volume, high-intensity workouts—but ultimate takeaway was yes, I did get stronger. After retiring from the competition climbing world in exchange for a real-life desk job, I found the program helpful for getting back into a training routine. When the PUC Training program ended, I still didn't send Solid Gold, nor did I send other stuff in Rifle, partly because of an old shoulder injury, but I did feel better and motivated for more training, so hats off for that.
If you're thinking about signing up for Usobiaga's training, here's a checklist to ask yourself: Is this a good time for me to fully commit to his program? (For me, I can't really say it was, or I might have gotten more out of it.) Do you have a clear goal? Are you signing up because you need a plan, or because you want someone to push you? If it's because you want someone to push you, it's not worth the money. An online excel sheet instructing you to do more circuits is not the same as a present coach yelling at you to get on the wall. Be self-motivated and trust Usobiaga's program before you commit to it.
More than anything else, ask yourself if you are coachable. PUC Training costs a pretty penny (550 Euros, or $606 for three months), so if you're not willing to follow it to a T, don't sign up. If you're psyched for a program that will ultimately kick your butt, then his might be right for you.
Although Usobiaga is known for working with elite athletes, he works with athletes at every level, saying "it is super satisfactory to help them evolve and achieve their goals."
The secret to his and his clients' success, he said is this: "Trust and believe in oneself. Work well and hard, be methodical, disciplined. Fight to the end to try to achieve it, and most important, enjoy the process a lot, not forgetting that it makes us happy."