Alpine Knee: Climbing's Women's Movement Has Room for Improvement
Heading out the door? Read this article on the new Outside+ app available now on iOS devices for members! Download the app.
Corey Buhay once scared a party off The Diamond because they misinterpreted her battle cries as death throes. Alpine Knee is her column celebrating the scrappier, messier, sometimes comically unglamorous parts of climbing.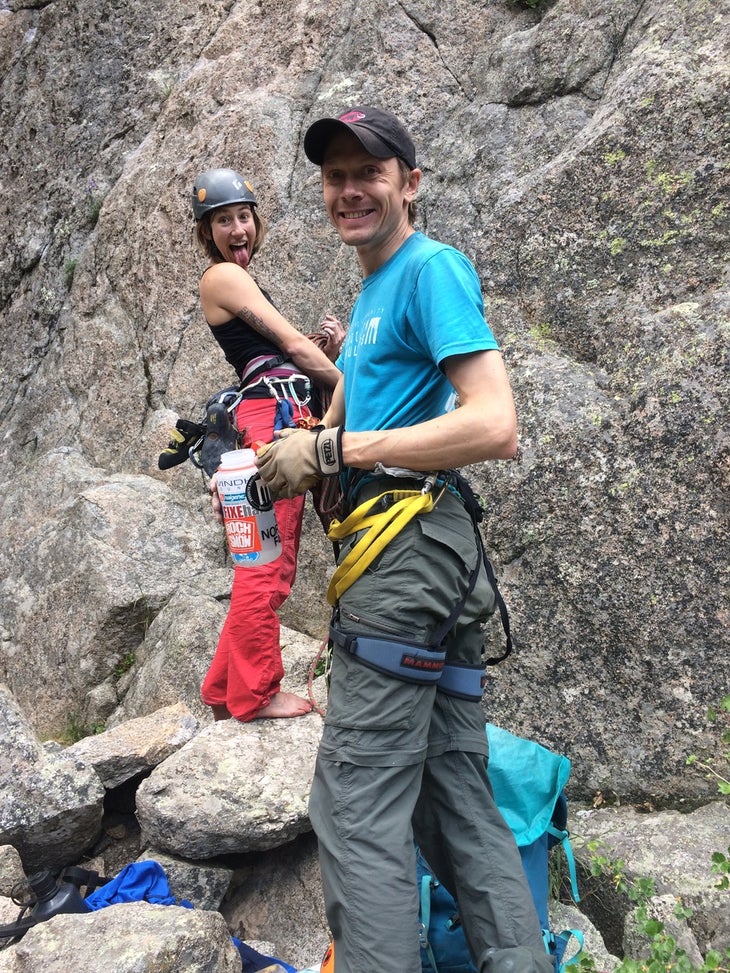 "Sorry. This is a women-only trip, so, sadly, he can't come," a friend of mine told me recently, without seeming all that sad. She'd been putting together a girls' climbing weekend and it coincided with a visit from a male friend from college who was in town for a few days.
My heart sank. I'd wanted to introduce him to a couple of my favorite climbing partners. But the girls-only mandate meant that, if I wanted to spend time with my guest, neither of us could go. It didn't matter that the dude was humble, sensitive, and emotionally intelligent—the qualities often used to characterize the glowy vibe of women-only climbing groups. Though the ladies in charge had never met the guy, they rejected him anyway, based on his gender.
Sure, it would make sense if my lady friends wanted to catch up and get some quality time among best buds. But a lot of the women on the trip were strangers to each other, invited just because they were girls.
Many of my go-to partners are women, and I can't understate the value of strong female friendships. But, like it or not, women-only climbing groups, clinics, classes, and meet-ups are, by definition, exclusive. And, in my opinion, ineffective in their goal of empowering women.
I didn't always feel this way. When I first started climbing in 2013, I had a hard time finding female partners, especially for outdoor pursuits.
When women suddenly became cool like five years ago, I was excited. Sure, women have been climbing hard for decades, but it's only in the last few years that we've gotten officially sanctioned attention for it. There was No Man's Land Film Festival, which launched in 2014, then Flash Foxy's Women's Climbing Festival in 2016. Outdoor Research's #SheAdventures scholarship, REI's Force of Nature project, and The North Face's She Moves Mountains campaign all rolled out one after another. Then Margo Hayes shattered all remaining semblance of a grade ceiling when she became the first woman to send 5.15a with her tick of La Rambla. By 2018, it was official: Women were mainstream.
At first, it was great. Hey, I thought, after years of culturally ingrained oppression, we deserve some special treatment! Finally, the decades-long work of strong female climbers was paying off. More women were discovering climbing. Gear companies were paying attention to us, making mountaineering boots in smaller sizes, and holding clinics and classes just for women. At crags and gyms, my friends and I were talking about our biases. We all started to be a little more respectful. Dudes started to be better about asking ladies if they wanted to lead instead of assuming they didn't. For the first time, I had a male stranger ask me if I wanted beta before spraying me down. I started getting invited on cool gear-testing trips because the organizers needed another woman for the photos. Utopia.
But after a year or two, the shiny newness of the revolution wore off, and what was supposed to feel like freedom started to feel like a burden.
For one thing, the advertising deluge was exhausting. Rather than feeling supported by brands, I felt like the outdoor industry was engaged in a long-term tug-of-war battle, and I was the rope. Every brand seemed to have a hashtag they demanded I use—free advertising as a tool for my empowerment.
Some companies were better than others. Outdoor Research, for example, defended women after GQ's Joshua Tree scandal with a hilarious parody photoshoot. On the other end of the spectrum: REI claimed that their Force of Nature advertising campaign was going to finally "level the playing field." (How? By convincing women to buy more stuff?) Even education became a grab for impressions: Everything from AMGA women's programming to the Girl Scouts of America suddenly had The North Face branding all over it. It made me wonder: Would brands be uplifting women if it wasn't for our purchasing power?
By 2019, I'd started to dread invites to women's trips, which had then become ubiquitous.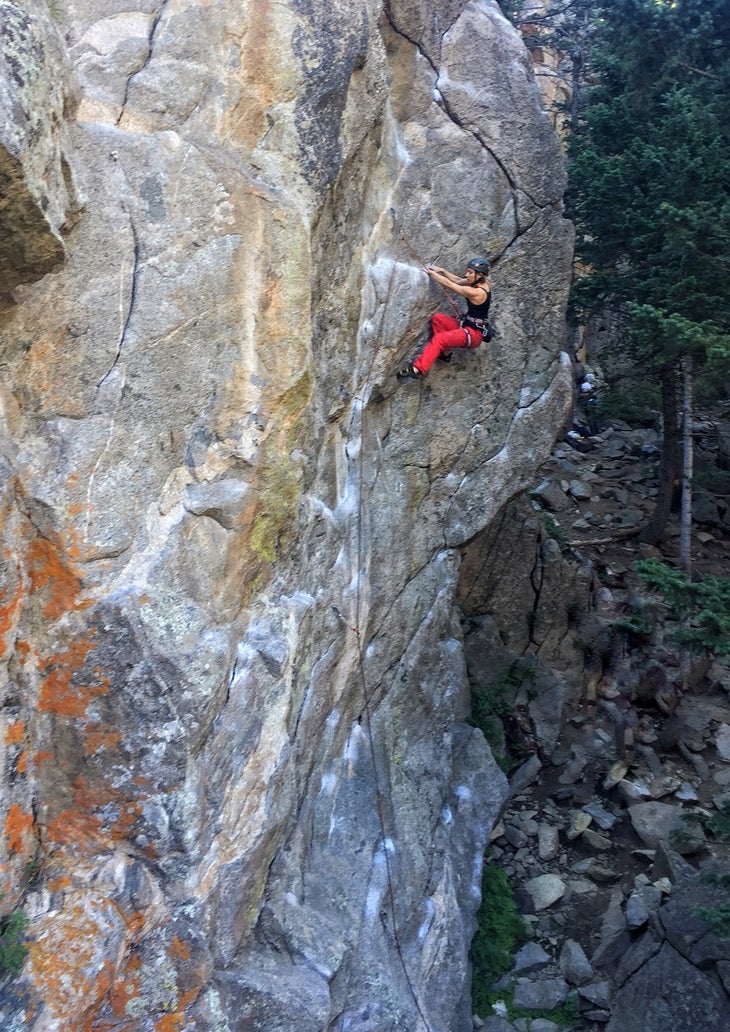 Plenty of studies show that women often learn better in the company of other women. I've seen many of my girlfriends come back from women's meetups with a new lightness to them. I've had some of those experiences myself. But, I've also had days I just didn't gel with any of the ladies, or we were interested in different objectives, or we didn't have much in common outside of climbing and menstruating. Hanging out with women just because we're women stopped feeling refreshing and started feeling forced.
I've also found that women's groups feel good in the moment because they're bubbles, portals to an echo chamber that endlessly repeats, "Isn't it so good we finally got the girls together? Isn't this so much better than climbing with men?" They make us feel good because they're exclusive—they make us feel important, elevated. And, in my experience, they're full of people preaching to the choir without quite breaking new ground or introducing new challenges. Of course that feels good.
Women-only education can be a valuable way to introduce people to the sport for the first time, or to work through a specific mental barrier in a comfortable setting. It's part of a solution that can help bridge gender gaps, but it's not the whole solution. Purporting otherwise, as the outdoor industry seems to be doing, sends the message that women are delicate creatures, too intimidated to learn in mixed-gender environments.
Talking about gender all the time heightens our sensitivity to gender differences and instances of sexism. This can be good—it help us tune into our own unconscious biases, like deeply held beliefs about sex and race, that we might not be aware of on a surface level. But it can also introduce confirmation bias, the brain's tendency to look for confirmation of what it already believes. To find fault when it's looking for fault. That's been my experience.
The more I hear about the climbing gender gap, the more afraid I become of sexism. And the more afraid I become, the more I see instances of it everywhere, including when it doesn't exist, wasn't intended, or could have been easily brushed off.
That fear is tied in with the concept of stereotype threat: Research has shown that if you tell a bunch of ladies that they're about to take a math test that women never do well on, the ladies will do worse than when gender isn't mentioned. Basically, if you think everyone expects you to screw up, you're probably going to screw up.
When I see "Intro to Climbing," and "Women's Intro to Climbing," listed side-by-side on a menu of clinics, I feel the same effect: A reminder that women don't do well when they climb with men. A reminder that, if I take the mixed-gender class, men might expect me to screw up.
And I do screw up. I've always been prone to crying when I get scared (sue me), but now, somehow, it's more embarrassing in mixed-gender groups than it ever was. Not only am I ashamed for slowing down the crew, but I'm ashamed because I feel like I've let down this whole outdoor womens' movement that I'm suddenly a representative for. I go into situations feeling an enormous pressure to prove myself as a woman, and that anxiety inevitably leads to failure. It's now harder for me to breathe and reset before my next lead because in the back of my head there's this new whisper: You're that weepy girlfriend everyone's been claiming is just a stereotype. You're the reason guys think girls are weak. You're setting this whole movement back. And that's a lot harder to shake off than a botched crux or a bit of runout.
What's the goal of feminism after all? Is it not to be judged as individuals first, and by gender second? Under the regime of this women's climbing movement, I've become a woman first, and an individual second.
Yes, I want women to feel comfortable climbing. Yes, I want gear that fits me. Yes I want women who crush to get paid well to do it. But I don't want to be tiptoed around or catered to. I don't want to be invited on your gear trip just because I possess a uterus, and I don't want to be part of your trendy marketing campaign. I just want to climb.
I think brands should be conscious of both the way gender-segregated climbing initiatives are advertised and how repetitive their gender-related messaging is. I also think women who are lifelong climbers should think before taking women-only courses—are they a tool for advancement? Or are they a crutch?
Instead, I'd urge brands to focus more heavily on the women who are at the cutting edge of climbing—plentiful research suggests that women's confidence and motivation benefit from having a female role model. Focusing on sponsoring and promoting high-performing female athletes—without aggressively reminding viewers that she's a woman or that her achievements are only remarkable through that lens—would help to inspire women and close gender gaps in a less damaging way. 
If you want to empower women, raise up the climbers who are excelling so that we can see them. Don't tell us we need a lift. If we're as strong as your ads keep telling us we are, that's something we can determine for ourselves.
Read more by Corey Buhay: