Alpine Knee: Speed Isn't Always Safety
After several personal losses, our columnist reexamines her relationship to speed.
Heading out the door? Read this article on the new Outside+ app available now on iOS devices for members! Download the app.
Corey Buhay once scared a party off The Diamond because they misinterpreted her battle cries as death throes. Alpine Knee is her column celebrating the scrappier, messier, sometimes comically unglamorous parts of climbing.
This weekend, I was about halfway up Eldorado Canyon's Green Spur (5.9+), when the familiar terror crept in.
The gear was good, laced into a network of finger cracks in the bullet sandstone. The fall was safe. There was no objective hazard at all, really, just a throbbing alarm in the back of my head, a cold, tight clench in my chest. Some of it was shame. Some of it was grief.
In 2017, a longtime friend and, at the time, a very recent ex, left for a road trip around North America and never came back. On August 22, he was doing a fast solo attempt of the Tetons' Grand Traverse and had been knotting just one end of his ropes to speed up the rappels. While descending Peak 11,840, he slid off the unknotted end and fell 65 feet.
His heroes had been rapid-ascent alpinists like Steve House and Mark Twight. His mantra had been, "speed is safety."
He was my first mentor. Climbing with him—and with a number of my early partners—had left me with the same mantras rattling around in my skull, whether I'd ever stopped to think about them or not. Speed is safety. Light is right. The more you know the less you need. Living in Boulder, my heroes soon became the men who moved quickly and fearlessly, taking a sparse rack and a dental-floss rope. The Anton Krupickas, the Tommy Caldwells, the revolving keepers of the Naked Edge record.
It's all become a complex psychological trap. When I move too quickly, the fear of making some small, critical mistake creeps in. Grief squeezes the air from my lungs, and I freeze. But when I move too carefully, I'm beset by the shame of failing to live up to my heroes' example. You're too slow, says a voice from the underbelly of my brain. You don't belong here.
About two weeks ago, another friend lost her life in the mountains. I didn't know her as well as I would have liked, and the rockfall that cut her loose from her tether had nothing to do with any rush or technical error on her part. Still, the loss left me shaken. What the hell are we doing? I wondered, thinking of my countless friends who live for long days in the alpine. Why are we so in love with something that's killing us?

My boyfriend, a guide, and I both climb outdoors three to four days a week. I wondered if we should drop everything, quit while we're ahead, give ourselves a chance to grow old. Of course, we haven't. Instead, we always resolve to do better. We resolve to pay better attention. But we never resolve to slow down.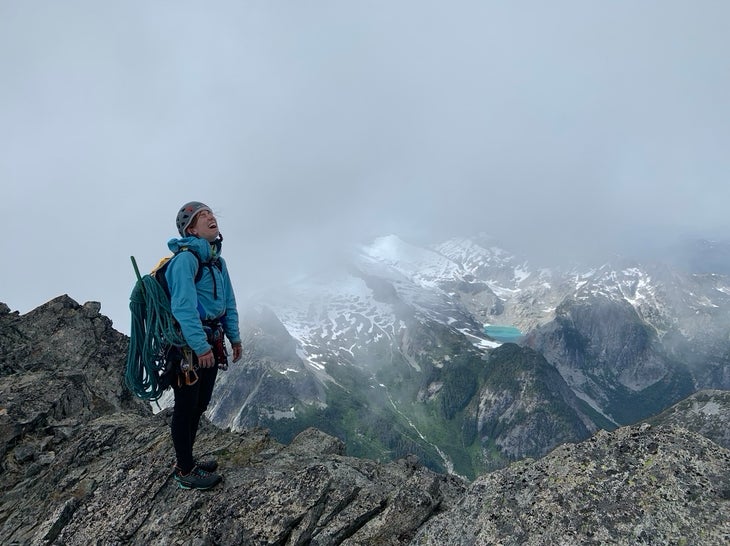 So, this weekend, I tried to move fast, as always. And, as always, I froze.
I need to be so much faster, said the voice. Then, for the first time, I stopped to wonder: Why?

I had daylight. I had good weather and good temps. I had no crowds to beat. I had a patient partner.
Only recently have I begun to realize where that under-voice is coming from. Deep down, I'm still trying to prove myself to my first mentor. I'm still trying to prove I belong.
In the climbing-obsessed culture of Boulder, Colorado, a reputation for speed and fearlessness can feel a whole lot like belonging.
Boulder is perhaps an exaggerated sample of the overall climbing community, but it's still a microcosm of the whole. In the melting alpine and under a stormy forecast, "speed is safety," has its place. But the cult of light-and-fast has far overspilled its bounds.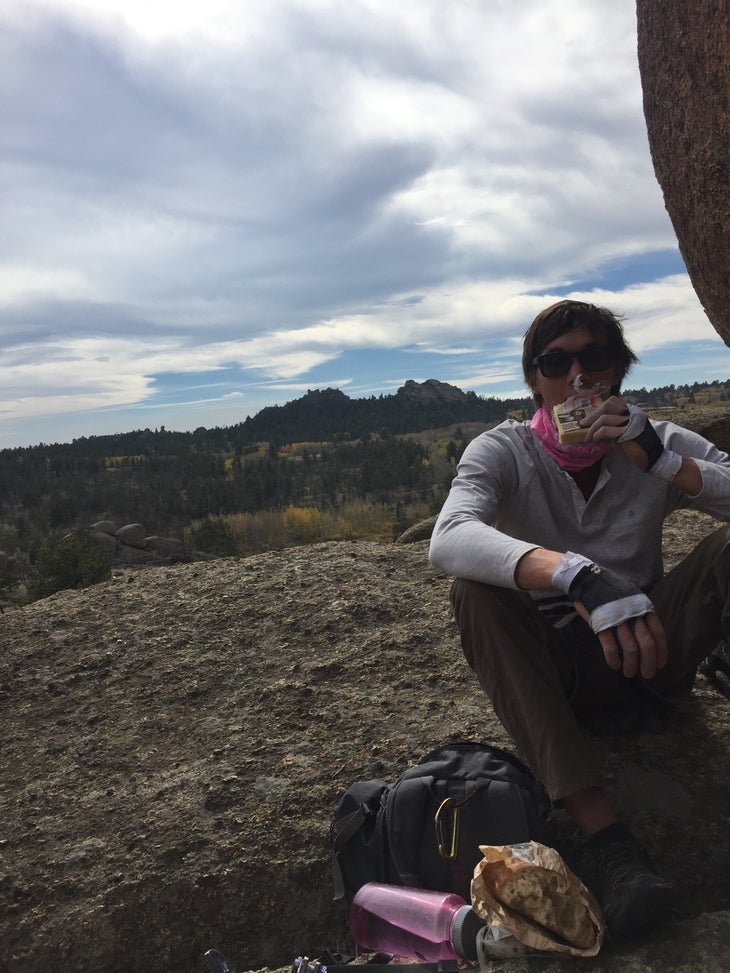 Even on sunny-day, sub-alpine multipitch routes, I've found myself agreeing to simul-rappel, or to free-solo a stretch of 5.6 instead of taking a few extra minutes to pitch it out. I have regular partners who time the approach, the descent, and each pitch in between. On the car ride home, I receive a report on our per-pitch and per-rappel averages. Sometimes it's just monitoring for the sake of gathering data, or with the goal of improving efficiency. But there's also something obsessive about the analysis of our time-on-route. Even in single-pitch climbing, speed seems to matter: No one says you've "styled" a line unless you've flowed up the wall without pausing to inspect bolts or gear, or to knock on suspect holds.
Now, I've set myself a new challenge. Instead of asking myself why I'm not fast, I'm trying to ask myself this: What's wrong with being slow? With gyms so prevalent, why do outdoor sessions need to be workouts? Why shouldn't trad climbing be more like fly-fishing, where the joy is in the meditation—the early morning, the quiet, the careful inspection of the water's surface, the careful selection of knotted flies. Why does it have to be fast?
Yes, I still have alpine goals, and I do want to be more efficient on the wall. Yes, I want to move quickly enough that I can experience more routes in a day. But more than that, I want to experience more routes in a lifetime. And to climb all I want to climb, I'm going to need a very long lifetime. That's the priority.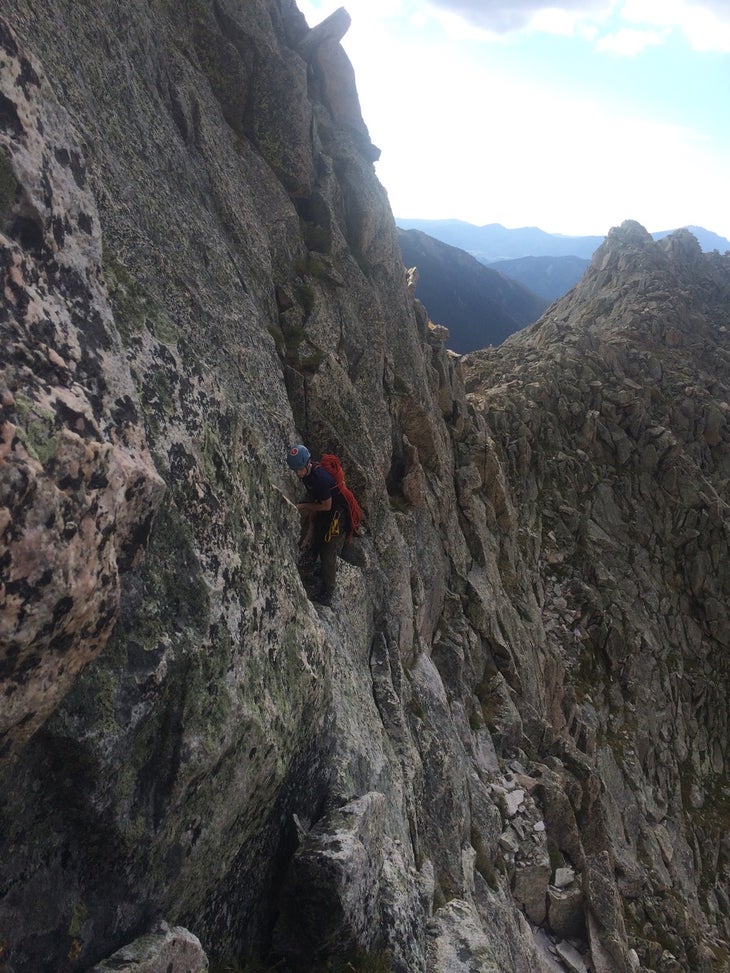 I can't promise I'll get much slower than I already am. But I can promise that I'll cut it out with the simul-rapping, and be more firm about roping up when I'm unsure of the terrain.
I'll also promise this: When I am moving slow, I will work to embrace it. I will strive to savor the route instead of forcing myself up it more quickly, and I'll never let myself feel too rushed to double-check my knots or placements, or the tat-slung blocks on alpine rappels. I'll find the joy in the meditative, instead of in the blinding-fast…even if I have to give my patient belayer the next two leads to make up for it.