Ask an Editor: What Are Your Climbing Plans for the Year Amid the Pandemic?
Heading out the door? Read this article on the new Outside+ app available now on iOS devices for members! Download the app.
Have a question you'd like to see answered in our Ask an Editor column? Email it to letters@climbing.com and write "Ask an Editor" in the subject line.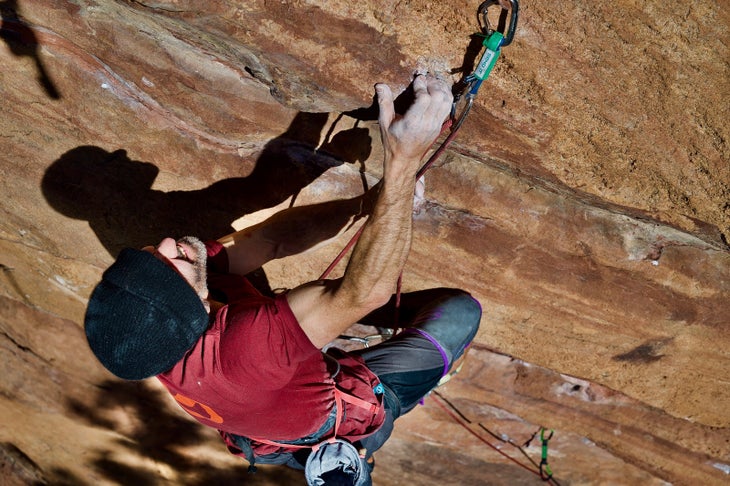 Since we've all been stuck inside for the past six weeks courtesy of the coronavirus pandemic, I've had lots of time to daydream about climbing goals for the year, trips I want to take, and so on. But it's hard to really know what's going to happen, at least until there's a vaccine or herd immunity, or we get the virus under control somehow. I just wanted to know how you all are handling it, and what your climbing plans are for the year.
—Kelly P., via email
Thanks for your timely question, Kelly, and it's something I've been thinking about a lot too. Here in our home state of Colorado, the stay-at-home order ended on Sunday. April 26. Now a less-restrictive "safer at home" policy is rolling out in phase, with the gradual reopening of businesses, workplaces, public lands, gyms, etc. as a goal. I imagine this will also mean more of a return to normal climbing—while climbing has not been expressly forbidden in Colorado since the virus closures hit in mid-March, it has been "strongly discouraged" in major destinations like Eldorado Canyon State Park. And local climbing organizations like the Boulder Climbing Community have also urged climbers not to climb for the duration, while land managers have been constantly reiterating practicing safe social distancing on public lands, which is obviously difficult at crowded crags. (And, boy, did a lot of crags in the Denver Metro Area get crowded once all the gyms closed!)
When this all hit, our staff was literally one day away from departing to Nevada for our annual editorial trip, in which we visit an area for two weeks and put together a destination feature. Hard on the heels of a tough deadline shipping our 50th Anniversary Issue, it was going to be a welcome break from the grind. But when the three of us—me, digital editor Kevin Corrigan, and associate publisher Kevin Riley—met to plan final logistics, we all agreed that we should postpone. Big bummer, but it was the right call, as only a week later the resort hotel we were going to stay at closed its doors and local climbers in destination towns all over the United States began urging traveling climbers to stay home, so as either to not bring in the virus or stress local health-care systems.
We hope to try for Nevada again in November, but to be honest, I have no idea if the trip will be feasible or if the August personal climbing trip a friend and I were planning to Arizona will still be a go either. There could be more waves of infection, more outbreaks, more closures, more turmoil, more nonessential-travel bans, more uncertainty. This is just our reality right now, as citizens of the world and as climbers. Big trips and big goals far from home seem iffy at best.
So, here's what I plan to do myself: Climb smart and climb locally. By climb locally, I mean crags we can drive to for a day trip or half-day outing, for the most part here in Boulder County where we live. And by climb smart, I mean climb with only a partner or two, at off hours or at obscure crags where we won't interact with a lot of people. And on the way to and from the crag, we'll minimize interaction with others by not stopping to buy food or use gas-station restrooms, etc. And we'll have hand sanitizer with us. Lots of hand sanitizer.
Like all of us, I also miss the rock gym, and I hope that gyms reopen soon and are able to do so in a way that's safe and doesn't encourage further spread of the coronavirus, maybe by limiting hours and the numbers of climbers on the floor at any one time, or by putting up hand-sanitization stations you can use between climbs. I also know that I'll also be going at off-hours—early in the morning, or mid-morning after the pre-work rush—to minimize contact with others. Though this was my modus operandi anyway, given my busy schedule and need to pack my training in, in a focused way, versus having "gym social hour."
So, those are the things I plan to do for the next few months, while we see what's happening or what's going to happen. For me, this will mean working through a long list of local projects—climbs I failed on over the years and need to get back to, or routes I just haven't tried yet. Yes, this will mean digging deep to find the motivation to clean up some 1- and 2-star piles (I've been in Boulder for 29 years, so have done nearly all of the classics I'm able to send). But to be honest, I'll be so happy to be out garden-variety cragging again that I don't think it will matter that the climbs aren't top shelf. The motivation will be there, as I'm sure it will be for us all as we figure out how best to resume our sport again.