Small Climber, Big Goals: 10-Year-Old Selah Schneiter's Journey to Become the Youngest Person to Climb the Nose
Heading out the door? Read this article on the new Outside+ app available now on iOS devices for members! Download the app.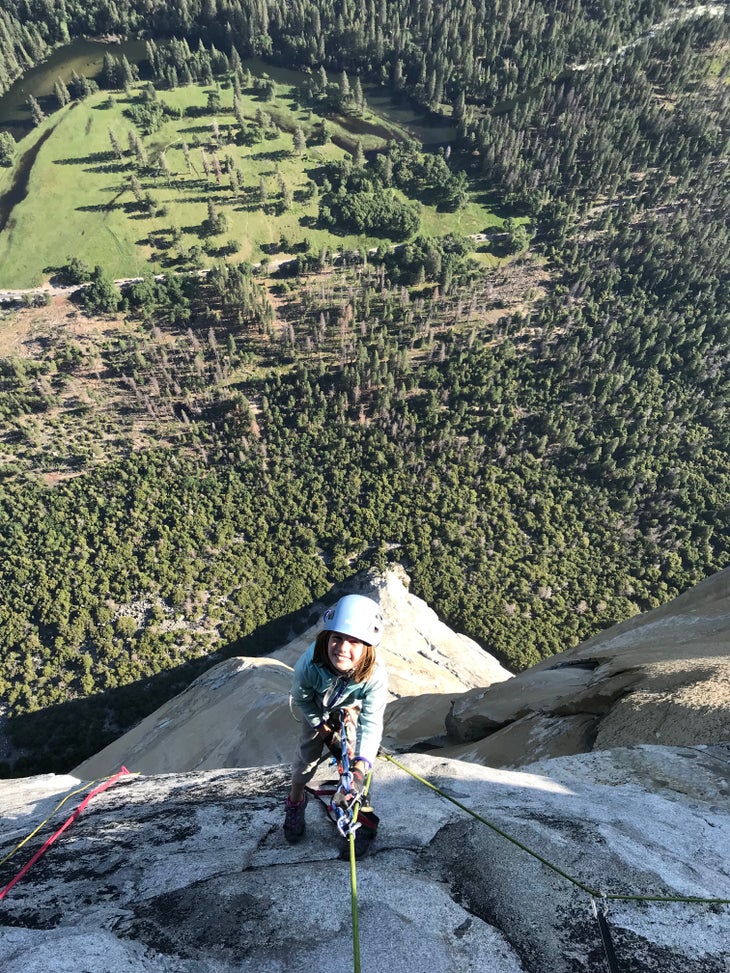 "It's hard to remember a time when I didn't love climbing," says Selah Schneiter. Climbing has always been a focal point in her life. Now, at ten, she has become the youngest person on record to climb the Nose of El Capitan, topping out above Yosemite Valley on June 12. Selah was unaware she was breaking a record at the time. In fact, her and her father Mike, who accompanied her on the climb, decided not to research the record until it was over.
"I talked to Selah at length [about how] we should be doing the climb for the climb and our experience, and we didn't want our motivations or decision making to be affected by any potential record," Mike explained. "We didn't want any pressure."
The Schneiter family already had a history with El Cap, as the starting point for the relationship of Mike and Joy, Selah's parents. "Our first climb together was El Cap," Mike said, "We fell in love while climbing the route over four days and had our first kiss on top."
Gallery: 9 Photos of Selah Schneiter's El Cap Ascent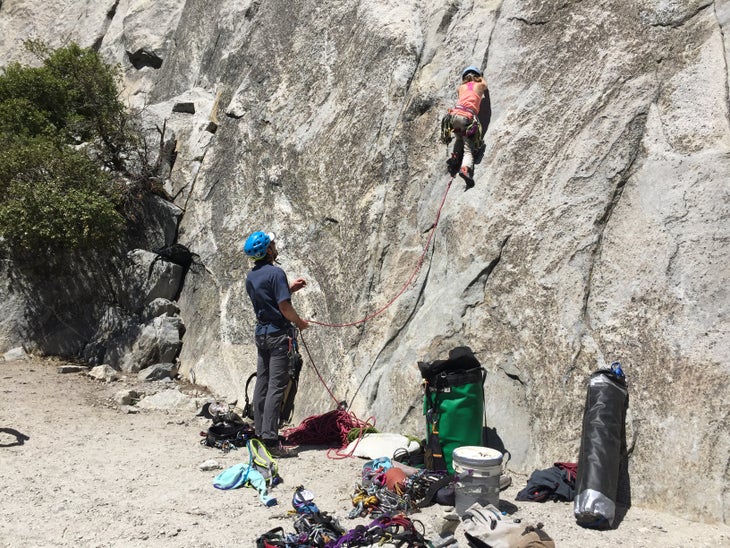 Selah leading Pine Line, the first pitch on her ascent of the Nose.
Selah leading the bolt ladder between Texas Flake and the Boot Flake.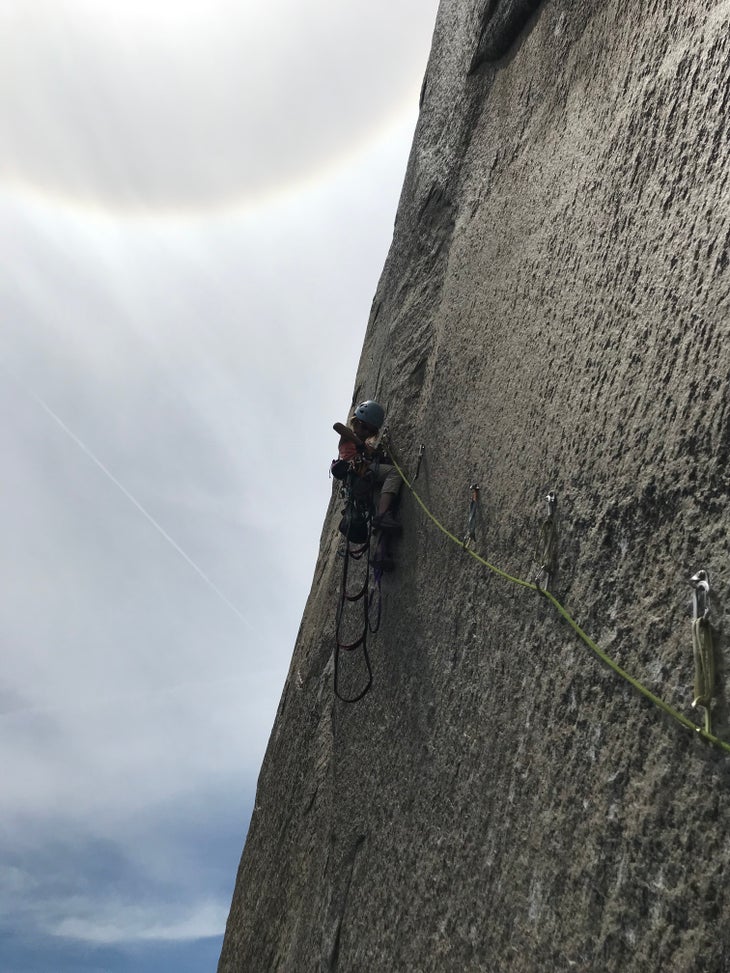 Selah further along the bolt ladder.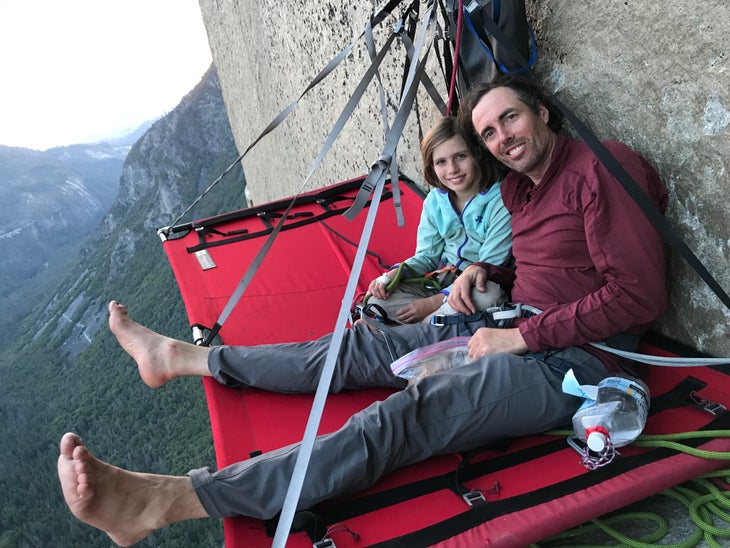 Selah and Mike enjoying the view from their final bivy on teh wall.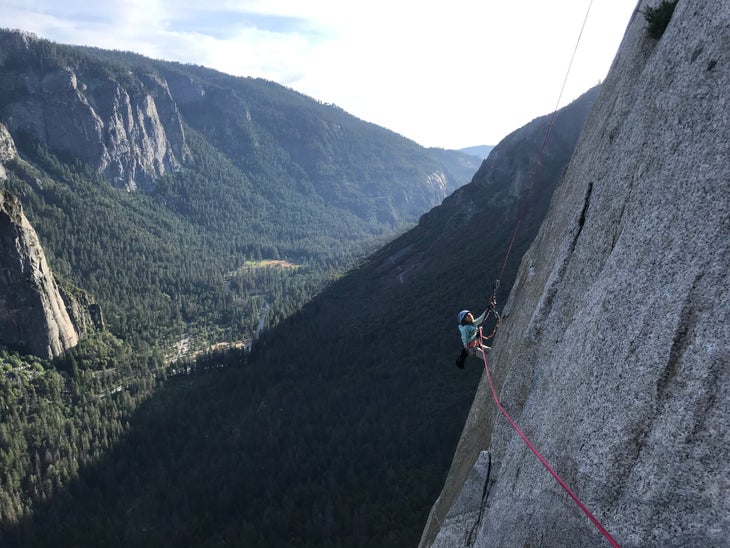 Selah handling the El Cap exposure like a pro.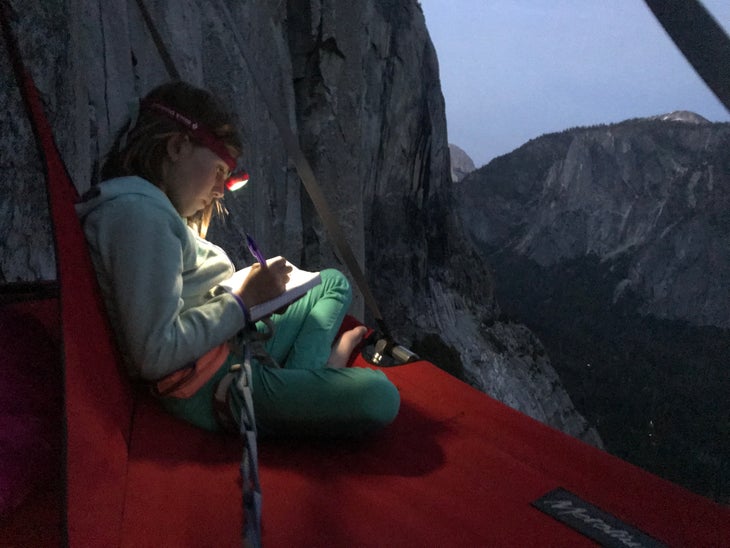 Selah enjoying some quiet time on the portaledge during her second night of the wall.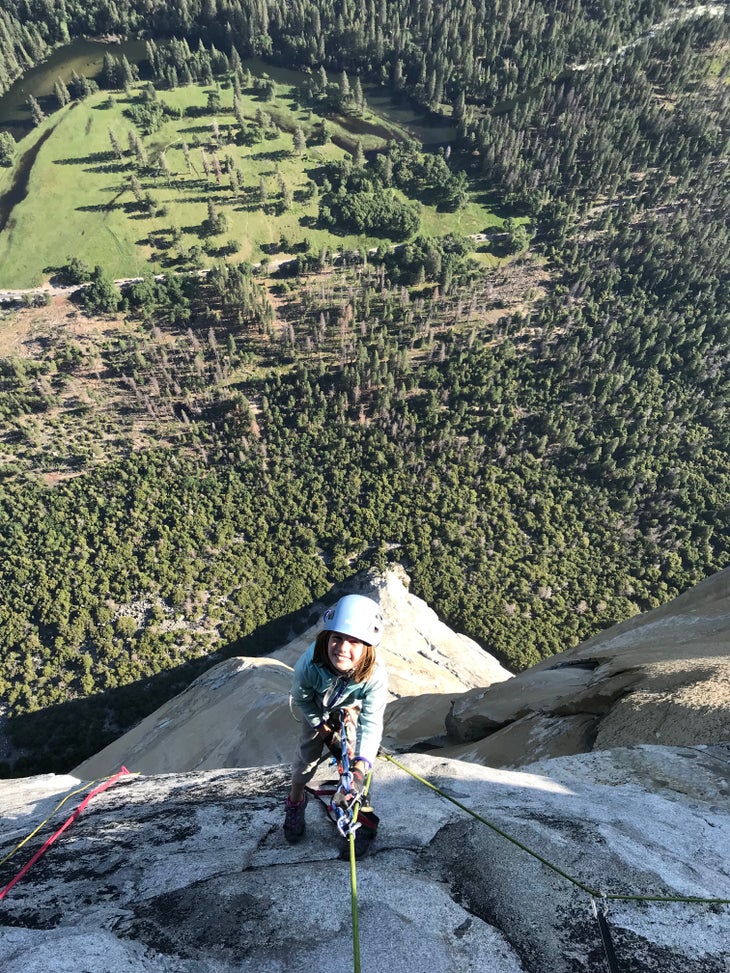 Selah jugging high off the deck during the final push of the climb.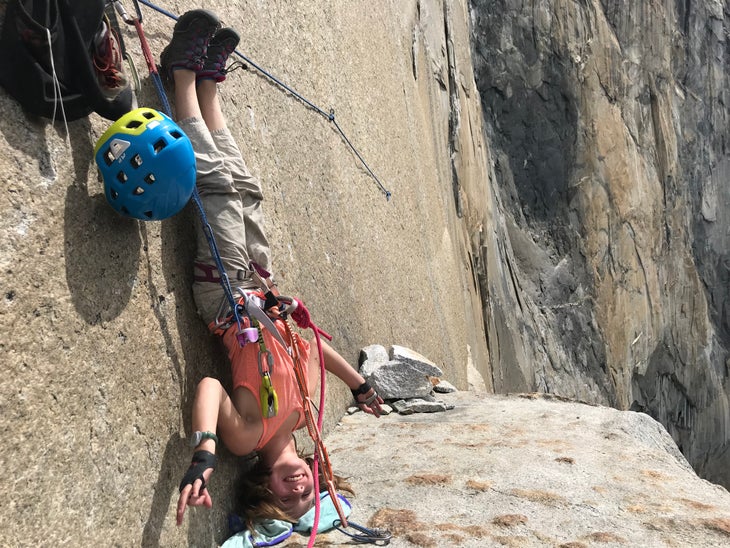 Having fun was the most important thing to the Schneiter's as they climbed the wall.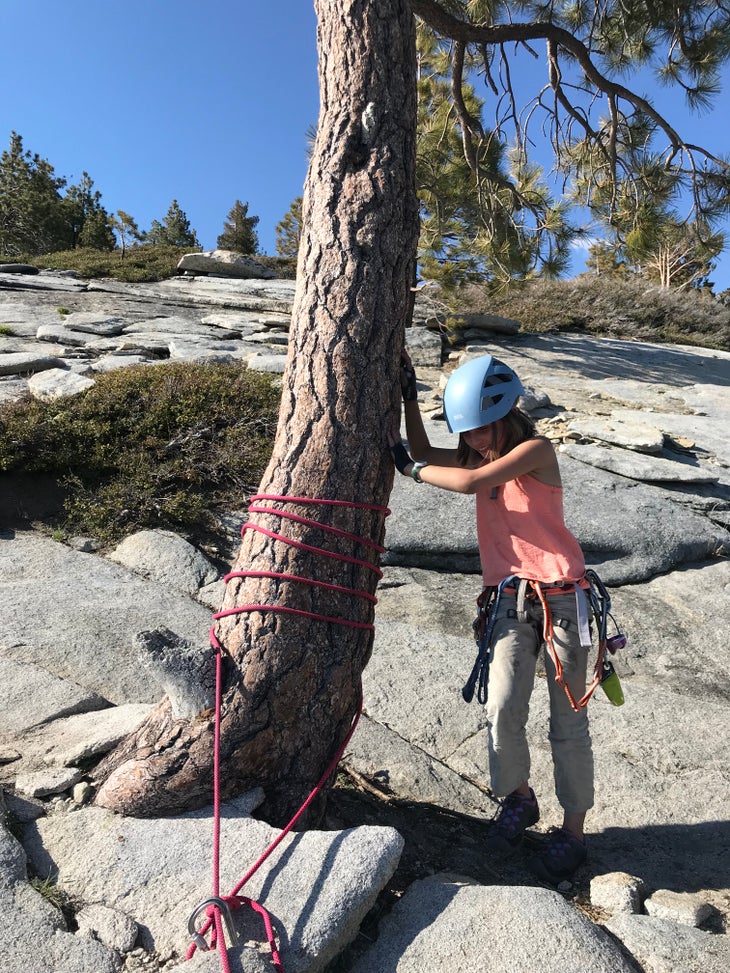 Selah tagging the El Cap tree after completing her ascent.
The family's ties to El Cap strengthened over the years. After the couple married, they returned to the Valley to climb. When they were done with their ascents they decided it was time to have kids. Selah was taken on her first trip to Yosemite when she was only two months old. She stayed at Camp 4 and went cragging with her dad at the base of El Cap. When she could walk, her parents put her in a harness and started to swing her around the rocks.
"She was right into the climbing scene when she was a little baby," Mike said. Mike is a the owner of Glenwood Climbing Guides in Glenwood Springs, Colorado, where he and Joy, who is a registered nurse, settled to raise Selah and her three younger siblings, Zeke, Sunny, and Salome.
Selah's drive to climb the Nose was not something that her parents pushed her into. When Mike first asked if she was interested, she declined, feeling that she wasn't physically or mentally ready. Then, as she began to think about it more, Selah began to feel that the Nose could be a possible for her. "I feel like this shift went from 'maybe someday [I'll climb the Nose],' to reality, I did it," Selah said.
Of course, accomplishing something of this magnitude, at any age, requires more than simply deciding to go for it. Over the winter Mike and Selah prepared for "the big one." They practiced multi-pitch routes and sleeping on the wall, and Selah learned to aid climb, jug, clean routes, do lower outs, and lead trad. They climbed extensively, both indoors and out, as Selah gained both physical and mental fortitude. Throughout the process her resolve to climb the Nose never wavered. Mike recalls regularly checking in with Selah, making sure that she still felt up for the momentous task. Her response was always, "I want to do it."
When it came time to climb, Selah and Mike were joined by Mark Regier, a long-time family friend who had been part of the El Cap team when Mike and Joy met. He also officiated their wedding. Regier was supportive, yet cautious about doing such a serious climb with a ten-year old. "Being a father myself, I took [taking care of Selah] really seriously," he said. At first he double checked everything she did, but after a while he became assured that Selah knew what she was doing. "I'd do a glance or two, but she kept impressing me," Regier said.
Climbing the Nose took the party five days, with four nights spent on the wall. They were going to try to complete the climb in less time, but ended up behind a slow party. As Selah said, "We decided, oh well, we'll take an extra day." They camped on top of the wall for the last night after topping out in the afternoon, for a total of five nights on El Cap.
Selah led the first pitch, which was Pine Line (5.7). Mike acknowledged that Pine Line is not the official start to the Nose, but has always began via the variation and thought it would be fun to start with Selah on lead. She also lead the bolt ladder between Texas Flake and The Boot Flake, and brought the rope up to the summit tree at the end of the climb.
When it came to the exposure, Selah showed fortitude. "Overall it wasn't that bad," she said, "Although when it got really exposed it can be a little scary." She admits to getting nervous under The Great Roof, but overall Selah was comfortable being high off the deck. "She was pretty much teaching Mark how to do lower outs," said Mike, "She's pretty dialed, like she can do it."
"We didn't guide her up there," said Regier. "She was fully part of the team."
* * *
In the weeks that have passed since Selah became the youngest person to climb the Nose, her story has circulated throughout the mainstream media. The family even flew out to New York City for an interview with The Today Show. Mark believes the interest is rooted in a desire for happier news.
"I think it's the kind of feel-good story people like to hear, instead of a lot of the typical doom and gloom in the daily news," he said.
At first, they weren't interested in spreading the story, though. "I initially intended to climb [El Cap with Selah] and to not talk about it or share it," Mike admitted. However, learning that Selah had broken a record and then seeing the media become interested, they decided to participate as a way "to inspire kids, particularly girls, to be active in the outdoors."