2003 Golden Piton Awards – All Around
Heading out the door? Read this article on the new Outside+ app available now on iOS devices for members! Download the app.
Hirayama on the 5.13a 13th pitch during his onsight attempt of El Niño.Photos by Kenji Iiyam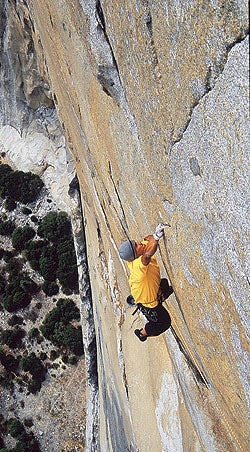 Yuji Hirayama relaxes on the wall.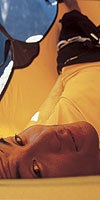 Yuji Hirayama Hard onsights and redpoints
The essence of an all-arounder is the ability to cover ground, quickly, efficiently, and with aplomb, regardless of difficulty. Often this can mean rock, mixed, alpine, altitude, but we think the most impressive all-arounder of 2003 was a rock specialist, Yuji Hirayama. Last year, Hirayama free-climbed the Salathé Wall in 13 hours with no falls, and onsighted Quantum Mechanic a modern 1000-foot 5.13a on Washington Column. This year he kept that momentum and onsighted the second free ascents of the new-wave Yosemite free routes Psychedelic Wall (5.12c) and Uncertainty Principle (5.13a). Just as impressive, he twice nearly onsighted El Cap free routes, attempting Golden Gate (41 pitches, 5.13b) and El Niño (30 pitches, 5.13c), sending them with three and two falls, respectively. He is the first climber to achieve a long-held American free-climbing dream: to consistently onsight 5.13 pitches in a granite big-wall setting. In addition to his unmatched Yosemite flurry, Hirayama also managed to redpoint his 14-year project Flat Mountain in Japan (see the Sport Climbing Golden Piton).Tommy Caldwell, Iker Pou, and Josune Bereziartu also made good all-around rock showings, as did the closest runner up Steve McClure, whose ascents included the great Malham Cove sport line Rainshadow, a major first ascent in Greenland, and perhaps the hardest onsight ever at the Gunks. Yet there was a certain, just-getting-warmed-up quality to these performances, and — dare we say it? — we don't expect Yuji, one of the greatest climbers ever to touch rock, to top 2003's performance. So unless he blows us away again and proves us wrong, let this be his year.