2003 Golden Piton Awards – Bouldering
Heading out the door? Read this article on the new Outside+ app available now on iOS devices for members! Download the app.
Kehl preparing to redefine The Fly.Photo by Brian Post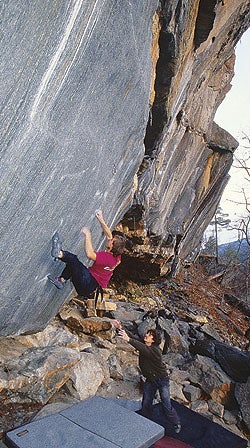 Jason KehlPhoto by Tim Kemple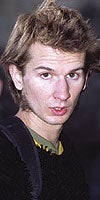 Jason Kehl The Fly
In 2003, the V15 grade was fully consolidated, with a number of problems, long and short, confirmed or proposed. Most interesting — and mysterious to Westerners — was Dai Koyamanda's 22-move roof problem Byaku-dou (The Road to Heaven) in Japan, declared by the visiting French climber Fred Rouhling to be "harder than Dreamtime," the Swiss problem that is considered the benchmark for V15. (Climbing has since dispatched a team to Japan to find out what climbers there are really up to.) In women's bouldering, American Lisa Rands and Josune Bereziartu of Spain stood out. The latter is, hands down, the world's top female redpoint climber, with numerous extreme bouldering endurance tests to her credit including, this year, E la Nave Va, given V13/14 (We think a V-grade is inappropriate, however, for a 100-foot endurance traverse that is longer than most sport routes.) This year, as Bereziartu focused on shorter and the more powerful roped climbs, she also sent Solaris, a seven-move power problem at Balzola, Spain, given V12. Rands also did two V11/12 problems at Hueco Tanks, Texas, Chablanke and Sarah, but her best performances this year were in extreme highballing and gritstone E-climbing. Steph Davis, not generally noted for her bouldering, made the third or fourth (and first female) ascent of the 80-foot roof crack boulder problem Crack House near Moab — which we dare Bereziartu and Rands to try. Fortunately, we were spared having to choose between the women. The best performances strike at the root of old habits and set new trends. Thus, the Golden Piton for bouldering in 2003 goes to Jason Kehl, for his unroped, crash-padded, highball ascent of Dave Graham's two-bolt Rumney 5.14d (or V13?), The Fly. Kehl worked the route over the course of several days, self-belaying on a top rope. In keeping with Kehl's "dark" persona, most of his rehearsal was done at night, by headlamp. Interestingly, Kehl never successfully TR'ed the route before breaking out the pads and beginning his high-flying bouldering attempts. Since the route begins atop a small ledge, the two-tiered landing zone made for complex fall trajectories. After several spectacular near-misses from high on the route, Kehl finally sent.