2003 Golden Piton Awards – Lifetime Achievement
Heading out the door? Read this article on the new Outside+ app available now on iOS devices for members! Download the app.
Beckey trying out Beginner's Luck at Ophir, Colorado.Photo by Whit Richardson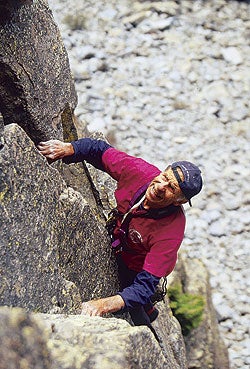 Fred Beckey Lifetime Achievement
While a list of revered, veteran North American climbers is long, the roll of those who've reached true iconic status is short. Near the top of that brief list is Fred Beckey. His unsurpassed first-ascent record, extensive contributions to the history and literature of the sport, and his zealous, lifelong sacrifice of economic comfort in pursuit of maximum climbing time leaves him without peer. Arguably one of the most prolific first ascentionists in climbing history, Beckey has a tick list of FA's that range from obscure one-pitch rock routes, to desert towers, to the most storied Alaskan summits. Allen Steck and Steve Roper's timeless 50 Classic Climbs of North America, still the bible of exemplary routes, lists eight Beckey climbs, from the West Ridge of Alaska's Mount Hunter, to the North Face of Alberta's Mount Edith Cavell, to the South Face of California's Charlotte Dome. A list of Beckey's partners reads like a Who's Who of climbing for the past several decades: Fritz Wiessner, Ed Cooper, Galen Rowell, Eric Bjornstad, Pat Callis, Yvon Chouinard, and John Middendorf have all shared a rope with him, to name just a few. Add to that hundreds, if not thousands, of relatively anonymous climbers who've joined him for brief spans in his relentless pursuit of the vertical. Many of these climbers, exhausted at trip's end and preparing to return to "regular" life, snap a farewell photo of Beckey; most of these images show him ensconced in a phone booth, lining up a partner for his next adventure. Beckey's passion for the mountain environment has made him expert in geography, geology, and a host of other naturalist subjects. That expertise, combined with Beckey's love of history and the written word, has resulted in a writing career that spans seven decades. Aside from his voluminous contributions to the American and Canadian Alpine Journals, he has found time between climbing binges to author several classic books, including Challenge of the North Cascades; the three-volume Cascade Alpine Guide (a.k.a. the "Beckey Bible"); Mount McKinley: Icy Crown of North America; and Mountains of North America. Beckey also stands out as a staunch individualist. While his iconoclastic style has earned him many partners and friends, it also has ruffled the feathers of the climbing "establishment," who, on more than one occasion, dismissed him as too individualistic and too unsafe for large expedition efforts. Despite having been to 25,000 feet on Lhotse in 1956, Beckey was denied a spot on the 1963 American Everest expedition, though his résumé far outstripped that of any member of the expedition. He responded by making a slew of first ascents that year in the Cascades, Sierra, Wind Rivers, and Canadian Rockies. But Beckey's crowning achievement is his enduring climbing-bum lifestyle. From an early age he has put climbing first and foremost in his life, making ends meet as need be, purely for funding his next excursion. His thrift tactics are legend — partners tell of sample-scamming in supermarkets and endless cycles through the free-coffee-refill line. Today's laptop-toting, Coleman-stove-cooking, DVD-watching, "hardcore" roadtrippers pale in comparison. Now entering his ninth decade, he still puts climbing at the fore, cobbling together a combination of book royalties, slide show revenues, and contract research work. While most his age are doddering about in retirement homes or just plain dead, Beckey is out there, the climbing-bum Bodhisattva, living the pure, zealous climbing life of which we can only dream.