2003 Golden Piton Awards – Sport Mixed
Heading out the door? Read this article on the new Outside+ app available now on iOS devices for members! Download the app.
Papert hits the brief section of ice on Mission Impossible.Photo by Rainer Eder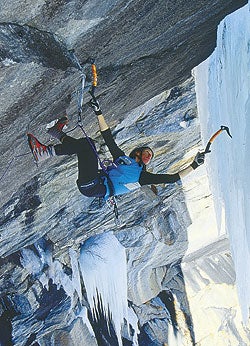 Ines PapertPhoto by Jeff Achey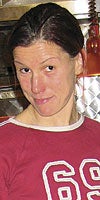 Ines PapertMission Impossible
Ines Papert of Germany set a new standard for women's mixed climbing in 2003 when she repeated Mission Impossible (M11), near Courmayeur, Italy, a route that just two years earlier was thought to be the hardest in the world. Moreover, the 29-year-old Papert narrowly missed onsighting the route — she fell near the final curtain of ice and climbed the route next try — an effort that earns her the Golden Piton for 2003.Mission Impossible was just one route in a week-long spree of hard mixed climbing last winter, during which Papert climbed five high-end routes in Switzerland: Pink Panther (M9+), Twintowers (M10), and Slice of Scheiss (M10-) at Kandersteg, and White Out (M10) and Tomahawk (M10+/11-) at Isenfluh. On top of that, Papert easily won the Ice Climbing World Cup in 2003, taking first in all four of the difficulty competitions. She has dominated competition ice climbing since 2001, winning the overall World Cup title that year and the World Championships in 2002. Papert trains for mixed climbing on the robin's-egg-blue ice caves of the Piztal Glacier and on a special indoor woody. Wielding leashless tools and rock shoes, she tests the limits of tool placements on improbable sloping holds and maximizes her strength and heel-spur-hooking ability. Not just an ice specialist, Papert has redpointed up to 5.13c and flashed 5.13a on rock. She has a three-year-old son and lives in southeastern Germany with Hans Lochner, with whom, last summer, she made the first one-day free ascent of Symphonie de Liberté, a 27-pitch 5.13 on the Eiger. (Since New Year's, Papert has upped the ante in female mixed climbing to M12, with an ascent of Vertical Limits in Switzerland.) Also notable this year were the climbs of Robert Jasper, who onsighted M11 and established two new M12 lines in Switzerland, Batman, a 65-foot roof at Eplingen, and Vertical Limits at Ueschinen. On the strange side of this already strange discipline, we must acknowledge Scott Muir's no-ice-at-all drytooling testpiece in Scotland. Too Fast, Too Furious is a 135-foot, 25-bolt, 60-degree-overhanging route in an old slate quarry. Climbing leashless in August in superlight boots and crampons — and a T-shirt — Muir hung on for 28 minutes to redpoint the route. He rated it D12 (for dry tooling), on par with the world's three M12 mixed climbs.