2004 Golden Piton Awards – Alpine Rock
Heading out the door? Read this article on the new Outside+ app available now on iOS devices for members! Download the app.
Fast, light, and way out there — Wharton on Great Trango.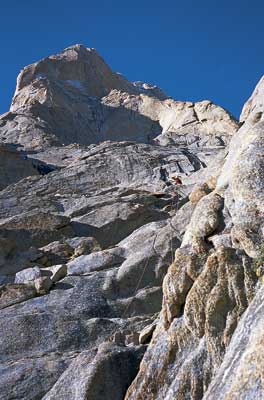 Josh Wharton, Kelly Cordes,Azeem Ridge, Great Trango Tower Looking down between his legs at 7000 feet of vertical relief, Josh Wharton could hardly believe the predicament into which he'd climbed himself. His last protection was an equalized birdbeak and knifeblade 30 feet below. The aluminum crampon strapped to his left rock shoe was scraping inside a vertical, ice-choked offwidth, and the sawed-off tool in his left hand was getting almost no purchase. The moves felt like 5.11, at an elevation of nearly 20,000 feet, and neither Wharton nor his partner Kelly Cordes, completely out of earshot somewhere below, had drunk a sip of water in nearly 48 hours. By the summer of 2002, there were only two big prizes left in the towers lining the Trango Glacier in Pakistan's Karakoram: a mystery tower behind Shipton Spire that John Middendorf had dubbed the Flame, and Great Trango Tower's 7500-foot southwest ridge. Wharton, while still a university student in Boulder, bagged the Flame with Brian McMahon in 2002. Along the way he walked directly beneath Great Trango's southwest ridge. Here was not only the biggest route by far in the Trango valley, but more than likely, the single tallest piece of rock in the world. It made a significant impression on the young man. The line was first attempted in 1989 by an American team including Greg Collum, Dan Cauthorn, and Greg Foweraker, who bogged down early. A year later a Spanish team spent all summer fixing about 60 pitches on the ridge before giving up. After that, the futuristic line sat idle for the next decade until Tim O'Neill and Miles Smart showed up in 2000 to apply new-wave Yosemite speed tactics. The strong team threw themselves at the ridge twice, the second time bailing way up near the Spanish highpoint, resulting in a horrific descent. Wharton and Cordes had only shared a rope a few times before they set off from Trango basecamp last August, carrying 20 cams and some nuts, a few pins, a 9mm lead line, a tag line, lightweight sleeping bags, rock shoes, Gore-tex sneakers and aluminum crampons. They had one legitimate ice axe and one funky, sawed-off third tool. The route began with many pitches of 5.8 to 5.10 free climbing. On the third pitch, the team's gear sling came undone, dumping six of their biggest cams, but Wharton and Cordes continued on. Climbing in blocks, with the second jumaring with the heavier pack, the pair made quick work of the lower wall and by the end of the second day found themselves huddled on a small ledge. Their one and only fuel canister farted out its last breath of gas that night, and from there on out, their only water would be whatever they could tap into with their plastic drinking straws. Two days later they were barely be able to speak, their mouths caked in whitish salty deposits. Apart from the occasional icicle and some handfuls of snow, they would find not a single drop of running water anywhere on the ridge. On the fifth day they summitted. Lacking any means to rappel their ascent route, and near collapse from thirst, the pair headed across the summit ridge to the hanging glacier of Great Trango's seldom-climbed "standard" route. At the end of a long series of diagonaling rappels to the glacier, their ropes became hopelessly stuck. They cut off what they had in their hands — about 70 feet of thin static line — and continued simul-climbing and rapping across hundreds of feet of 60-degree ice and névé. After more desperate hours, the pair finally found themselves staring into the rocky gulch that separates Great Trango from Nameless Tower. Cascades of frothy whitewater gushed from the toe of the glacier. Only then did they allow the reality to sink in: they had just climbed the biggest alpine rock route in the world.