Heading out the door? Read this article on the new Outside+ app available now on iOS devices for members! Download the app.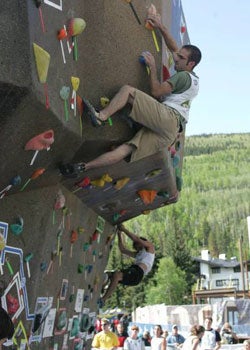 The country's largest celebration of mountain sports, soul, and culture will return once again with the explosion of The Teva Mountain Games (TMG) in Vail, CO, May 31 – June 4, 2006.
Volunteers are needed for judging the competitions on Saturday from 8:30am-Noon. Judges will receive the best seats and some swag from Climbing Magazine. If you are interested contact scottrennak@yahoo.com or simply show up.
The Teva Mountain Games represent the nation's largest venue for a bouldering competition, with 28,000 spectators expected throughout the weekend. It boasts the largest prize purse for any climbing competition in the United States with a combined cash purse of $16,000 distributed to winners of the difficulty bouldering, speed bouldering, and freestyle dyno divisions. In addition, the past two season's segments of the TMG climbing competitions have been featured on networks such as OLN, NBC Sports, Fox Sports Net, and VH1.
In addition to the premier climbing competition, professional and amateur outdoor adventure athletes from locally and around the world will converge upon the mountains and rivers of Vail to compete in six sports and ten disciplines, including: extreme kayaking, kayak and raft paddlecross, mountain bike trials, cross country racing and the Vail Hill Climb, trail running championships, and the GNC adventure sprint race.
If you need just one more reason to attend, the Teva Mountain Games will include live music and mountain lifestyle parties with an eclectic mix of outdoor athletes.
See below information for the climbing competitions schedule of events, a breakdown of the prize purse, and discounted rooms in Vail for only $49 a night. Please see attached word document for exhibitor information, rules & regulations. Visit Tevamountaingames.com for more information.
Climbing Competition prize PURSE Bouldering: $10000 ($2500 $1000 $700 $500 $300) Dyno: $3000 ($1000 $300 $200) Speed: $3000 ($1000 $300 $200)
THURSDAY June 1, 2006
3pm-6pm
Dyno, Speed and Bouldering Demos
FRIDAY June 2, 2006
9-10:30am
Women's Bouldering Practice
10:30am – Noon
Men's Bouldering Practice
Noon-1:30pm
Dyno Practice
1:30-3pm
Speed Practice
SATURDAY June 3, 2006
9am-Noon
Citizen Bouldering Competition
1-2pm
Women's Bouldering Qualifiers
2-2:30pm
Women's Bouldering Finals
3-4pm
Men's Bouldering Qualifiers
4-4:30pm
Men's Bouldering Finals
SUNDAY June 4, 2006
9-10am
Dyno Practice
10-11:30am
Dyno Qualifiers
11:30am – Noon
Dyno Finals
1-2pm
Speed Practice
2-3:30pm
Speed Qualifiers
3:30-4pm
Speed Finals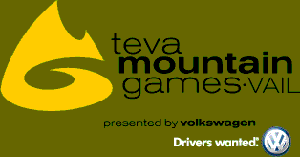 Discounted Lodging for the Teva Mountain Games
Roost Lodge
The Roost is located 1.5 miles from the center of Vail Village, where the climbing competition and Teva Mountain Games festivities will occur.
The Roost Lodge offers complimentary continental breakfast, heated pool, hot tub, sauna, fax service, vending machines, bike rentals, gas BBQ, and free shuttle to and from the Vail village.
Contact: 800-873-3065
Special Climbing Magazine Rates (mention this during booking)
Single/2 Doubles
$49.00
Lodge rooms with either 2 double beds or one queen and bath.
Deluxe Queen
$59.00
Spacious 1 room singles that include microwaves and refrigerators and bath.
Deluxe King
$59.00
Spacious 1 room singles that include microwaves and refrigerators and bath.
Triple
$79.00
One room, 2 double beds, 1 twin, microwave, regrigerator, table and bath.
Suite
$109.00
2 rooms – one room has a queen bed and sofa, the other has 2 double beds, microwave and refrigerator, table and bath.