2008 Céüse, France Climber Clean-up
Heading out the door? Read this article on the new Outside+ app available now on iOS devices for members! Download the app.
UPDATE – 7/08/08 – Céüse is clean!Three years ago we found tons of garbage at Céüse, at the cliff, all around the campground, in the parking area and at the start of the main path to the cliff. This year Céuse is clean. Maybe because June was rainy but also because climbers are beginning to understand that (even in France, where 675 contracts had been signed between owners and the french federation) climbers are both the problem and the solution. The clean up was a sucess and there will be an official poster (with the national forest office) all around the Céüse afrea to give information about keeping the forest clean and free of bivouac at the foot of the cliff. Also, a new contrtact will be signed with the national forest office about the possibility of rebolting a few routes and bolting some new routes. Remember the fire last year and please don't make fires at the cliff.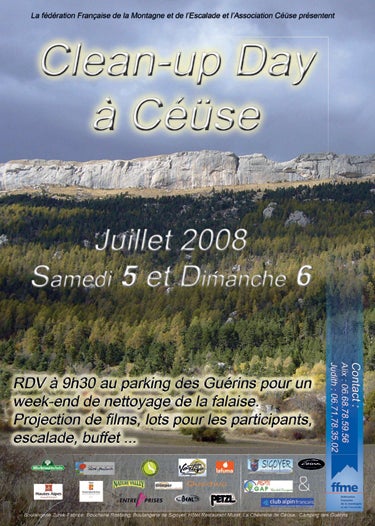 Céüse is one of the most well know cliffs for sport climbing in the world but due to it's popularity there are new problems to solve. Because of all the trash from picnickers, campers and due to last year's fire that briefly closed to the cliff the national forest office is getting upset as wells the locals community. In response to this we will organize a clean up weekend July 5 and 6, 2008 to maintain a good relationship between the Céüse locals and climbers.
The meeting point on july 5th is at "le col des guérins" (start of the trails to the cliff) and at the camping area. The programm will consit of cleaning the routes and all surounding areas of trash. Sponsors will be there too and some films will be seen in the camping at night. Volunteers are welcome and registration will be down on the parking early in the morning both days. For more information visit: ffme.fr/