2008 Neptune Mountaineering Horsetooth Hang – Recap
Heading out the door? Read this article on the new Outside+ app available now on iOS devices for members! Download the app.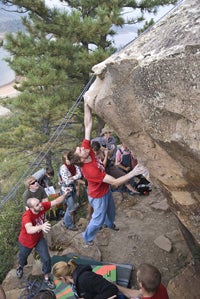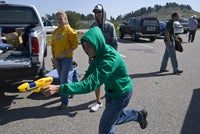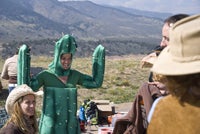 The 2008 Neptune Mountaineering Horsetooth Hang, held at Rotary Park in Fort Collins, Colorado, pulled off its annual bouldering festival this past Saturday, September 27 with a Western-themed flourish. Pink cowboy hats (on the guys), pigtails (on the girls), and cowboy boots of all types came together for a day of stewardship, community development, and a little competition.
Classic sandstone boulder problems (with a view of the Horsetooth Reservoir) included the John Gill classics Corner Lock, Standard Overhang, and the Pinch Overhang, all on the Mental Block boulder. These and other popular problems, like Left and Right Eliminator, bore topropes, in order to protect competitors from the often hairy topouts. Lower problems like the Punk Rock Traverse went ropeless, of course. Many climbers, skeptical at first, came to love the topropes, as they allowed them to safely gather Beta and tick hard/scary problems in short order.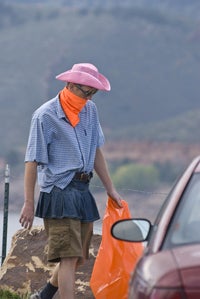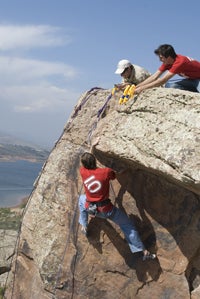 In addition to the climbing, roughly 200 participants (including volunteers) collected some 300-odd pounds of trash. One participant, Dan Banks, filled a five-gallon bucket with collected glass shards. Plus, event organizers gave away over $6,000 in gear (prizes and raffles) donated by sponsors (Neptune Mountaineering, The Mountain Shop, Sterling Ropes, The Spot Gym, La Sportiva, Organic, Miramont Lifestyle Fitness, Five Ten, Scarpa, Evolv, Climbing and Urban Climber, and many more; for more info and complete list of sponsors, visit www.horsetoothhang.net).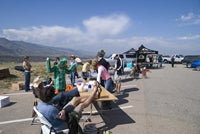 The after party at Hodi's Half Note (www.hodishalfnote.com) in downtown Fort Collins, Colorado, featured pizza and beer from New Belgium Brewery (gratis for Hang participants), and a slideshow from Jamie Emerson and Angie Payne detailing their recent climbing adventures (most notably to Switzerland). The Hang also raised money for the Northern Colorado Climbers Coalition (NC3), as well as for the Access Fund. Cameron Cross, president of the NC3, and driving force behind the Horsetooth Hang for the past four years, says, "It allows people to get out for a day, be social, and also give back to our local community, which is what we're driving at with the event." The biggest accomplishment from this year? "Seeing people laugh and just having fun…regardless of their ability. It means we're doing something right," says Cross.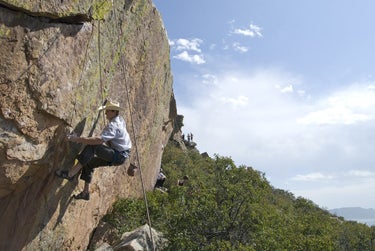 Historically, the Hang has changed much over the years, passing through several distinct phases. It all began in 1991, at Washington's Bar and Grill in Old Town, Fort Collins, a watering hole for local climbers, including John Shireman and Craig Luebben. One night, perhaps after a few pints, Shireman and Luebben began climbing the back wall of the building. This, somewhat obliquely, sparked the idea for a Fort Collins climbing competition. Thus the Hang was born. In 1992, the comp attracted some of the nation's strongest climbers, gunning for $8,000 in prize money courtesy of Budweiser (then the title sponsor). The fire for the Hang burned out after two years of intense, sometimes rowdy, competition, but was rekindled in 1994. Then, in 2001, the Horsetooth dams were closed for repairs and the Hang put on hold. In 2005, the Hang rose from the ashes once more, this time taking on a stewardship and community focus. Despite its new, mellower approach, the Hang participants still pull down.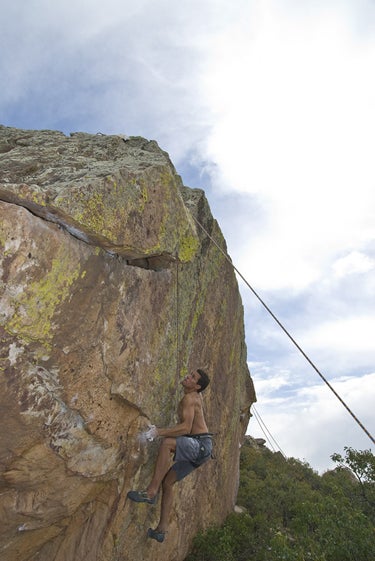 2008 Hang competition results:
Men's Recreational: Rudy McEntire

Men's Intermediate: Beau Kahler

Men's Open: Ian Dory

Women's Recreational: Katherine Zaunbrecher

Women's Intermediate: Casey Jones

Women's Open: Ashley Lloyd

Youth Recreational: Issac Effner

Youth Intermediate: Howie Siem

Youth Open: Josh Youngquist

Most Trash Collected (men's): Tony Milkus

Most Trash Collected (women's): Elly Czajkowski