Heading out the door? Read this article on the new Outside+ app available now on iOS devices for members! Download the app.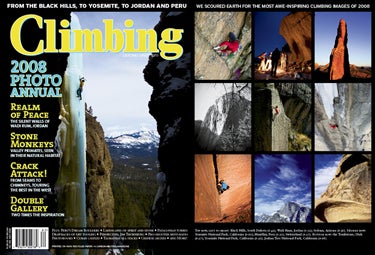 FEATURES
Cover: Conrad Anker keeps it cool on Dancing with Hippos (WI6), Barronette Peak, Wyoming. Photo by Boone Speed
GALLERY I From 5.13 cracks, to a Cuban castle, to a Tasmanian sea stack, to a Chinese arch, we bring you 2008's best photography.
PIEDRAS ESCONDIDAS If you search like a madman, you'll find an amazing "Stone Forest" at 15,000 feet in the Peruvian Andes. You'll also find that bouldering this high is a real beast. By Bernd Zangerl Photos by Radec Capek
ROCK DREAMERS Landscapes of spirit and stone, in the words of seven climbing lifers. Story and photos by Bennett Barthelemy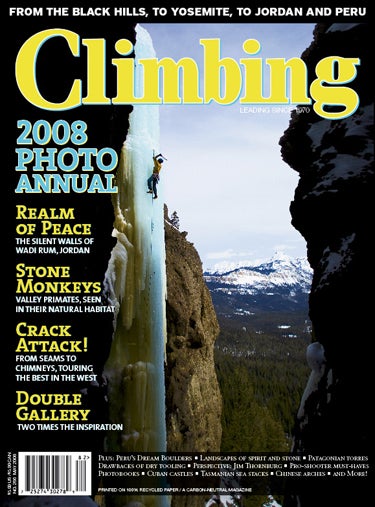 CRACK ADDICTION From the incipient seam to the soul-swallowing bomb-bay, Andrew Burr takes you up the full size array of the West's signature cracks. Story and photos by Andrew Burr Sidebar by Alan Lester
DAR AL-SALAM The valley of Wadi Rum, Jordan, is home to monster walls, shifting sands, and tough-as-nails Bedouin. Join five Westerners as they establish a 1,000-foot 5.13 in this ancient desert. By Chris Kalous Photos by Aaron Black
STONE MONKEYS Meet Yosemite's Stone Monkeys — modern-day Stonemasters living the Valley life and setting wall- and free-climbing standards in their own scruffy, uncompromising way. By Cedar Wright Photos by Dean Fidelman
GALLERY II More rock-solid eye candy, including the timeless Joshua Tree, Patagonian torres, an Indian superdome, and the Naked Edge.
CONTENTS
CONTRIBUTORS Bernd Zangerl, Aaron Black, Dean Fidelman, and Bennett Barthelemy
EDITORIAL 2008: a Photo Annual with soul
LETTERS
JUST OUT A camera, camera bag, and harness perfect for climbing shooters; plus, a hot new quickdraw and crashpad
REVIEWS Three big coffee-table climbing books — Arapiles, Ethiopia, and a world tour — and two kick-butt DVDs: Spray and Yoga for Climbers
PERSPECTIVE Jim Thornburg: photographer, climber, belayer to the stars; Berkeley, California