2017 Everest News: Crowds, Speed Record, Hillary Step Mystery, and Accidents
Heading out the door? Read this article on the new Outside+ app available now on iOS devices for members! Download the app.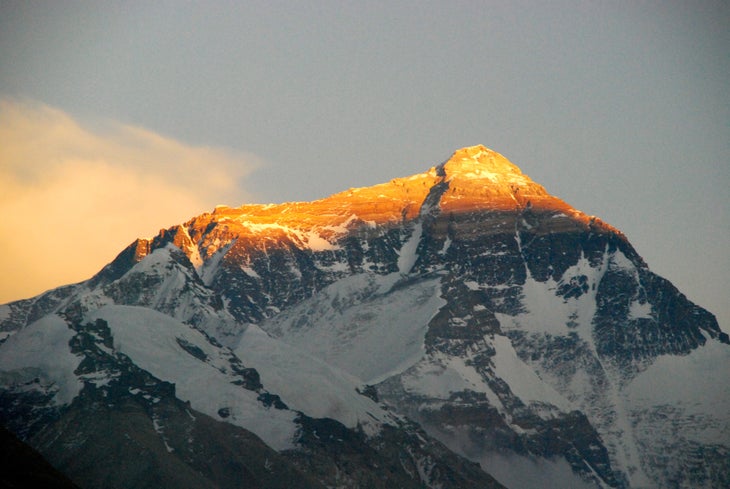 Mt. Everest is seeing a lot of activity this spring season. Climbers who had been unable to climb in 2014 (due to avalanche) and 2015 (due to earthquake) are returning this year with Everest permit extensions along with those that applied for 2017 permits. Alan Arnette, a mountaineering journalist and Everest expert, estimates that there have been over 350 summits on both sides of the mountain so far and likely another 150 to come. Some of the biggest news from this season includes a new speed record, speculation over the missing "Hillary Step," and an unfortunately high number of deaths.
Kilian Jornet Sets Speed Record
Ultra runner Kilian Jornet has claimed a new speed record to the summit of Everest without oxygen or fixed ropes. According to his website, it took Jornet 26 hours to climb from Base Camp (17,600 ft) to the summit (29,029 ft) via the standard route. His original plan was to descend back down to the base camp near the ancient monastery of Rombuk, but because he felt ill, he opted to stop at Advanced Base Camp instead.
Jornet said, "Up to 7,700 meters I felt really good and was making progress as planned but then I started to feel unwell, probably from a stomach virus. From then on I made slow progress and had to keep stopping to recover. I finally reached the summit at midnight."
While most 8,000-meter peak records are for the round trip, Jornet's trip to the summit takes an impressive chunk of time off any previous party. Alan Arnette reports that in 1986, Swiss alpinists Jean Troillet and Erhard Loretan established the previous record with a time of 37 hours to the summit. Their round trip time, from basecamp to summit and back to basecamp, was 43 hours.
Hillary Step Missing?
After the Nepal earthquake in 2015, many have speculated that the Hillary Step, the famous 12-meter outcrop near Everest's summit, has collapsed, but a thick layer of snow makes it hard to confirm. After making his sixth ascent of the mountain on May 16th, British mountaineer Tim Mosedale claimed that the Hillary Step had indeed disappeared. He told The Guardian, "It was reported last year, and indeed I climbed it last year, but we weren't sure for certain that the step had gone because the area was blasted with snow. This year, however, I can report that the chunk of rock named the Hillary Step is definitely not there any more."
However, a different report contradicts this claim, saying that the Hillary Step is still in tact. Pasang Tenzing Sherpa told The Associated Press that the main climbing route was moved to go around Hillary Step, changing the way it looks: "We decided to follow the ridge rather than traverse or cutting through the section. That is why people are confused. There is a lot of snow and the rock is buried under the snow."
Alan Arnette compared photos from before and after the reported rock fall and said, "It does appear to be a long snow slope, and to my eye it looks like the large boulder to the climber's left on ascending has 'moved'." However, he isn't making any definitive claims. The final verdict on the Hillary Step still seems to be up for debate.
High, Unconfirmed Death Toll
With such a large number of climbers on the mountain, the 2017 Everest season has also seen a high number of fatalities, though there is some debate surrounding the specific number.
Nepalese mountaineer Min Bahadur Sherchan, 85, died of altitude sickness at basecamp while waiting for a climbing weather window.
Renowned alpinist Ueli Steck died from an apparent fall during a training climb for his planned Everest-Lhotse traverse.
Ravi Kumar of India, 27, had been reported missing over the weekend, but Sherpas found his body on Monday. According to The Associated Press, he had fallen 650 feet below the route. Rescue crews were unable to retrieve his body.
Doctor Roland Yearwood of Georgiana, Alabama was attempting to climb the mountain for a second time. He died on Sunday likely due to bad weather conditions according to NPR.
Australian climber Francesco Marchetti died of altitude sickness at around 27,230 feet according to Reuters.
Reuters reported that Vladimir Strba of Slovakia died at around 27,500 feet near a feature called the Balcony. Nepal Tourism Department official Gyanendra Shrestha said the circumstances around Strba's death are still unclear.
It was reported that four bodies were found in a tent by Sherpa climbers on Tuesday. According to The Himalayan Times, they belonged to two Sherpas and two foreign climbers who may have suffocated. Nepalese officials are now casting doubt on the news. According to the AP, Tourism Department official Durga Dutta Dhakal has stated that no group of four has been reported missing, and other climbers would have seen the bodies had they been there. Contradicting himself, he also said, "I can categorically confirm that these bodies are not of the climbers from the current session." For now, the facts surrounding these bodies are unclear.