Heading out the door? Read this article on the new Outside+ app available now on iOS devices for members! Download the app.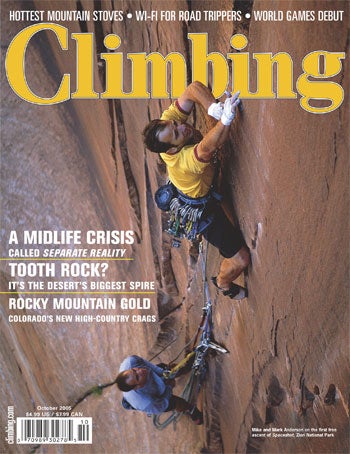 Cover Mike and Mark Anderson on the first free ascent of Spaceshot, Zion National Park, Utah.Photo by Andrew Burr
Forgotten StoneTooth Rock, Arizona, is the largest freestanding spire in the Southwest desert. What, haven't heard of it? Here's why. Story by Fitz Cahall Photos by John Burcham
After the GoldrushIn Colorado you used to make a choice: live the high-country life near the ice climbing and skiing, or shack up in the lowlands near the good cragging. Now, towns like Ouray and Silverton let you have it all. By Jared Ogden
Reality CheckIn 1979, a cover of a climbing magazine set a dream into motion. Only a midlife crisis could make it come true. By Heinz Zak
Gallery Beauty, power, determination, and a well-bolted Daydream.
12 Editorial Summer's over: it's harvest time.
20 Letters Scientists, martyrs, and the Access Fund give us what for.
24 Hot Flashes Space Shot and that New River roof crack go free, La Esfinge blitz, Alaska, and the Cordillera.
36 Happenings Climbing debuts in the World Games, plus Melloblocco and RocTrip.
42 Off the Wall Fire in Red Rocks, log-on Beta for roadtrippers, and miscellaneous news of the weird.
74 Tech Tips Alpine: improvising rap anchors, Sport: Grigri quick-feed, Trad: crack footsies
85 Puzzlefest Not up for "All Fourteen Eight-Thousanders?" If "eight Fourteeners" is more your style, we've got your crossword.
86 Equipment Stoves for climbers — from tailgate to the high alpine. By Dave Sheldon
92 Just Out A bulletproof crag pack, a rope that lasts, and an adjustable harness with style.
94 Reviews Camp cookery by climbers, Ridgeway's latest, and more.
106 Vantage Point Ashes to ashes: a careless friend's last climb. By Andrew P. Jenkins