Heading out the door? Read this article on the new Outside+ app available now on iOS devices for members! Download the app.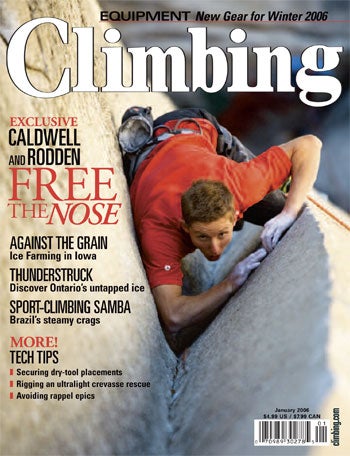 CoverTommy Caldwell on the Changing Corners pitch (5.14a) on the Nose.Photo by Corey Rich
Rolling ThunderIce climbing in Canada's heartland On the north shore of Lake Superior, above the mill towns and moose and muskellunge, lies an ice-climbing paradise, a secret that no one is trying to keep. By David Benton Photos by Mike Landkroon
Silo HighFarming ice on Iowa's granaries What do you do when the ice is forming, your picks are sharp, and you're stranded in the land of cornfields and pig farms? Welcome to Cedar Falls, Iowa, and the Red Bull Silo Summit Ice Climbing Competition.By Craig Luebben
Escalar BomSport climbing at Brazil's hottest crags Stringy bikinis, fresh tropical juices, surf, sun, and perfect stone. What could be better than a day of clipping "P's" in a tropical rainforest as miniature monkeys raid your lunch?By Scott Milton Photos by Sandra Studer
GalleryFace it, it's winter — time for ice, snow, suffering … and crisp rock conditions in the pale sun.
12 Editorial A thing about partners.
18 Letters The Trotsky axe case, stoves on planes, Spaceshot ain't free, and more
22 Hot Flashes Beth and Tommy send the Nose, Sharma finishes it off in Squamish, last great problem in the Cascades
32 Happenings People of HERA, Climb Smart in Josh
36 Off the Wall Seven-summiters hail Carstensz Pyramid's reopening, Patagonia's underwear initiative, rocker's son climbs the Salathé
70 Tech Tips Alpine: Building a light-and-fast hauling ratchet Mixed: Find and test your mixed holds Trad: Epic-free slab descents Wall: Safe portaledge cooking
78 Equipment Winter extravaganza — the hottest new gear for the cold months
96 Vantage Point Death to the nouns! Long live the verbs! A veteran wordsmith deconstructs climbing's grammarBy Kurt Harler