Heading out the door? Read this article on the new Outside+ app available now on iOS devices for members! Download the app.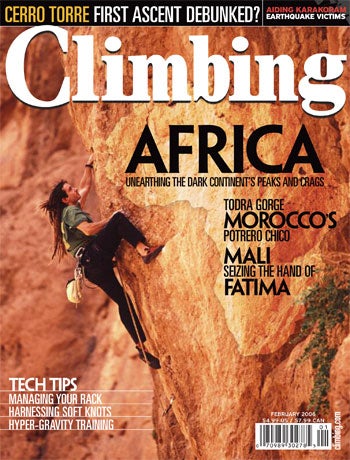 COVERMerrick Schaefer dips back to his heavy metal roots on the Todra Gorge's Esalada Metalica (7a or 5.11d), Morocco.Photo by Aaron Black
Africa Long a haunt of a dedicated few, African climbing remains a mystery to most of the world. Join us on a tour of the Dark Continent, from its lowland crags to its skyline-piercing volcanoes.Intro by Lynn Hill
Moroccan Gold Every climber longs for a multi-pitch-packed destination that's far enough away to feel exotic, but close enough for easy travel. For North Americans, it's El Potrero Chico. For Europeans, it's the amber limestone of Morocco's Todra Gorge.By Merrick Schaefer Photos by Aaron Black
Diamonds are Forever Conventional wisdom holds that Mount Kenya's Diamond Couloir evaporated in the climate-toasting furnace of global warming. One of America's most storied alpinists sets out to see if the armchair pundits are correct.By Jim Donini
The Hand The idea was simple: Bring Yosemite-style speed tactics to the fabled towers of Mali's Hand of Fatima. Simple, yes, until you consider the bowel-busting bacteria, lethal serpents, and crazed bats.By Cedar Wright Photos by Jimmy Chin
Gallery Home sweet home. Jugs, grit, rust, and a lenticular perspective on the rest of the world.
10 Editorial Demystifying Africa
16 Letters Sharma's FA gets stripped, toddler's FA approved
20 Hot Flashes Cerro Torre's Maestri mystery put to rest, Davis frees the Salathé, Berthod pulls off another Indian Creek testpiece, Colorado codger sends 5.14a, Schneider comes clean, new route on Cerro Murallón
28 On the Radar Traveling for business or family doesn't have to mean dismissing the vert
32 Off the Wall North Carolinians corner the real-estate market, AAC brings hope to Pakistan quake victims, Israeli climber takes his fight against Lou Gehrig's Disease to El Cap
40 Passages Saying goodbye to Carl Skoog, a master mountain photographer
68 Tech Tips Alpine: Hard knowledge about soft knots Training: Getting hyper for gravity Wall: Smart knot passing
74 Equipment We wrangle with everything from Monsters to Bastards
82 Reviews A trio of bios: Gunks guru Hans Kraus, belligerent Brit Don Whillans, and Deborah diarist David Robert
86 Classifieds
94 Vantage Point A sociological guide to getting stuckBy Jeffrey McCarthy
98 Off Route Yet another reason not to fall