34 Days Alone on a Patagonian Wall
Heading out the door? Read this article on the new Outside+ app available now on iOS devices for members! Download the app.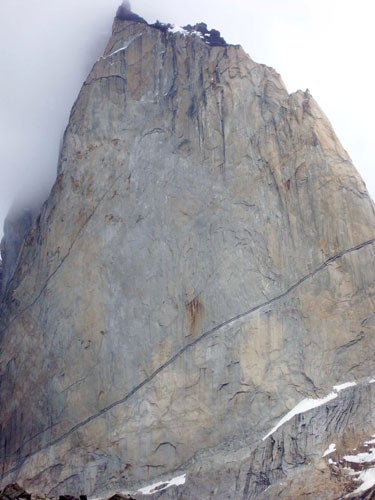 Californian Dave Turner has completed a solo new route on the east face of Cerro Escudo, a colossal peak just to the west of the Torres del Paine in Chile. According to an e-mail from climbers in the area posted at Supertopo.com, Turner finished the last pitch on the 4,000-foot overhanging wall late last week, and then continued to the summit, thus making the first complete ascent of Cerro Escudo via the east face.
According to South African climbers who were in the Valle del Silencio for two weeks and spoke with Turner every day, he spent 34 days on the wall, climbing capsule-style, with difficulties up to A4+. Turner has descended safely and is packing his gear out of the valley. "I have fulfilled my dream of many years on this one," he said.
The east face of Cerro Escudo previously had only one complete route: The Dream (VII 5.10 A4+), climbed in capsule-style by Chris Breemer, Brad Jarret, and Christian Santelices. They finished the wall on January 4, 1995, and chose not to continue to the summit. Their route has long been considered the hardest big-wall climb in Chile.
It's not yet known exactly where Turner's line goes, but after scoping the face last year he proposed to climb "a more direct and steeper, longer line to the left of The Dream." Turner described the face as overhanging for more than 3,000 feet, above an 800-foot slab.
Dave Turner below his first portaledge camp on Taste the Paine, his Grade VII solo new route on Cerro Escudo. Photographer Mike Rayner was hiking below the wall with his guide, Felipe Goreux (andesmountain.cl), when they spotted Turner. "The picture was taken on December 24, and we both wished Dave a Merry Christmas, but we're not too sure he heard us across the valley, although we could hear his 'woo-hoos' quite clearly," Rayner said. Photo by Mike Rayner — mytb.org/mrayner.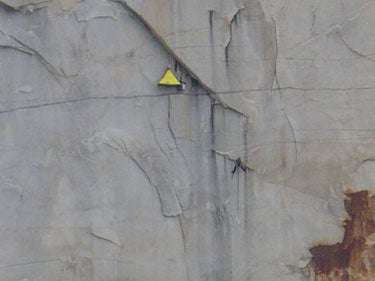 The longest time anyone had previously climbed solo on a wall in Chile was Steve Schneider's 11-day push to the summit of the Central Tower of Paine in 1999. Schneider continued solo on the new route Golazo when his partner bailed after seven days and 12 pitches of climbing.
Turner, 26, has soloed more than a dozen routes on El Capitan, including the solo first ascents of Block Party and Atlantis in 2005. He also has done several first ascents in the Cordillera Blanca of Peru, including a new route on the north face of Taulliraju last summer, with Micah Retz.
Turner's climb of Cerro Escudo was supported by a Lyman Spitzer Cutting-Edge Award from the American Alpine Club. And next season he'll be right back in the Paine region: Earlier this month, he won a Mugs Stump Award for a solo attempt on the unclimbed south face of the South Tower of Paine.
Sources:Supertopo.com, Dave Turner, Climbing.com, American Alpine Journal
Date of Ascent: December 2007 —January 2008
UPDATE 1/29/08: Dave Turner has posted a full account of his new route, Taste the Paine, at SuperTopo.com. Scroll to the bottom of the page at this link.