Heading out the door? Read this article on the new Outside+ app available now on iOS devices for members! Download the app.
Linea di Eleganza takes the sunny face (barely visible) just to the left of the pillar on Fitz Roy's right skyline.Photo by Chris Turiano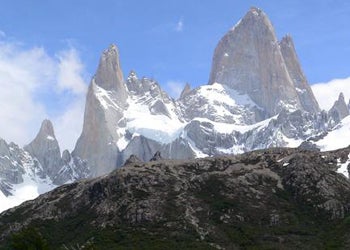 Americans Tommy Caldwell, Topher Donahue and Erik Roed have free-climbed Linea di Eleganza on Fitz Roy at 5.12+, onsighting the second ascent of the Patagonian route in a single, team-free push. The 4,000-foot route on Fitz Roy's beautiful east face was established in 2004 by a team led by Italian Elio Orlandi.
In remarkably pure style for a first free ascent on a giant Patagonian face, the American trio started Linea di Eleganza at around 11 a.m., climbed through the night, and reached the summit of Fitz Roy at 3 p.m. the following day. Caldwell and Donahue led most of the route in blocks of four to five pitches, with Roed taking the final block to the summit; the seconds followed each pitch with ascenders. Caldwell said they encountered two 5.12 pitches during the first day, a 5.12b corner and a 5.12+ overhanging flake system. Donahue made the first attempt on the crux lead but took the only fall of the route; Caldwell then pulled the rope and led the pitch without falls.
During the night, they managed only three pitches, but Donahue succeeded on the route's third crux at around 1 a.m., an extremely difficult crack choked with ice that he led with rock shoes and a single ice tool hauled up midpitch. After getting lost in the dark, the team rappelled one and a half pitches to a ledge back on the route and sat until dawn, and then they continued upward on 5.11 or easier ground to the top. There they encountered Bean Bowers and Helen Motter, who had just summited, and were shown the rappels down the Franco-Argentinean Route.
Caldwell and Donahue had hoped to free Royal Flush on Fitz Roy but were stymied by wet and icy cracks and poor weather. "That's a tragic route," Caldwell said. "It's so beautiful, but so rarely in condition." The two free-climbed everything up to the 20th pitch, including the crux overhanging corner (5.12c), before poor weather drove them down.Comment on this story