Heading out the door? Read this article on the new Outside+ app available now on iOS devices for members! Download the app.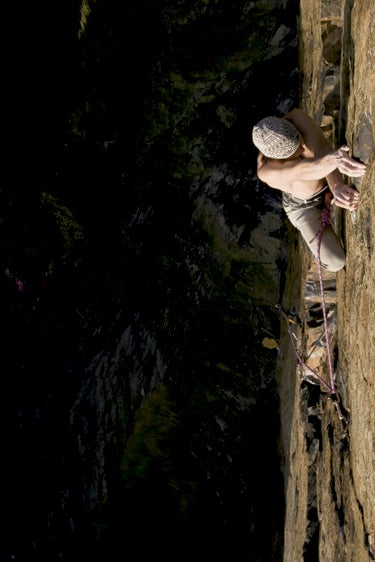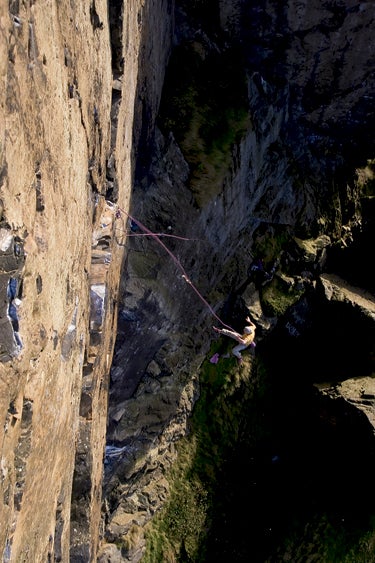 Over the past few years, this 29-year old, mild-mannered Scot has displayed a relish for unnerving feats on ice and rock, writing new legends into the history of 800-year-old Clan MacLeod, whose motto is "Hold fast!" In April 2006, MacLeod set the world on fire with his first ascent of Rhapsody, outside Glasgow. It's the hardest traditional route in the UK, the last bastion of dangerous rock climbing. At E11 7a, Rhapsody requires 5.14c climbing with 70-foot fall potential — MacLeod succeeded only after two years and numerous ankle-smashing rippers. He has free-soloed 5.14b and repeated E-desperates throughout the British Isles. He also has climbed 5.14c sport in Spain and established V13. And, highly unusual for a top rock climber, MacLeod excels at winter climbing: in 2005, he pioneered the hardest winter route in Scotland. In fact, MacLeod may be the only climber in the world who has done the most difficult boulder problem, sport route, traditional route, and winter climb in his home country. Sure, Scotland is small, but so are Switzerland and Slovenia, each packed with great all-around climbers but none at the top of every game climbers play. And MacLeod isn't satisfied yet. He wants to complete a world-class route in each of these four disciplines… without leaving his cold, rainy home in northern Europe.
Dave MacLeod soloing Darwin Dixit (8c/5.14b) at Margalef, Spain. Photo by Claire MacLeod.
Raised in Glasgow, MacLeod discovered Dumbarton Rock, west of the city, soon after he started climbing, at age 14. A strategic site of fortresses dating back to the Dark Ages, Dumbarton's reddish-gray cliff rises about 225 feet above an urban wastescape at the junction of the rivers Leven and Clyde, sliced from an overgrown hillside like a glorified roadcut, surrounded by broken glass and rusting industrial debris. From an outsider's perspective, it's hard to imagine a worse place to develop into a world-class rock climber than Scotland. In this cold country of five million people, there are few great climbers to compete and collaborate with, at least compared to the hot English and Welsh scenes to the south.
Special thanks to Dave MacLeod's sponsors: Mountain Equipment, Gore Tex, Black Diamond and Scarpa
CLICK HERE for the FEATURE ARTICLE: Dumby Dave — Dave MacLeod and the dark art of RhapsodyBy Dougald MacDonaldClick Here for DAVE MACLEOD'S Blogs
Tell us what you think! Email to letters@climbing.com or Post a comment in our Forums — you could win Climbing's Letter of the Month and some choice gear!