Heading out the door? Read this article on the new Outside+ app available now on iOS devices for members! Download the app.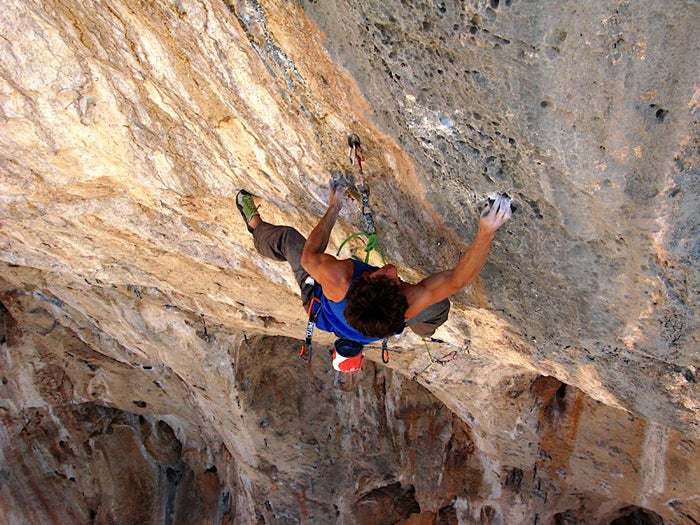 Joe Kinder's first climb was in Estes Park on a family vacation when he was 13, but it wasn't until two years later, while living in New Hampshire, that Joe became fully overtaken by climbing. Known for his outrageous personality and infinite psyche, Joe is walking motivation. He eats, sleeps and breathes climbing…completely obsessed. Cathedral Ledge's coarse granite and the notoriously crimpy schist of Rumney, were the classroom for his climbing education. Growing up with some of the countries best climbers, such as Dave Graham and Luke Parady, Joe's level skyrocketed. He became a professional athlete by age 20. He has traveled to many world renown-climbing locations in Germany, France, Spain, Austria, and Switzerland. After Graduating from Maine College of Art with a degree in painting, Joe decided to pursue the sport fulltime and moved out west where his productivity and need for new terrain could be exercised in Las Vegas, Boulder, the Southeast and Salt Lake City.
Throughout his entire climbing career, consistency has been his forte. Joe's personal climbing highpoints include Living Astro Glide 5.14d (Rumney), Living Astro 5.14c (Rumney), China Beach 5.14b (Rumney), Slaughter House Five 5.14c (The Cathedral in Southern Utah). Also a strong boulderer, his hardest sends include Child of the Storm V13 (Pawtuckaway), Serendipty Movement V13 (Bradley), Something From Nothing V13 (Great Barrington), The Centaur V13 (RMNP) and many V12s and V11s. Joe's accomplishments aren't limited to hard climbs. He has helped develop areas in the Northeast like Rumney, Pawtuckaway, Great Barrington, Bradley and Farley. As well as areas in the West like the St. George area and Colorado's Rocky Mountain National Park.
"Progression is the key to everything I do." Explains Kinder. He wants to see climbing move forward in difficulty standards and popularity standards. Climbing, alone, is the "largest and most vital outlet" for Joe to exercise this need for progression. He Concludes, "I am really pleased with my generation of climbers. We are at a really vital point where climbing is growing like crazy, it's getting more respect as a real sport, and it can only get bigger and better. The new generation of young climbers are so impressive to me and are really psyched."
Click Here for JOE KINDER'S BlogsSpecial thanks to my sponsors:Eastern Mountain Sports • Gregory Mountain Products • Petzl North America • La Sportiva • Sterling Rope • Metolius