Access Fund Announces 2018 Climbing Advocate Awards
13 climbers, companies, and coalitions get honored by the Access Fund for their work in the betterment of the climbing community and environment.
Heading out the door? Read this article on the new Outside+ app available now on iOS devices for members! Download the app.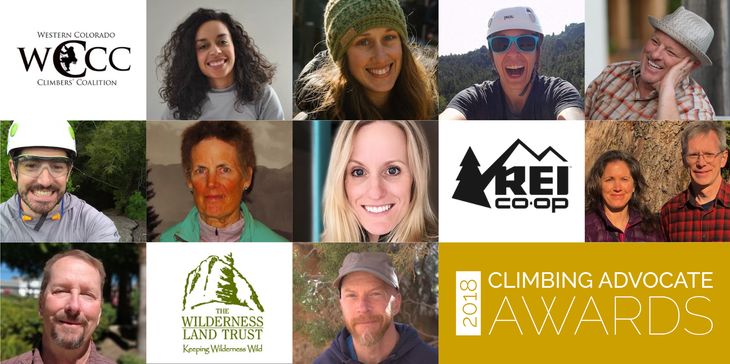 Access Fund, the national advocacy organization that protects America's climbing areas, is proud to announce the recipients of the 2018 Climbing Advocate Awards. For over 20 years, Access Fund has been recognizing the outstanding work of climbing advocates across the country. Among this year's honorees are rockstar community builders, local climbing organizations, bolt warriors, climbing stewards, grassroots organizers, and visionary leaders. These individuals and organizations stand out in their commitment to the American climbing community. 
Ron Yahne, Menocal Lifetime Achievement Award 
Access Fund is honored to present Ron Yahne with the Menocal Lifetime Achievement Award for leadership in the Black Hills climbing advocacy and stewardship community. For as long as anyone can remember, Ron has been a model of leadership in the Black Hills climbing community. Not only did he help develop routes throughout the region, but he established one of the longest running and most successful bolt replacement programs in the country. Ron hosts the Black Hills Climbers Coalition annual Beans & Biners gathering to bring the local climbing community together and support local projects. He has also put in countless volunteer hours restoring climbing areas throughout the region. Ron's dedication and energy have made a lasting impact on climbing in the Black Hills.
Cody Roney, Bebie Leadership Award 
Access Fund is honored to present Cody Roney with the Bebie Leadership Award for seven years of leadership as Executive Director of the Southeastern Climbers Coalition (SCC). Cody played a critical role in countless access and stewardship projects across Alabama, Georgia, and Tennessee. During her tenure, Cody successfully grew the organization, expanding SCC's stewardship programs, organizing hundreds of trail days, mobilizing thousands of volunteers, and hiring SCC stewardship staff. Cody led SCC's largest acquisition project to date, Denny Cove, where she worked alongside Access Fund and many conservation partners to purchase and permanently protect a 670-acre property for integration into Tennessee State Parks. She also led SCC's work to permanently protect Hell's Kitchen and Dogwood West. We are honored to recognize such an outstanding leader, and we wish Cody the best in her new role as Executive Director of Lula Lake Land Trust in Chattanooga.
REI Co-Op, Corporate Responsibility 
Access Fund recognizes REI Co-op with a Climbing Advocate Award for its investment in the future of our outdoor climbing areas. Not only does REI Co-Op give back nearly 70% of its profits to the outdoor community, but it models responsible outdoor ethics and leads the industry in creating a diverse and inclusive community. REI Co-Op has been a steadfast supporter of Access Fund's mission to protect America's climbing for over two decades, providing critical financial support for national climbing policy and stewardship. Across the country, REI Co-Op activates and supports the growing network of local climbing organizations in critical stewardship and advocacy projects. Thank you REI for your commitment to America's climbing and outdoor recreation areas.
Chris Schulte, Athlete Advocate & Steward 
Access Fund is proud to honor Chris Schulte with a Climbing Advocate Award for his work as an athlete advocate and steward. An inspired climber, Chris is a role model in climbing advocacy, conservation, and volunteerism. Not only does he set a stellar example for sustainable, low-impact climbing, but he has been a tireless advocate and steward for Indian Creek and the broader Bears Ears National Monument. He helped tell the incredible story of Bears Ears through a Google Voyager Story and helped lead an Access Fund Fireside Chat to talk about protecting America's public lands. As a board member for the Friends of Indian Creek, Chris led a highly successful clean up effort during last year's Creeksgiving week, motivating dozens of climbers to join him to clean up after one of Indian Creek's most busy week.
Courtney Curtner, Local Organizer & Steward 
Access Fund is honored to recognize Courtney Curtner with a Climbing Advocate Award for outstanding leadership of Ohio Climbers Coalition (OCC) and lasting stewardship of local climbing areas. Courtney played a key role in reopening Mad River Gorge, a historic Ohio climbing area. As part of the area's reopening, Courtney worked alongside park managers, volunteers, and the OCC board for one of the largest climbing area stewardship events in the state's history. As President of OCC, Courtney has functioned as a key link between land managers, sponsors, and the climbing community, showing impressive dedication towards community engagement and protecting Ohio climbing. Her fundraising and organizing work has also brought critical support to bolt and anchor replacement initiatives in Ohio.
Greg Kuchyt, Rebolt Warrior & Educator 
Access Fund honors Greg Kuchyt with a Climbing Advocate Award for his leadership in the sustainable replacement of fixed anchors. Not only does Greg spearhead replacement of aging bolts across Vermont, but he also provides support to bolt replacement volunteers across the country. He was a key contributor at Access Fund's 2018 Sustainable Climbing Summit and Southeast Regional Summit, volunteering his time to provide instruction on bolt replacement tools and techniques. Greg's commitment to service in the community is apparent to anyone who has had the pleasure of working with him and can be summed up in his own words: "If I can help anyone by getting the right tools into their hands, I'm always willing to help."
Dave Haavik, Local Leader & Organizer 
Access Fund is honored to recognize Dave Haavik for his dedicated leadership of Washington Climbers Coalition (WCC). Dave has been instrumental in countless access and stewardship projects, including the campaign to save the Lower Index Town Wall in 2009 and the ongoing Liberty Bell Conservation Initiative. For over a decade, Haavik has kept WCC on track with strong, organizational leadership, board planning, and a supportive get-things-done mentality. Every local climbing organization needs a board director working hard behind the scenes to make their organization sustainable and mission-driven, and Dave is that person. As Dave humbly noted, "The Great UCLA Basketball coach once said 'It is amazing how much can be accomplished if no one cares who gets the credit.' That pretty much sums up how WCC works. In my mind, this award is as much about the WCC board as it is about me."
Bethany Lebewitz, Advocate & Community Builder 
Access Fund is honored to present Bethany Lebewitz with a Climbing Advocate Award for her leadership in creating a more inclusive climbing advocacy and conservation community. Bethany has made a lasting impact through her work to build Brown Girls Climb and bring more diverse voices to advocate for the protection of our climbing areas. Her leadership at Climb The Hill and Access Fund's annual Climbing Advocacy Summits have made a lasting impact on climbing advocates and the wider conservation community.
Madrone Wall Preservation Committee, Local Leaders & Advocates 
Access Fund is proud to honor Madrone Wall Preservation Committee with a Climbing Advocate Award for reopening Madrone Wall outside Portland, Oregon. After a 20-year closure, climbers can now enjoy over a hundred basalt sport and trad climbs within thirty minutes of Portland. The organization put in two decades of persistent advocacy to open this climbing area, rallying dozens of supporting partners, thousands of individual comment letters, and tens of thousands of dollars in grant funds to complete the necessary park improvements and open the gate for the public recreational community to enjoy. We are honored to highlight Madrone Wall Preservation Committee's remarkable commitment and leadership.
Hannah North, Local Organizer & Advocate 
Access Fund is thrilled to honor Hannah North with a Climbing Advocate Award for her decades of dedication and leadership at Castle Rock State Park and City of Rocks in Idaho. Hannah was a founding member of CRAG-Idaho, helping to convene quarterly meetings, inventory re-bolting needs, organize stewardship projects, negotiate with private landowners, and provide the park staff with input on management plans. Her local knowledge, connection to the land, and passion for advocacy have been a great benefit to the the climbing community.
Jody Sanborn, Local Leader & Advocate 
Access Fund is thrilled to recognize Jody Sanborn with a Climbing Advocate Award for exemplary leadership of Bighorn Climbers Coalition in Wyoming, spearheading stewardship and advocacy work at Ten Sleep, one of America's most popular sport climbing areas. Jody helped launch the Bighorn Anchor Initiative to replace aging hardware and led stewardship efforts at Piney Creek, addressing human and dog waste issues. She also solidified a critical partnership with the Forest Service and helped pave the way to a complete archaeological inventory of the climbing areas to assist with the creation of a climbing management plan for Ten Sleep.
Wilderness Land Trust, Land Conservation Award 
Access Fund is honored to present Wilderness Land Trust, a specialized nonprofit organization established to buy and protect wilderness land, with the Land Conservation Award for completing the multi-year effort to acquire and permanently protect Castle Crags in northern California. Castle Crags is home to an expansive cluster of multi-pitch rock climbing and wilderness alpine adventures. In 2013, Access Fund provided Wilderness Land Trust with a grant and loan to help secure the property from a timber company. In 2018, Wilderness Land Trust successfully transferred Castle Crags to the Forest Service for longterm climber friendly management, and made its final payment to the Climbing Conservation Loan Program, returning critical funds that will help Access Fund save another threatened climbing area.
Western Colorado Climbers Coalition, Land Conservation Award 
Access Fund is thrilled to honor Western Colorado Climbers' Coalition with the Land Conservation Award for completing the multi-year effort to acquire and permanently protect Lower Mothers Buttress and Television Wall in Unaweep Canyon outside Grand Junction, Colorado. In 2018, Western Colorado Climbers' Coalition (WCCC) completed the necessary subdivisions and sales to make the final loan payment, returning critical funds to the Climbing Conservation Loan Program, allowing Access Fund to loan the money out again to save another threatened climbing area. The completion of this project increases the protected area of Unaweep Canyon to 50 acres, encompassing eight cliffs and approximately 200 climbing routes.
About Access Fund 
Access Fund is the national advocacy organization that keeps climbing areas open and conserves the climbing environment. Founded in 1991, Access Fund supports and represents millions of climbers nationwide in all forms of climbing: rock climbing, ice climbing, mountaineering, and bouldering. Six core programs support the mission on national and local levels: climbing policy and advocacy, stewardship and conservation, local support and mobilization, land acquisition and protection, risk management and landowner support, and education. For more information, visit accessfund.org.