Access Fund Executive Director Brady Robinson to Step Down to Pursue Global Conservation
Heading out the door? Read this article on the new Outside+ app available now on iOS devices for members! Download the app.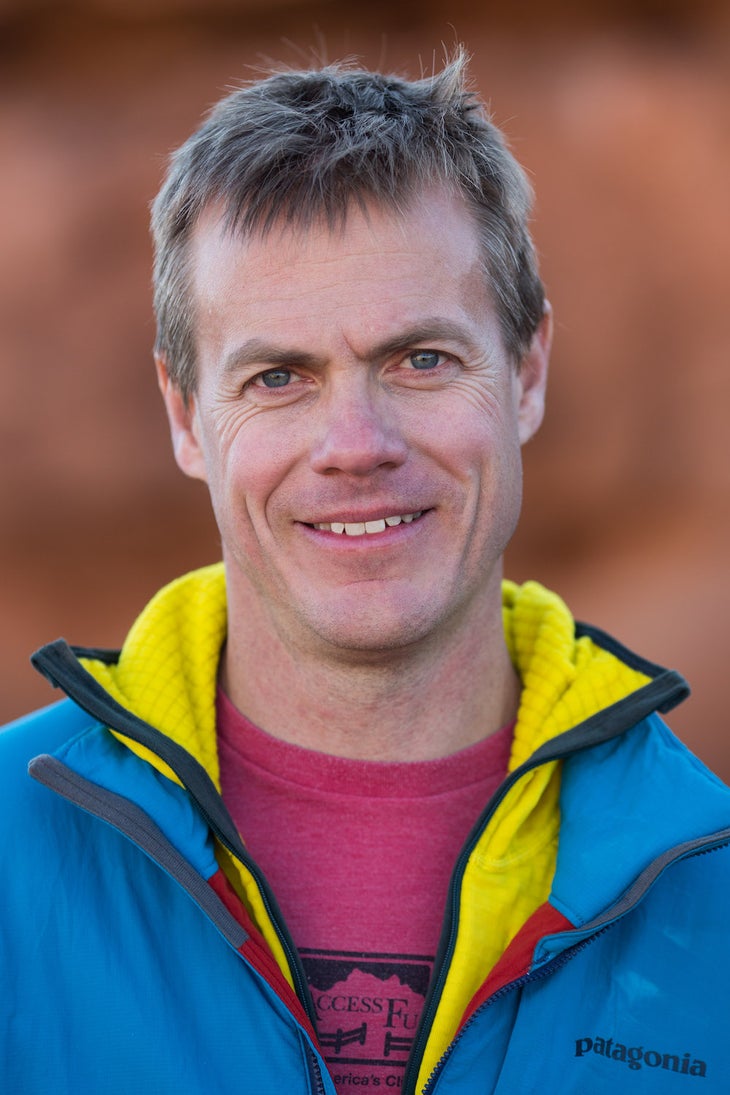 Access Fund, the national advocacy organization that protects America's climbing, announced today that Executive Director Brady Robinson will step down after a celebrated eleven years at the helm of the climbing advocacy organization.
Robinson is leaving Access Fund to lead international fundraising efforts for Tompkins Conservation, coordinating with teams in the United States, Chile, and Argentina. Tompkins Conservation creates terrestrial and marine national parks in Chile and Argentina, reintroduces missing species, conserves biodiversity, restores degraded lands, encourages environmental activism, and fosters economic vitality as a consequence of conservation.
"Leading the Access Fund has been my dream job and one of the great honors of my life. I absolutely love the people I've gotten to work with, so this was a very difficult decision," says Robinson. "But it is time to step aside and let new leadership emerge. I am also incredibly excited to apply the experience I've gained at Access Fund to a new set of opportunities and challenges. I love the Patagonia region and the unprecedented conservation achievements of Tompkins Conservation."
Under Robinson's leadership, Access Fund has nearly tripled in size, growing from a $1.2 million to a $3.2 million organization and increasing from a staff of eight in Boulder, Colorado to a staff of 25 spread across the country. Robinson has had many notable achievements over the course of his eleven-year tenure, including the launch of the traveling Access Fund-Jeep Conservation Teams, creating the Climbing Conservation Loan Program to purchase threatened climbing areas, elevating the voice of climbers on important policy issues in Washington, D.C. and across the country, regionalizing the Access Fund staffing model, and helping to found the Outdoor Alliance—further elevating the influence of climbers and other recreationalists on access and conservation issues in the United States.
"Brady has taken the Access Fund to new heights, leading the organization through tremendous growth and delivering significant results in the protection of America's climbing areas," says Access Fund Board President Kenji Haroutunian. "He is among the great leaders in the industry, and it's no surprise that he's been tapped to help lead Tompkins Conservation, where his passions will be applied to a global conservation mission. We wish Brady all the luck, and know he will exceed all expectations."
"All of us at Outdoor Alliance are excited to see what Brady pulls off on his next adventure with Tompkins Conservation. Brady thinks big and collaboratively, and his leadership on Outdoor Alliance's board and as an advocate for public lands in DC has made the world better. We wish him every success," says Adam Cramer, Executive Director of Outdoor Alliance.
"When it became clear that Brady was going to join the Tompkins Conservation team, two immediate thoughts came to mind: he's going to be a big asset for conservation, and he comes from the tribe of climbers that is our original heritage, why many of us fell in love with the wild in the first place," says Kristine McDivitt Tompkins, Co-Founder and President of Tompkins Conservation.
Robinson, who will transition out in late June, will continue to consult with Access Fund staff and board of directors to ensure a successful transition.
"I am committed to Access Fund's long-term success, and will remain engaged throughout the transition. We have an exceptionally strong leadership team, board of directors, and annual plan. I have no doubt that our important work will continue unabated," says Robinson.
The Access Fund staff and board of directors remain committed and focused on the protection of America's climbing areas. The organization will announce interim leadership and launch an official hiring process for a new Executive Director in the coming weeks.
"Access Fund has incredibly talented staff and a committed board of directors to see us through this transition. Our eye is on the ball, and we're excited for what the future holds," says Haroutunian.
About Access Fund
Access Fund is the national advocacy organization that keeps climbing areas open and conserves the climbing environment. Founded in 1991, Access Fund supports and represents millions of climbers nationwide in all forms of climbing: rock climbing, ice climbing, mountaineering, and bouldering. Six core programs support the mission on national and local levels: climbing management policy, stewardship and conservation, local support and mobilization, land acquisition and protection, risk management and landowner support, and education. Access Fund is a certified land trust and advocates for climbers at the local and national levels, maintaining active Memorandums of Understanding with the National Park Service, US Forest Service, and Bureau of Land Management. For more information, visit accessfund.org.​