Heading out the door? Read this article on the new Outside+ app available now on iOS devices for members! Download the app.
Daniel Woods working on Iron Monkey.Photos courtesy of Steve Woods.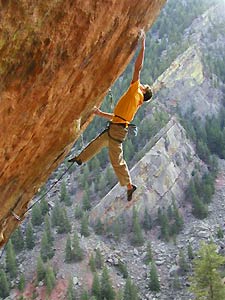 Eldorado Canyon in Colorado has seen a burst of activity in recent weeks, as locals and visitors established hard new boulder problems and a traditional leading testpiece.
Jamie Emerson put up a couple of V10 boulder problems, The Corpse and The Elegant Universe, on the giant blocks in the west side of the state park. Then, when Dave Graham visited over the Thanksgiving holiday, Emerson led him to the beautiful Midnight Frightening, which Graham nailed for the first ascent in a couple of tries at V10 and then added a V11 direct start. The easier line was quickly repeated by Chad Greedy and Daniel Woods. Graham did a short, unnamed V12 probem and a V11 sit start to The Elegant Universe, and then worked for a full day on an 18-foot problem that became Suspension of Disbelief: V12 with the standing start and V13 with a sit start. "This problem could be one of the best in Colorado, if not the country," Emerson said. Woods repeated the problem with the standing start.
Before he left town, Graham also repeated Woods' Echale (V14) in Clear Creek Canyon. According to Steve Woods, Daniel's father, Graham confirmed the grade after taking two days to complete the problem, which he sent by headlamp late on the second day.
Dave Graham sending Suspension of Disbelief (V13).Photos courtesy of Steve Woods.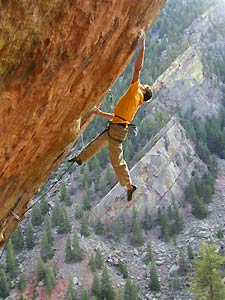 Meanwhile, Matt Segal completed a long project by redpointing Iron Monkey, an old aid route in the canyon's overhanging Kloof Alcove, listed in the guidebook as Lycra-Clad Donkeys. Segal placed gear when he sent the route, which he reports to be 5.14 with a vicious boulder-problem crux — a good candidate for the hardest climb in the canyon.
Earlier in November, Josh Wharton made the first lead of the Extendogap Aréte in the Kloof Alcove, formerly a toprope problem. Wharton called the route 5.12c R/X. A couple of fixed pieces protected the line, but Wharton took several whippers onto a #0 TCU (held) and #00 TCU (didn't hold) before sending.Comment on this story