Adam Ondra Onsights Hotel Supramonte
Heading out the door? Read this article on the new Outside+ app available now on iOS devices for members! Download the app.
Manu Bubu Bole punching out a one-day ascent of Hotel Supramonte in 2003. Photo by Andrea Gallo.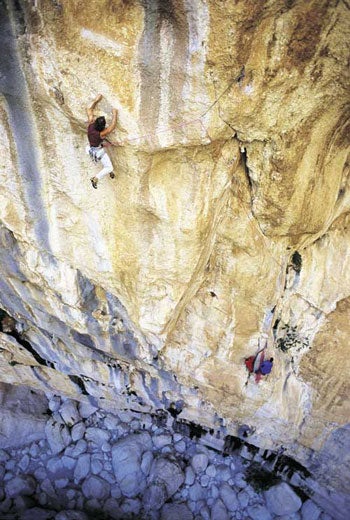 The 15-year-old Czech super-climber Adam Ondra has made the first onsight of Hotel Supramonte, a 10 pitch limestone 5.14a, on Italy's island of Sardinia.
His partner for the demanding 1200 foot route was the Italian Pietro Dal Pra who made the first free ascent in November of 2000.
Hotel Supramonte is stacked with hard pitches, the easiest of the ten being being 5.12c. The route was equipped in 1998 by Rolando Larcher and Roberto Vigiani and since then has seen traffic from some of the world's best athletes. Stefan Glowacz attempted the first redpoint in March, 2000, but due to lack of time, he was forced to retire having redpointed all pitches except the fifth and crux of the route.
Ondra, who seems to be sending everything he gets his hands on lately has also climbed other hard multipitch routes like: WoGü (5.14b) in Switzerland's Ratikon, and Silbergeier (5.14a) at Schweizereck.
For more about what Ondra's been up to see Climbing Magazine No. 270, page 26, on the newsstand now.
Date of Ascent: October 18, 2008
Sources: czechclimbing.com
Hotel Supramonte on YouTube.com
Watch a video by PlanetFear.com of Steve McClure and Gaz Parry as they head to Sardinia to try and onsight one of the most famous multipitch sport routes in Europe — Hotel Supramonte.