Alex Honnold Announces New Podcast Climbing Gold
The show will be co-hosted by legendary climber Alex Honnold and legendary outdoor podcaster Fitz Cahall.
Heading out the door? Read this article on the new Outside+ app available now on iOS devices for members! Download the app.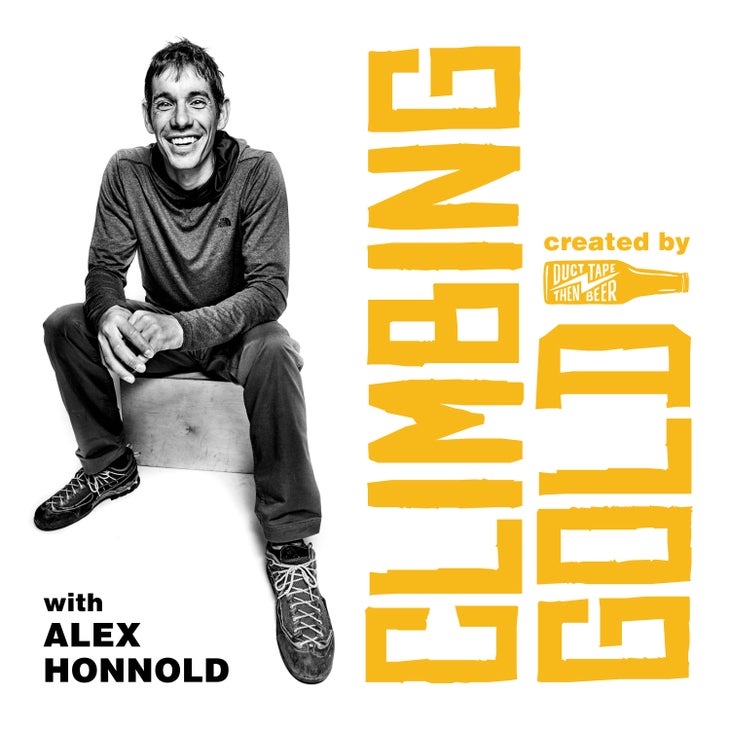 Climbing superstar Alex Honnold is set to release a new podcast series at the end of this month entitled Climbing Gold. Honnold will team up with veteran podcaster and outdoor personality Fitz Cahall to release the ten-part series, which documents the history of climbing.
Each episode will feature stories from climbers of different generations, putting into context how they stood on the shoulders of their predecessors, and how they paved the way for each successive wave of climbers. It will follow the trail from the spirit of exploration upon rugged mountaintops all the way to gymnastic athletes competing on plastic holds.
"Climbing is an incredible mix of adventure and athleticism and it's interesting to see how that ratio has changed over the years," Honnold told Deadline. "As climbing enters the Olympics this year the focus is mainly on the athleticism of the athletes, but I think it's important for us to remember that climbing has its roots in mountaineering and exploration."
Honnold's co-host Fitz Cahall is also the host of the popular Dirtbag Diaries podcast that was founded in 2007. Dirtbag Diaries was one of the first podcasts in the outdoor sphere and has remained relevant for almost 15 years. Cahall's experience in podcast production coupled with Honnold's position in the sport ought to make for an immersive retelling of climbing's history.
"The podcast is a fun way for me to chat with the leading climbers of multiple generations and to hear their stories about where climbing has come from and where it's going," Honnold said.