Alex Honnold Completes First Free Solo of El Capitan
Heading out the door? Read this article on the new Outside+ app available now on iOS devices for members! Download the app.
https://www.instagram.com/p/BU5oSrWhFWW/
Back in 1958, the world believed Yosemite's El Capitan was unclimbable. That is, until Warren Harding, Wayne Merry, and George Whitmore made the first ascent in an 11-day push, after more than a year of fixing ropes up the 3,000 foot wall. In the 60 years that followed, big wall standards have been pushed on the iconic rock face time and time again. In 1960, Royal Robbins, Joe Fitschen, Chuck Pratt and Tom Frost proved El Cap could be climbed without siege tactics, when they climbed the Nose in a single push over seven days. In 1975 Jim Bridwell, Billy Westbay, and John Long showed that the wall could be climbed in a day with their 15-hour ascent of the Nose. In 1986, John Bachar and Peter Croft took it a step further when they climbed both Half Dome and the Nose in one day. In 1993 Lynn Hill pushed big wall free climbing standards when she became the first person to free climb the Nose. In 2015, Caldwell and Kevin Jorgeson freed the Dawn Wall, one of the hardest big wall free climbing achievements to date, and the culmination of seven years of effort.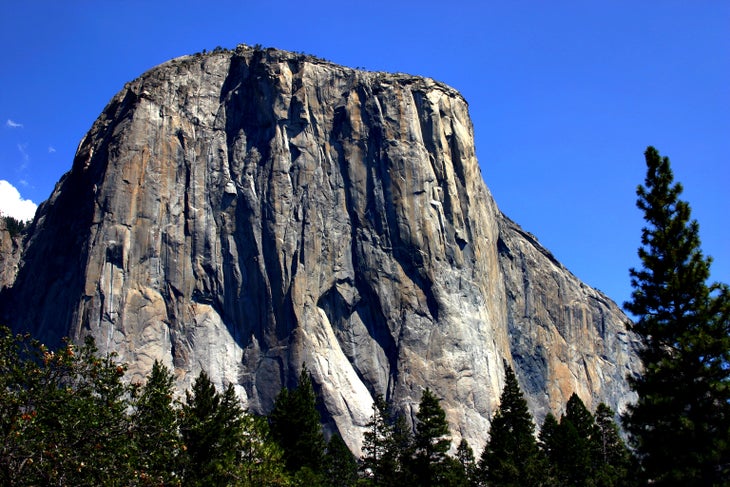 Now, Alex Honnold has done the unthinkable; on June 3, he completed the first-ever free solo of El Capitan, climbing the wall via Freerider (VI, 5.13a). According to National Geographic, "He ascended the peak in 3 hours, 56 minutes, taking the final moderate pitch at a near run."
Most parties climb the 3,000-foot Freerider in 33 pitches over 3-5 days. The route shares approximately 87% of the Salathe Wall's terrain, deviating from the difficult pitch 19 on the Salathe via a 200-foot, six-inch crack called the Monster Offwidth, and then taking a crack system to the west to replace the two 5.13 headwall pitches with four pitches of 5.11 crack climbing. In 1998, Alex Huber made the first ascent of the easiest and most popular free route on El Capitan when he sent the Freerider in 1998. Honnold added a few of his own variations to the route, pioneering a pitch off Heart Ledge to avoid a difficult 5.11 slab move and entering the Monster Offwidth at a lower point to avoid an insecure and exposed traverse. In a Nat Geo interview, Honnold cited The Boulder Problem, a 17 move V7 slab boulder problem (pitch 22) as his biggest challenge.
https://www.instagram.com/p/BU7HGGaDS9c/
Climbing's Associate Editor James Lucas climbed Freerider with Honnold on May 19, two weeks before his free solo ascent. "Alex climbed well on the route. He seemed apprehensive about the less secure sections, namely the slab pitches on the Freeblast, The Boulder Problem of pitch 23, and the Enduro Corner pitches," Lucas said."Overall, he looked quite good on the route." Honnold told Nat Geo that, "There was no uncertainty on this. I knew exactly what to do the whole way. A lot of the handholds feel like old friends."
Tommy Caldwell, summed up the achievement for Nat Geo: "This is the 'moon landing' of free soloing." 
https://www.instagram.com/p/BU44kSQAfE8/
Related: