"In Normal Life, I Don't Catch Frogs": Alex Honnold Talks About New Climbing Film 'The Last Tepui'
The Last Tepui, a Disney+ film, streams tomorrow on Earth Day.
Photo: National Geographic/Renan Ozturk
Heading out the door? Read this article on the new Outside+ app available now on iOS devices for members! Download the app.
Spiders, snakes, toads, oh my! … And Alex Honnold.
The Last Tepui, a Disney+ Earth Day special from National Geographic, features Honnold alongside a team of elite climbers, including National Geographic explorer (and longtime Climbing contributor) Mark Synnott, as they explore the wild depths of the Amazon jungle. Their purpose: To assist legendary biologist Dr. Bruce Means in collecting and identifying new species on the sides of a tepui, or a stone plateau found in the Guyana Highlands of South America. After more than 30 trips to the region, and at 80 years old, Dr. Means finally collects specie samples where he's never gone before. 
"This expedition is the first expedition to attempt to look at the walls of tepuis to see whether there are unique flora and fauna growing on those walls," says Dr. Means in the film. "Hopefully, by assessing the species richness of the particular area, [my findings] may compel government leaders and the people of Guyana to want to conserve this fabulous, beautiful place."
The tepuis, often referred to as islands in the sky, rise hundreds to thousands of feet above the jungle. Cascading waterfalls shoot off the sides into a pool of clouds. Quartzite walls streaked orange and gray unfurl across the land in a rising swell. If you've seen the Disney Pixar film Up, you've seen the animated rendition of this paradisal phenomena.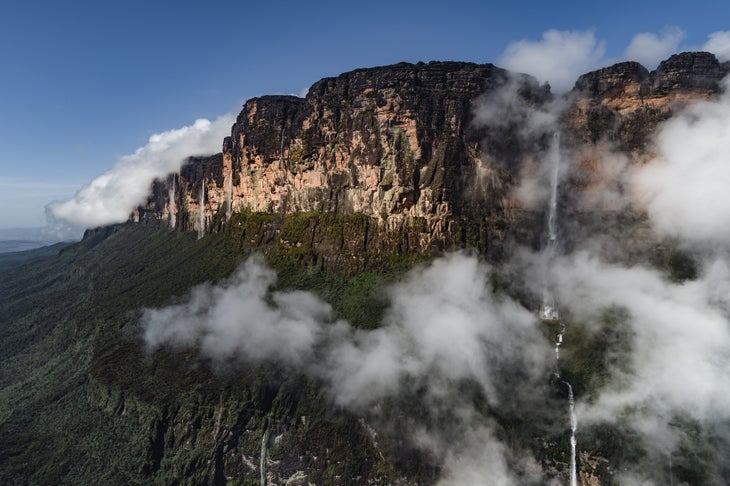 Dr. Means had been to the top of a tepui with Synnott in 2012. They flew to the Weiassipu tepui via helicopter, where they discovered a unique genus of frogs known as Stefania. At the time, he hadn't been able to collect DNA. Dr. Means not only wanted to find and then collect the Stefania, but also see if the tepuis truly do function as islands. Are species isolated atop them, or can they eventually migrate up and down the sheer walls?
This is where Honnold comes in, who would assist with establishing a route up the tepui, and then hauling Dr. Means up. Not included in the film, Honnold even soloed the new route. Climbing caught up with Honnold to hear more about the trip. Read the interview, which has been edited for length and clarity, below.
Stream The Last Tepui on Earth Day, Friday, April 22 on Disney+.
***
Climbing: This trip is certainly unusual for a climber. Why was doing it important?
Honnold: It was a great opportunity to go on a climbing expedition—to go to a place that I'd never climbed in and do an impressive objective. And then beyond that, to be able to contribute to Dr. Bruce's research. It's always nice to have sort of a win-win trip like that, where you get to go somewhere new and climb an impressive objective that you think looks inspiring, but then to also help somebody do something that's more meaningful. 
Climbing: Personally, I would be terrified to go into the jungle and encounter spiders, snakes, and such. Were you scared, and did you encounter anything gnarly?
Honnold: Yeah, we saw the Goliath birdeater spiders, which is a spider so big that it eats hummingbirds. I will say that that's all a lot less scary when you're with somebody like Dr. Bruce, because he just knows the flora and fauna so well that he can tell you, "This is dangerous, that isn't," and you see how comfortable he is with all the little creepy crawlies. So he's like letting these giant spiders crawl all over him. … You're kind of like, "All right, well if you feel comfortable, I feel comfortable." But I didn't actually let the birdeater spider touch me. I was like hell no.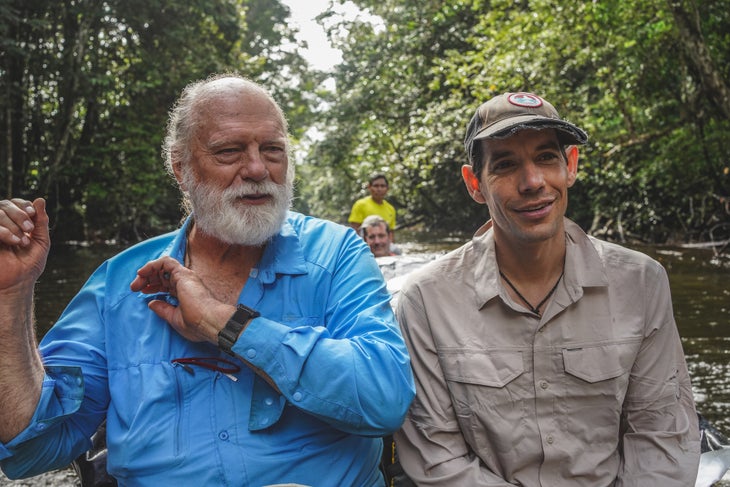 Climbing: What was your favorite part of the trip? 
Honnold: It's interesting, because it was kind of like a classic expedition, where as you're doing it, you're sort of wallowing in the mud and it's all somewhat difficult, somewhat uncomfortable, but now it's been a year since then. And my takeaways have more to do with the experiences with Bruce and learning about biodiversity. I finished all my books on the trip and I ended up reading a couple of the other folks' books. I read two books on the geology of the tepuis and the flora and fauna. And it really helped me appreciate just how many endemic species there are, and how unique the life is. And so now, a year later looking back, I'm like, what a crazy place to visit! What a cool experience. But while we were there, I was more focused on the climbing.
Climbing: How was the climbing? 
Honnold: The climbing was really good. It definitely lived up to the hype. I had a lot of friends talk about how the tepuis have such incredible rock and you know, "You have to go, you have to try it." It's really good climbing, relatively well-protected. Nice horizontal breaks every couple of meters that take great gear. And really solid quartzite. It's really hard, solid rock with interestingly shaped holds. It's kinda like Rocklands. Cool shapes and interesting grips.
Climbing: How hard was the line you did?
Honnold: I think what we did was a six- or seven-pitch 12b. Kind of big, long pitches. And actually, it's not in the show, but after we put up the new route, I soloed it later, as sort of a little personal thing, because you know, we spent quite a bit of time establishing the pitches, cleaning them and filming on them, chronicling the whole climb for the show. And then afterward I did it again by myself. The Venezuelan climber, Federico Pisano, he's done like 20 or 30 expeditions to different tepuis, and he said that a tepui had never been soloed. I thought it was a cool opportunity to do something that hasn't been done in climbing.
Climbing: What did you personally take away from the trip? 
Honnold: Well, I think our biggest takeaway was just realizing how big the gaps are in human knowledge. We weren't there that long, and we weren't working that hard at it, and Bruce still discovered potentially five or six species new to science. It's pretty incredible. I didn't realize that there was that much to be learned with that relative ease.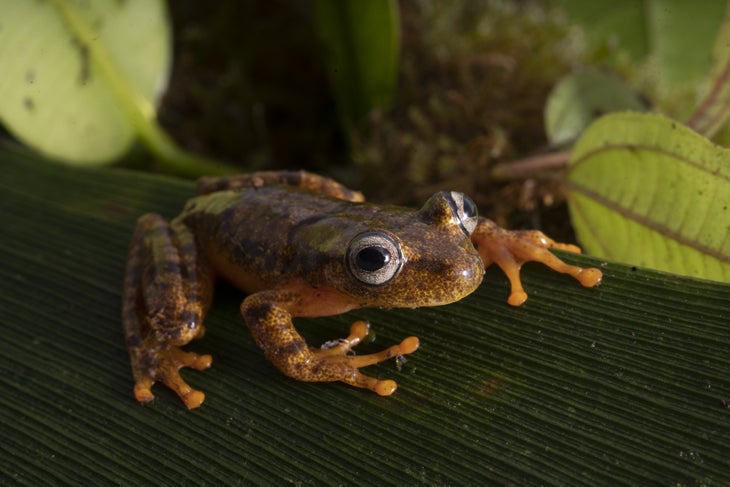 Climbing: Does that change the way you're looking at future expeditions? 
Honnold: Yeah, for sure. Like, why not bring somebody like Bruce on every trip? It basically made me appreciate how difficult it is for scientists to get funding for their various ideas and expeditions, and how relatively easy it is for sports adventurers to get funding for action sports. For example, Jimmy Chin shot a couple of tire commercials in Greenland with people base jumping off like giant mountains. And, it's easy to get funding for that kind of thing, but then it's hard for a climate scientist to get funding to spend a month in a base camp researching things that have actual significance—certainly more significant than a tire commercial. And a trip like this just makes you appreciate that. If you're going to any of these locations for climbing, you really may as well be bringing some expertise with you to actually learn about the area while you're there. 
Climbing: And so do you think you're going to do that moving forward? 
Honnold: Yeah, my only real big trip for this year is the trip to Greenland actually, through National Geographic as well. And it's also with climate scientists and sort of the same ideas as this tepui trip, where we'll be doing some learning along the way. 
Climbing: That's awesome. What do you hope viewers will take away from this and/or do after viewing? 
Honnold: I kind of hope the viewers gain a certain sense of humility around the natural world. Like a realization that we don't know that much about a lot of places on earth and that there's still a lot to learn and there's a lot that's worth protecting. Some of these areas are being destroyed before we even know anything about them. Ideally, we don't destroy them. And  ideally we learn about them a little more quickly as well.
Climbing: In total, how many days were you in the jungle?
Honnold: I think the trip was about a month. I think we did maybe 10 days hiking into the wall, which to me felt sort of insane. And then, another week getting back out. So roughly a month.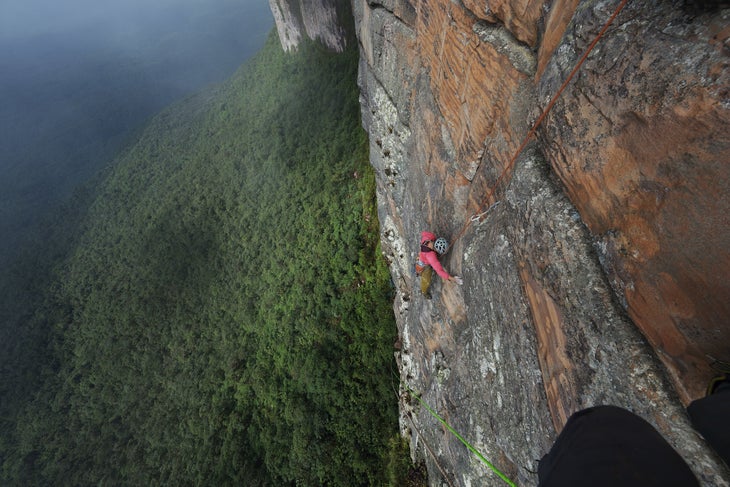 Climbing: And how many people were on the team with you? 
Honnold: I'm not even sure. We had the local folks [an Indigenous group called the Akawaio] helping us as porters. I think that the team that had come in from the U.S. was maybe 10 folks or so, with our doctor and Bruce and the camera crew and the climbing team. But then I think there was something like 80 local folks shuttling back and forth between different places. It's sort of interesting because going into the jungle like that, it's one of the few places on earth where you can't really be supported by fossil fuels. Basically it's all human powered—just people carrying loads back and forth. There's too much forest cover, you can't land a helicopter, and there are no roads, obviously. So you just have to walk in and out. 
Climbing: What was the summit of the tepui like? 
Honnold: It was cool. It's crazy, it's one of the most biodiverse, unique places on earth. The summit of the tepui has been isolated from the jungle below it and the other tepuis around it for so many millions of years that anything living on top of the tepui is unique to that tepui. So it's super interesting. The plants and animals are all insane. But it's also slightly anticlimactic in climbing terms because there's no "summit" summit. Like you're just on a big, broad plateau. And it was raining when we were up there, so you couldn't even see that far, and you're just in this infinite, vast expanse of jungle. It's just more very wet, watery plants as far as the eye can see it. And you're just like, "Oh geez, this is just more jungle."
Climbing: Can you explain the species collection process? 
Honnold: Yeah. Well, basically, you just look for different animals as much as possible. And then it was sort of up to Bruce to determine whether or not they were meaningful or not. He had to make snap judgements as to whether he would collect a specimen and take it back. You can't really know if it's a new species or not until he's actually done DNA analysis back in a lab, and he had finite resources for how many things he could pack up in formaldehyde or whatever he uses, preserve them, then take them home. So it was up to him to figure out which things seemed potentially significant. And it was often the local porters who were really good at finding things. In the mornings, there would often be eight or 10 guys lined up with bags with creepy crawlies in them. And they'd be like, "Here's a snake," "Here's a lizard," or whatever. It'd look like a menagerie or crazy bazaar or something, with all these critters and the people lined up with them being like, "Well, look at this one," "Look at that one." And he'd be like, "No, that one's just such and such. And then occasionally he'd see one and he'd be like, "Whoa! Don't know what that is, and we're taking it home!"
Climbing: How many samples did you end up bringing back to Dr. Means from the plateau and the wall itself? 
Honnold: I kind of forget. I think we only brought down from the summit some tadpoles and basically some bare minimum samples because it was very hard to find anything. 
I personally had no skill for actually grabbing creatures. And it's funny because it was one of the things where I was like, "Whose plan was this?" Because, you know, in normal life, it's not like I just catch frogs all the time.