Alex Lowe Died 22 Years Ago. His Son's Film, "Torn," Reckons With His Shadow
Alex Lowe's death on Shishapangma in 1999 created the void that his sons, wife, and best friend still inhabit. Now Lowe's oldest son, Max, has made an award-winning documentary about it.
Heading out the door? Read this article on the new Outside+ app available now on iOS devices for members! Download the app.
When Alex Lowe, one of America's most celebrated alpinists, died with fellow climber and cameraman David Bridges in an avalanche on Shishapangma in 1999, he left a wife and three kids behind. In the weeks and months following Lowe's death, his friend and climbing partner, Conrad Anker, who had narrowly survived the very avalanche in which Lowe disappeared, gradually stepped into Lowe's shoes, marrying his widow, Jennifer, adopting his sons, Max, Isaac, and Sam, and striving to strike that balance between family and climbing that Alex Lowe had, up to the day of his death, been struggling to achieve.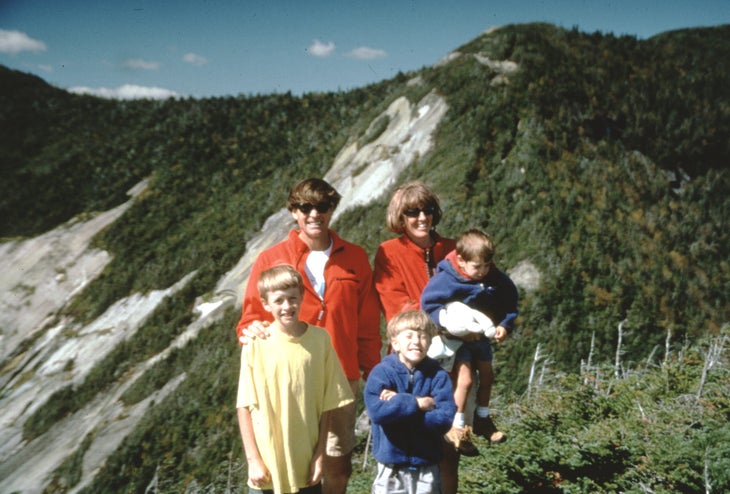 Directed by Alex Lowe's oldest son, Max, a new National Geographic documentary tells the story of Alex's absence. "Torn," which won Best Feature Film at the 2021 Banff Film Festival, is at once an homage to Alex Lowe—the climber, the father, the husband, and the friend—and a celebration of the family that survives him. It's a powerful meditation on what Conrad Anker calls "the value proposition of risk," yet it's also an honest portrait of how death in the mountains ends up defining the people who live on in that death's shadows.
Climbing caught up with Max Lowe and Conrad Anker to talk about the film, which will be released in select theaters on December 3, 2021, and will be streaming on National Geographic in 2022.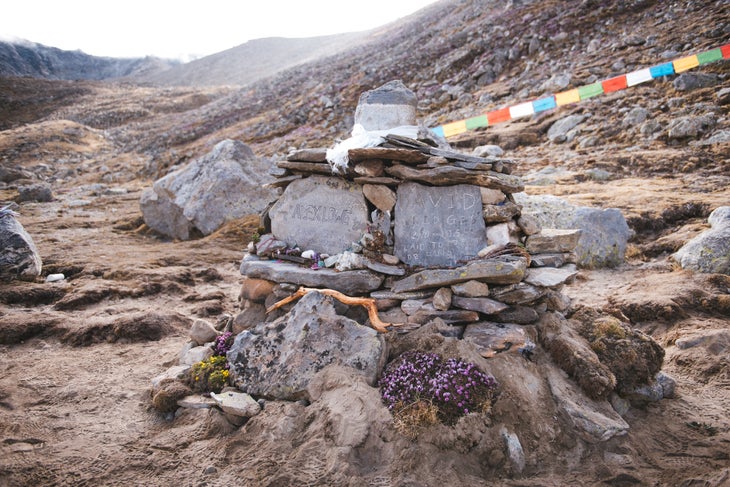 *
Climbing: Max, when did you first realize this was a story you were going to have to tell?
Lowe: I never really thought about making a feature film about our family until 2016, when Alex's body was first discovered. I had previously thought about making a film about Alex, mostly as an excuse to dive into the archive in my parents' basement, but it really wasn't until Alex's body was discovered and we decided to go back to Tibet as a family that I started to see the wider story. A friend suggested that we shoot [our trip to Tibet], even if we never ended up doing anything with the footage, so I asked my family if they'd be OK with that, and they agreed. It was on that trip, as we lived that experience, that I saw the story really come together.
Climbing: Conrad, what was your reaction when Max told you about making this movie? Were you excited about it? Nervous? Did you know it was coming? 
Anker: Our family had been approached to share this story by other filmmakers, but to have our own son do it—to have a film about us by us—that gives it a unique lens. Max's interviews with me and his mother reflect that. He was able to ask questions that an interviewer who wasn't close to us and our family wouldn't know to ask.
Climbing: Max, one of the film's greatest strengths is the intimacy that passes from one side of the camera to the other. There's a moment when you're interviewing your mother and she starts turning the questions back on you and then the cameraperson turns the camera away from her to you, sitting behind your own camera. The viewer has the sense, from the beginning, that the fourth wall was quite fluid in this film—but it's very much broken in that moment. Was that planned?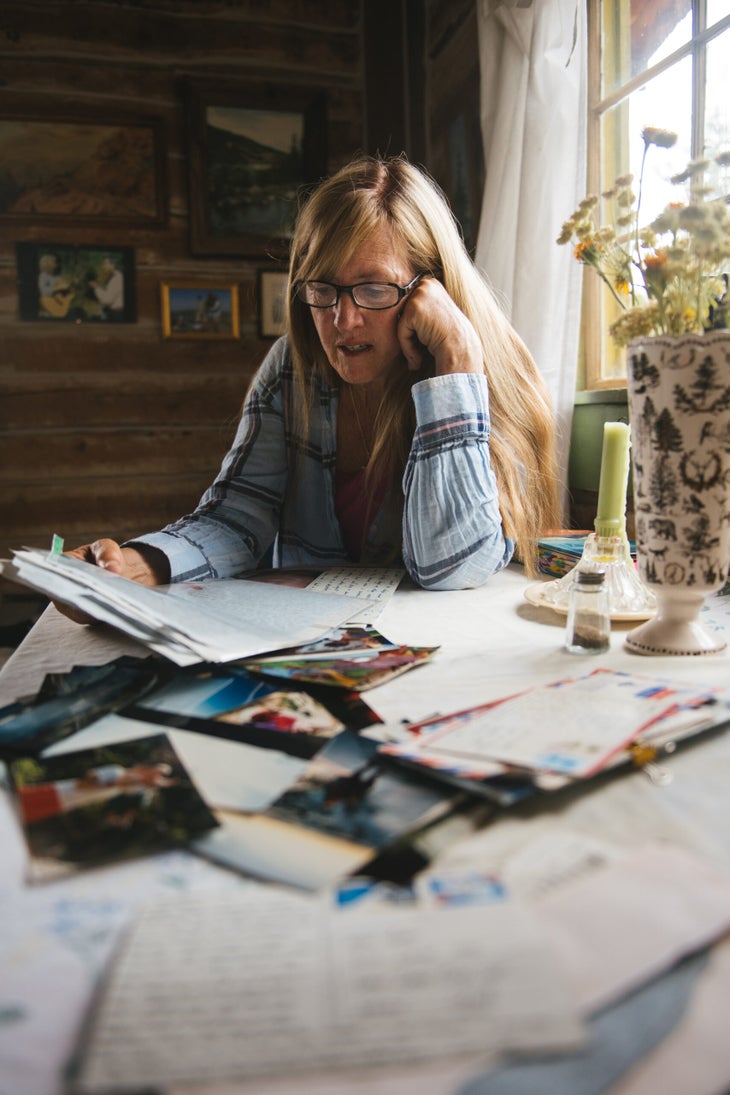 Lowe: As a filmmaker, I usually feel safest behind the lens. But we knew going into this that I was going to have to be a part of the story because I was the driving force behind it. I didn't want to sit for an interview, but I wanted people to see the story unfold through my eyes as I was discovering it—because for me this film really was a personal exploration of my family story and experiences with my family members. So, breaking the fourth wall was something we planned. I was inspired by films like "Stories We Tell" by Sarah Polley and "Minding the Gap" by Bing Liu—films about families by someone within the family.
Climbing: Conrad, did you and Jenny play a role in the film's creation process outside of your role as interview subjects? Did you wade through the archives along with Max? Or was this more Max's doing?
Anker: It was mostly Max's project, but there were collaborative parts. One of the moments that really helped define this film was when we found the video Alex made when he took the boys skiing. It was his first day with that video camera—and I remember that camera from expeditions—and he documented the experience all the way through, from breakfast to going up on the hill to riding back in the car. We weren't aware of that film until we went back and opened the boxes up. It wasn't the kind of thing sought after by sponsors or media organizations in the wake of his passing.
Climbing: What was going through the archive like for you, Max?
Max: It was a big part of my personal journey to get to know Alex better. Instead of watching these old films that had been cut together by filmmakers in the '90s, when he was alive, I got to sit down with this raw footage and walk through the outtakes—the moments that didn't fit inside stories that they were trying to tell back then—and see the man behind the myth. It was the same with the footage of Conrad.
Anker: To add to that, most of the sports marketing we do is selling adventure so we can in turn sell raincoats and sleeping bags. Most films are curated to sell—they're meant to wow you or inspire you. But looking at the raw footage—the footage that came from the '99 expedition that had never been looked at or edited—it's much more emotional. All of us in the outdoor world understand the value proposition of risk, and the intrinsic reward of going outdoors, and we accept that—but the downside of it is very difficult. That's where, for me, this film is vulnerable.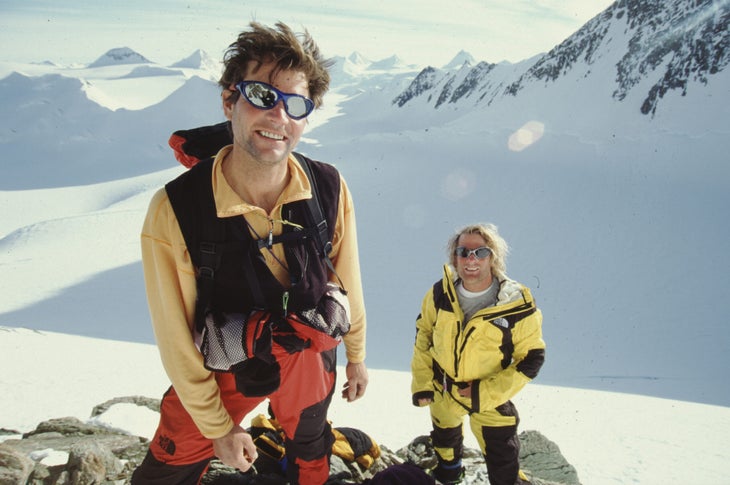 Climbing: What was the editing process like? You probably had to leave out a lot of gems. 
Lowe: It's a 90-minute film but we had several hundred hours of footage that we shot—plus all the archives. There's so much that was left out, including parts of the story that focus more on Conrad and his heart attack and his struggle, like Alex, to balance his family life and his climbing life. But the movie ended up being more about the love within the family—and where that can carry us.
Climbing: On that note: Alex clearly struggled to balance life in the mountains and life with his family, and I was wondering, Conrad, since you inherited that struggle in some ways, how do you manage it? Did the frequency and duration of your expeditions change at all?
Anker: After I joined the family? Yes. It definitely informed what trips I went on. But the day-to-day climbing practice—the stuff you need to do to stay good at the craft—are quite different from the expeditions. And the expeditions, as a professional athlete, have a storytelling component. Being a professional climber isn't like being a professional in a ball sport, where you're part of the team and there's an established venue for performance. Climbers have to come back from the mountains and share their stories to have currency as professionals—so there's also a self-promotion aspect to it. [And that kind of work is easier to juggle as a parent.] But Jenny and the boys—they were very welcoming in bringing me into the family. And my own parents, though they have now passed away, were married for 55 years—so I had a good foundation of parenting coming into it. 
I didn't foresee this. Alex and I had never talked about our own mortality, it was always "someone else." But when you find what you're best at in life, your life's passion, whether it's science or politics or art or athletics—whatever it is, I think you should strive to do that as best you can. And it just so happens to be mountain climbing for me, and for Alex.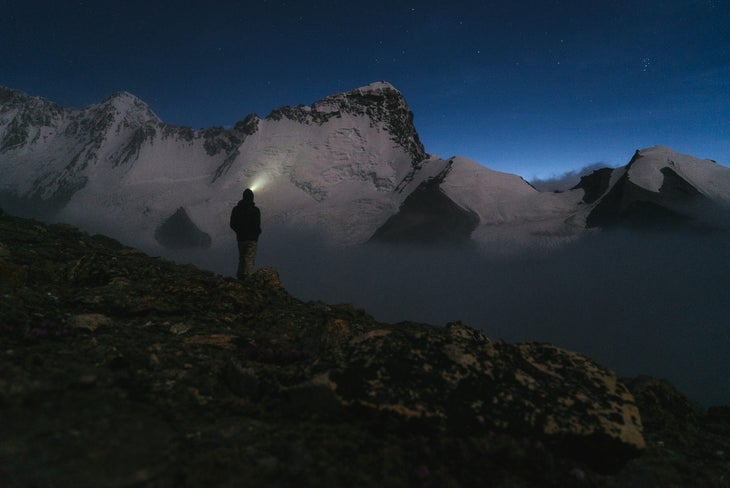 Climbing: Jenny describes you in the film as being "footloose and fancy free" in the late '90s. Was a family something you were thinking about before Alex's death?
Anker: I don't know. I was thirty-six when all that Alex died. So it's unclear whether I would have gone on to have children. But I was aware of over-population, and I didn't feel a real need to have my own offspring. Raising Max and his brothers, picking up where Alex left off—it's the greatest gift I've ever had.
Climbing: Max, one of the last things you did with Alex was climb the Grand Teton. As the child of someone who died in the mountains, do you climb much? And what do you think of that value proposition that Conrad was talking about: the rewards of the mountains versus the objective risks?
Lowe: While I was making this film, people constantly asked whether I resented Alex for going off and dying, for being selfish and going climbing instead of being with the family—but I don't think I ever have [resented him]. Alex was my hero growing up, and then Conrad came into our lives and filled that role. I love being in the mountains. I don't pursue climbing as much as Alex or Conrad have, in the professional sense, but we grew up in the mountains. I understand the power and I understand the draw. Making this film, in some ways, is me trying to understand that part of myself.
Anker: That's a common refrain though. People come to the question with their moral stances. They blame Jenny for marrying a climber and blame me for continuing to climb. What's interesting is that, for someone like a fireperson or a policeperson, there's duty involved, and there's this status around the duty. But when you engage in these risky behaviors by your own volition, where does that decision land with your loved ones?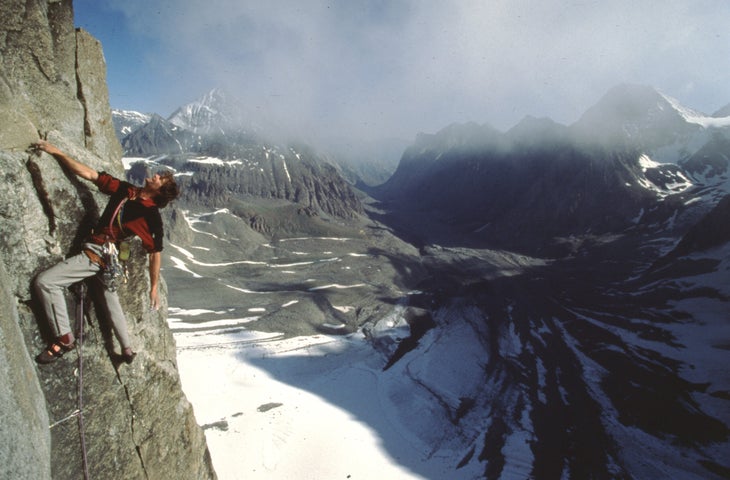 Lowe: It comes back to being able to balance a life. You need to be able to live selfishly for the thing that makes you whole, that makes you you—but you also have to live selflessly for the people who hold you up. That balance is something that everyone on the planet strives for in some way, shape, or form. We want to be there for our family, but we also feel the need to strive for something that makes us feel fulfilled.
Climbing: There's a common stereotype that climbing, as a dangerous sport, places an undue burden on climbers' families. Max, your film does a really good job of reminding us that loved ones, especially children, don't always opt into that bargain. If you're an adult and you marry a climber or are friends with a climber, you have a certain amount of agency over that relationship, and you also have the age and experience to address grief if it does have to come. But children don't have the same control, nor do they have the same tools with which to deal with it. What is it like to be a child in that situation?
Lowe: In the film, my mom mentions that I was more aware than my brothers were of the potential risks Alex was exposing himself to—but the reality is that I never expected that he would die. It's not even in your mind. So when he did—it just broke my world. In the film I'm described as being frozen in that moment—and I think that was in part because his body was never recovered. It was like this line just ended. I was ten years old, so I was old enough to understand what all of that meant but not old enough to know how to process it myself. I think that led into my having a longer and more drawn-out process of accepting Conrad as my dad.
Climbing: Your brothers seemed somewhat ambivalent about your decision to make this film. How do they feel now?
Lowe: I think they were worried about how deep we might go. I mean, there's parts of our family story that are not included in this film. We open up and share a lot of who we are, but in the end it's not a film about all of our deepest darkest inner selves. It's a little bit of that. I think Sam and Isaac had misgivings and doubts, as did my dad and mom, throughout the process. Because coming out of Tibet, I saw we all had these different perspectives on our relationships to Alex and his legacy, even eighteen years after his death, and I wanted to break that down so we could come together a little bit more on it.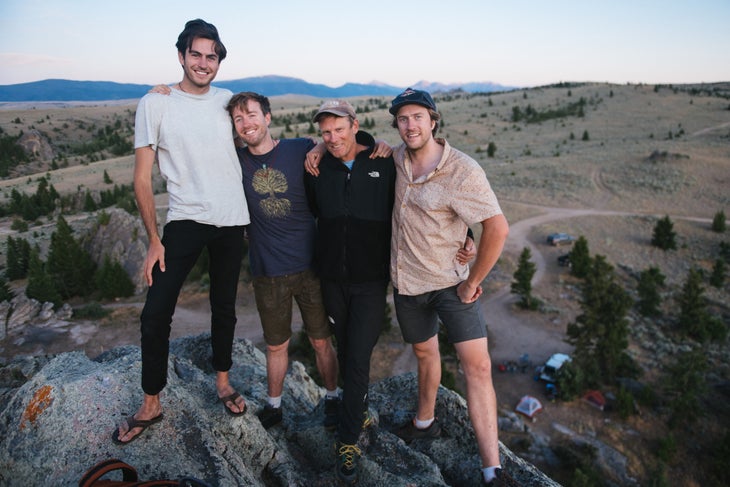 Climbing: What advice do you have for people—either documentary filmmakers, or memoirists, or autofictionists—who might want to tell personal family stories like this, but who don't have sole ownership of those stories?
Lowe: I think it takes a boldness, and a belief that it's going to be worth it in the end, even if it is daunting. For me, a big part of making this film was finding my own voice within our story. Up until I began making this film, the story of our family was a story that I largely viewed as being Alex's story as it related to me, being his son, and the story of my dad [Conrad] and my mom coming together. My mom even wrote a book about it. So I didn't feel like I had much ownership or control or voice in it. I think it can be hard to find value in your own voice—to believe that what you consider important actually is important.
As for advice, just be sensitive and open and respectful and invested. In all the storytelling I've done, I have always wanted to walk away with a better relationship with my subjects than before. Documentary film should be a collaborative process with your subjects. In the end, you're there with the camera and they're making the story happen with you. You also have to be vulnerable: It's the storyteller's instinct to insulate yourself from the stories you tell. But if you really want to make an impact—both on the people you're telling the stories with and the people you're telling the stories too—you have to put yourself into the story.
You can watch Torn in select theaters starting December 3, 2021.