A 12- and 52-year-old Team Send Pure Dreaming (5.14d) after 400 Combined Tries
Alfredo Webber bolted the line in 2017, never imagining he would rise to the challenge
Heading out the door? Read this article on the new Outside+ app available now on iOS devices for members! Download the app.
This article is free. Sign up with an Outside+ membership and you get unlimited access to thousands of stories and articles by world-class authors on climbing.com and rockandice.com, plus you'll enjoy a print subscription to Climbing and receive our annual coffee-table edition of Ascent. Outside+ members also receive other valuable benefits including a Gaia GPS Premium membership. Please join the Climbing team today.
The Italian climbers Alfredo Webber, 52, and Andrea Chelleris, 12, have climbed Pure Dreaming (9a/5.14d) near Arco, Italy. For Webber this was his second 5.14d and the end to a nearly four-year saga.
When Webber bolted the route in 2017 he had never climbed 5.14d—and wasn't certain he could. His full-time job in a quarry left only the weekends to train and properly rest for upcoming projects. And for a route like Pure Dreaming, Webber needed to become the fittest of his life.
The 100-foot pitch is steep and unrelenting. It shares the first five bolts of Reini's Vibes (8c/8c+ or 5.14b/c) to a no-hands kneebar. From there, 14 extremely powerful moves deposit you into the crux: a six-move boulder ending with a distant toss to a three-finger pocket. Hold the savage swing, latch the jug, and climb a 5.11 to the chains.
"When I bolted Pure Dreaming… I didn't think I would be able to climb this line; I did not even imagine I would have made almost 400 attempts spread over 3 and a half years of ups and downs, trashed fingers, desperate attempts at 35 degrees [Celsius], with the cold, with the rain, days when, logically, it would have been better to stay home," he told Andrea Gennari Daneri at Pareti Magazine. 
So how did Webber stay motivated after almost 400 attempts? "With passion and a willingness to sacrifice, if you so desire, you can do anything," he wrote to Climbing. "I also have a family who supports me, understanding that for me climbing goes beyond a simple sport and is instead a philosophy of life. It hasn't been that hard to stay motivated, as the older I get the more I self-motivate."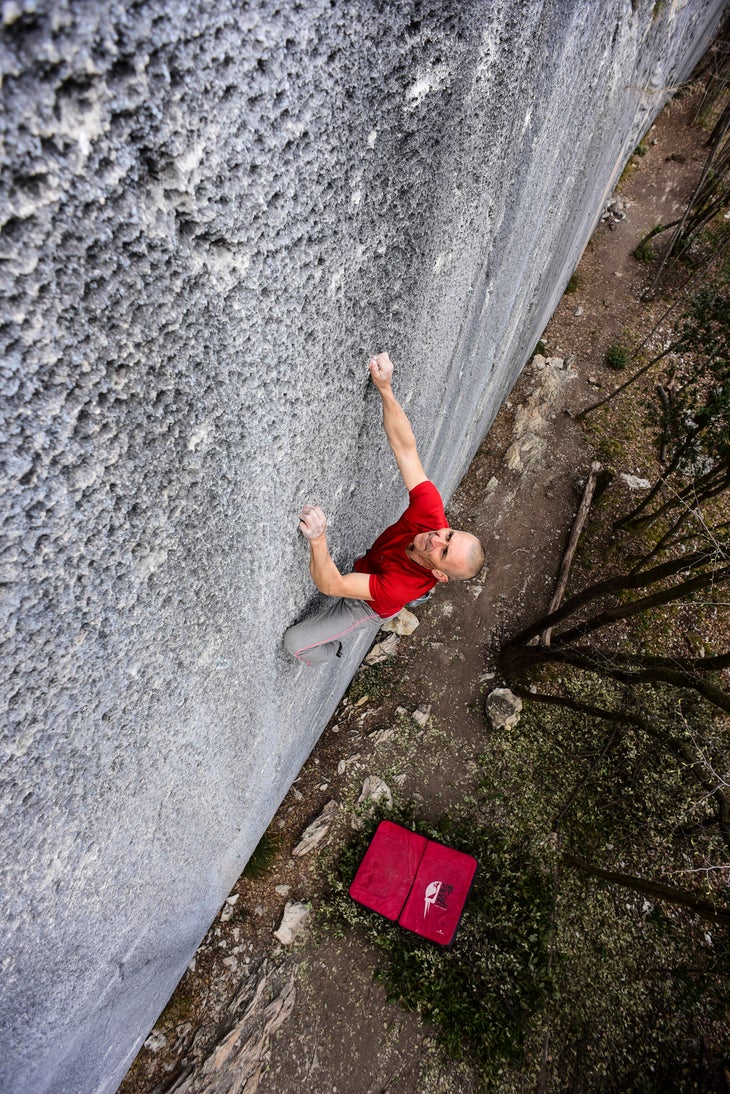 Webber worked Pure Dreaming alongside the 12-year-old climber Andrea Chelleris, who's 40 years his junior. Although Chelleris started climbing at just five years old, he is primarily a competitive ski racer. A busy winter on the slopes—training five days a week and claiming top spot at a national competition in March—led to a shift in focus towards training for climbing, and Chelleris ticked Pure Dreaming after 19 attempts.
When asked what it was like projecting alongside Webber, Chelleris wrote to Climbing, "It was great fun. Alfredo has a lot of determination and he provided me some resting tricks before the last crux." Chelleris notes that due to their drastic height differences, Pure Dreaming's crux went down with very different beta. 
Webber is considered a late bloomer in the hard sport climbing world. In October 2017, Webber, then 48, took down Thunder Ribes (9a/5.14d) at Massone in Arco, Italy for his first of the grade. "Sending 9a at my age, apart from being a dream, is such an impossible thought," he told Matteo Pavana of Planetmountain.com. "I grew up when 9a was a mystical grade; it seems like yesterday when I first saw the photo of Wolfgang Güllich climbing Action Directe. At the time those moves and those holds were simply superhuman."
"Sending 9a at my age, apart from being a dream, is such an impossible thought."
Earlier this year, in spring, Webber traded his quickdraws and rope for two bouldering pads to free-solo the thin, technical 50-foot Panem et Circenses (8c/5.14b) at Muro di Pizarra, a pitch bolted and first freed by Webber.
Webber's success stems from his inexhaustible work ethic. In 2017, he told Daneri at Pareti Magazine, "I'm close to 50 years old and now I work full-time in a quarry, five days a week, 8 hours a day. I wake up at 7 a.m., [have] breakfast, then [drive] 20 kilometers to the quarry. Back home at 6 p.m. Two days a week I have training on my wall at home. It's… basically long sequences, with intervals of some harder moves; then some hangs on crimps."
After Pure Dreaming, Webber was quick to shift attention away from himself, "Climbing is all about sharing the passion with others. I'm happy and proud of the routes I establish insofar as my "creations" make others happy. The ultimate tick of Pure Dreaming goes to Andrea Chelleris—this made me the happiest because to see such a young climber succeed would have been crazy-unthinkable back when I started climbing; it was like seeing the future happening in the present."