Legendary Alpinist Barry Blanchard Suffers Head Injury in Fall on Stairs
Heading out the door? Read this article on the new Outside+ app available now on iOS devices for members! Download the app.

The revered Canadian alpinist Barry Blanchard has suffered a serious head injury while on vacation in Saskatchewan, Canada. On August 8, Blanchard, 62, slipped on some stairs, hitting a concrete floor and sustaining skull fractures and brain bleeding. His guiding employer, Yamnuska Mountain Adventures, has set up a GoFundMe page to aid what is expected to be a long recovery process.
Blanchard's close friend Andy Arts, who has taken on a general communications role, shared news of the accident on Facebook on August 10, stating that Blanchard has sustained moderate brain trauma, with multiple small fractures. "None of the fractures have caused any displacement. He has multiple brain bleeds that are not growing or creating pressure." Arts has posted twice, in the first one stating that Blanchard would not require surgery.
"His recovery is going well, however, his injury needs to be put into perspective so people can adjust their expectations."
He cautioned concerned friends to prepare for a long recovery, and asked that they not try to contact Blanchard yet. Blanchard is recognizing his family members, Arts wrote.
He asked that Blanchard's immediate family are also given space to be with Barry at this time. When contacted by Climbing, Arts said he had nothing yet to add, while giving permission for the post to be quoted.
Blanchard is a central and beloved figure in North American alpinism, having guided in the Canadian Rockies for almost 40 years while establishing some of the world's most cutting-edge alpine climbs.
In Canada, Blanchard, David Cheesmond, and Tim Friesen cracked the code of the Andromeda Strain (V 5.9 A2 WI 4) in 1983 after four attempts, climbing steep terrain with poor protection and rock; with Cheesmond, Blanchard put up the massive, 4,500-foot North Pillar (VI 5.10 A2) of the North Twin, which has only seen one repeat in 36 years; and he, Scott Backes, and Steve House established  M-16 (VI WI 7+ A2; 3,000 feet) on Howse Peak. M-16 included the hardest pitch of climbing Blanchard had ever done or seen in the mountains.
Blanchard was also part of one of the most gripping tales of alpinism of our time: an attempt on the 15,000-foot Rupal Face of Nanga Parbat (26,660 feet) in 1988 with Mark Twight, Ward Robinson, and Kevin Doyle.
High on the face, an electrical storm surged and they began to retreat. The climbers rappelled down the avalanche-prone Merkyl Gully, where Blanchard pounded in a single ice screw for an anchor. All four men clipped in before an avalanche turned their world white—for half an hour. They continued their descent in a raging snow storm, alternating between down-climbing and rappelling. The next day, when they were still thousands of feet above basecamp, a miscommunication led to dropping their only ropes.
The four committed to down-climbing. After a thousand feet Robinson found a duffle bag left behind by a Japanese rescue party; it was filled with ropes, pitons, and food. 

Beyond his mountain successes, Blanchard is a stalwart in the climbing community. He is the co-founder of Mountain Muskox, an organization that supports those who have experienced critical incidents and trauma in the mountains.
He is also a part of the John Lauchlan Award committee, Canada's largest cash and alpinism mentorship award, which helps young alpinists fund their expedition dreams. Blanchard's mentorship, lively energy, and palpable respect for the mountains has inspired generations of climbers the world over.
"His storytelling is visceral, his resume unmatched, and those of us lucky enough to know him have been left inspired," said Brandon Pullan, a friend of Blanchard and the editor of Gripped magazine. "He's an absolute legend to young and old climbers alike, and there's no way to put into words just how much his community wants him back playing in the mountains, where he belongs."
He has long written about his climbs and attempts. In a widely read Nuptse feature in Rock and Ice No. 118, he wrote,
Glaciated golden granite crowned with iron-black rock and long crenelated ridges of firn and névé, the incredible south wall carves into the sky for four miles from the western summit of Nuptse (25,791 feet) to the main summit of Lhotse (27,890 feet). It is a staggering sight, even for a jaded old alpinist like me, and I have to sit on a rock to avoid the shame of falling to my knees.
In 2015, Blanchard received the Boardman Tasker Award for Mountain Literature for his memoir The Calling: A Life Rocked by Mountains.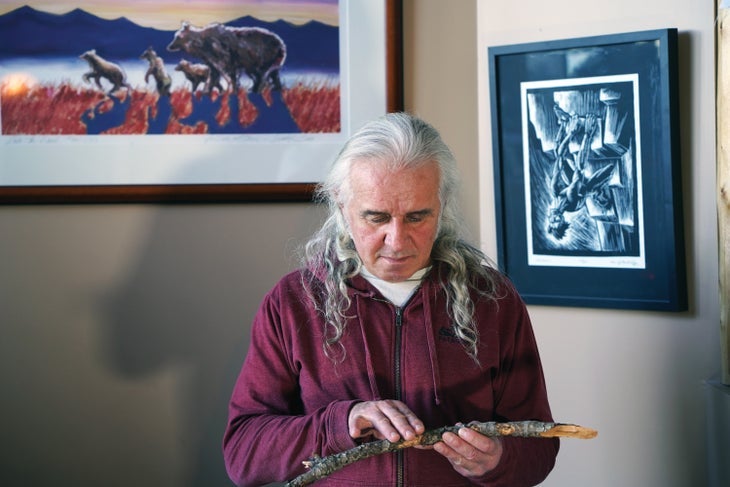 More recently, in Climbing No. 376, Blanchard recalled a shocking day in the mountains. While Blanchard was guiding in Lake Louise, Alberta, a 400-pound grizzly bear stalked him and his companion before chasing them up a tree.
Over the next five minutes, the bear moved even closer. His broad shoulders rolled, and I glimpsed the prominent hump of muscle between their blades. He was some 400 pounds. A bear like that could hurl hundred-pound boulders as he dug after marmots. The random fact jumped into my mind that grizzlies have a hinged jaw and a bite that often gets stuck on a human skull. A lot of the damage to humans occurs when the bear shakes us violently side to side, trying to free his teeth.

Také and I passed a branch in the trail, staying on the shortcut we'd taken on the way up. The bear stopped and glanced down the other branch, and I prayed, Please. Please let him just want to get around us. He swung his head back around, resumed walking, and picked up his pace, closing to twenty feet. Fear surged in me. We needed to climb a tree. Yet we were in the avalanche path below the Dog Leg Couloir on Mount Fairview, and the slide-tortured evergreens were all under five feet tall. Fuck. Then I saw my tree, just past the trim line of the avalanche path, tall and deep green with branches low to the ground.

"Také, undo your pack," I said, unbuckling my backpack to get ready.
---
As of midday today (August 12) the climbing community had rallied to donate $60,000 of a goal of $100,000.
To donate to Blanchard's GoFundMe page, please visit here.
This article is free. Sign up with a Climbing membership, now just $2 a month, and you get unlimited access to thousands of stories and articles by world-class authors on climbing.com and rockandice.com, plus you'll enjoy a print subscription to Climbing and receive our annual coffee-table edition of Ascent. Outside+ members also receive other valuable benefits including a Gaia GPS Premium membership. Please join the Climbing team today.