American Latok 1 Expedition
Heading out the door? Read this article on the new Outside+ app available now on iOS devices for members! Download the app.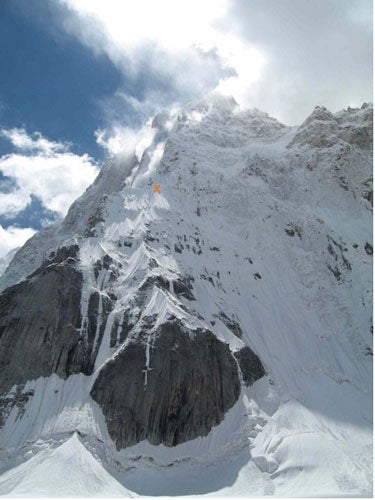 During our time waiting and watching we learned a lot about why the North Ridge has been such an unmerciful objective. As you can see from the below photo, even though the line is referred to as the "North Ridge," when actually climbing along the ridge your almost always operating on west-facing slopes (see Figure 2), most of which are relatively low-angle and collect snow. Generally speaking, poor weather in the Karakoram means a day of two of heavier precipitation, intermixed with longer periods of more benign "scuddy" weather. The "scuddy" days often entail clear skies during the late evening and morning hours, followed by afternoon cloud build-up and precipitation above 6000 meters.
On the west-facing "North Ridge" of Latok this means the conditions necessary for an alpine style ascent are rare. First you need a low snow year, so you won't be fighting huge snow mushrooms when forced off the west face and onto the ridge proper. Second, since clouds almost always sit on the peak during the afternoon, the North Ridge's west-facing slopes hardly ever get sun. This means the Ridge continues to accumulate snow even during periods of relatively good "scud" weather, creating dangerous avalanche conditions and deep snow that slows progress when trying to move quickly. Essentially you need the unlikely combination of a long period of very good weather (two days to clean the ridge and a minimum of four days to climb and descend), a low snow year, and relatively warm temperatures (often found during the poor monsoonal weather of July and August) to succeed in alpine style.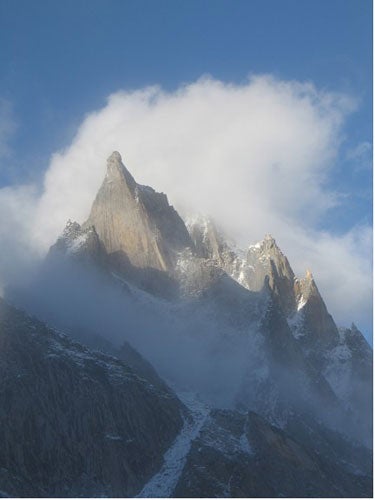 As Bean said the luck involved is a bit like playing slots in Vegas. "You could come for 15 days on the right year at the right time and send the thing, or you could come for 15 years and never get much past Basecamp."
During all of the poor weather we did manage to squeeze in a nice rock climb on an unclimbed spire near Basecamp (see photo below) on August 20. I named the peak the "Bean Pole" in honor of Bean's first trip to the top of a virgin summit. Although short, the climb was surprisingly difficult and steep, and we were lucky the snow held off until evening. The climb had six long pitches to an 18,500' summit, which we managed all free at 5.11+, apart from a short pendulum which I followed free on toprope at 5.12a. Not exactly a new route on the North side of Latok, but for this year it will have to do.
Bean and I are indebted to all of you who so generously offered support, gear, and encouragement for this trip. Special thanks to all those involved with Mugs Stump Award and Lyman Spitzer Grant. The money these grants provide continue to make my dream trips a reality, and I can't thank you all enough.