Anchor Replacement in Eldorado Canyon, Colorado
Heading out the door? Read this article on the new Outside+ app available now on iOS devices for members! Download the app.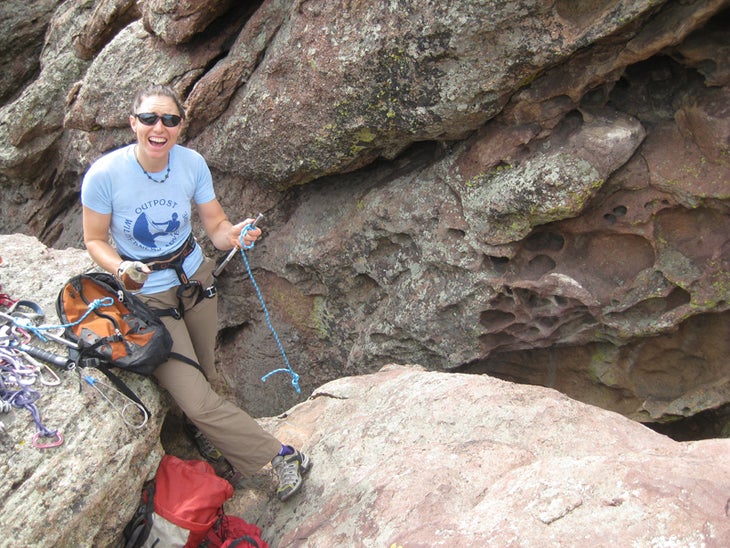 On Friday, July 31, 2009, I went with Madaleine Sorkin to help her finish up the bolt-replacement work on the vintage sport route Hairstyles and Attitudes (aka Space Invaders II), a Dan Michael and Roger Briggs 1980s classic on the top headwall of the Bastille, Eldorado Canyon. I've never had a chance to do the route, but Madaleine said it was her favorite sport route in Eldorado, which is why she'd "adopted" it for the bolt work. If you haven't seen the line, it climbs a flat, slightly overhanging panel of rock left of Outer Space, in a wild, exposed position that finishes a good 300 feet above the ground. This also makes it a bit of a pain to get to and for doing bolt work.
This was Madeleine's fourth trip up there for the ARI — she's gone above and beyond the call of volunteer duty in making sure Hairstyles got its upgrade. The first two trips, the drill I'd loaned her had dead packs; after seven years of drilling, I'm not too surprised. The third trip, I'd ordered new battery packs, and Madaleine was able to sink half-inch bolts (2.75" long) on the lower face, with its eight or nine bolts of climbing, as well as upgrade the top anchors.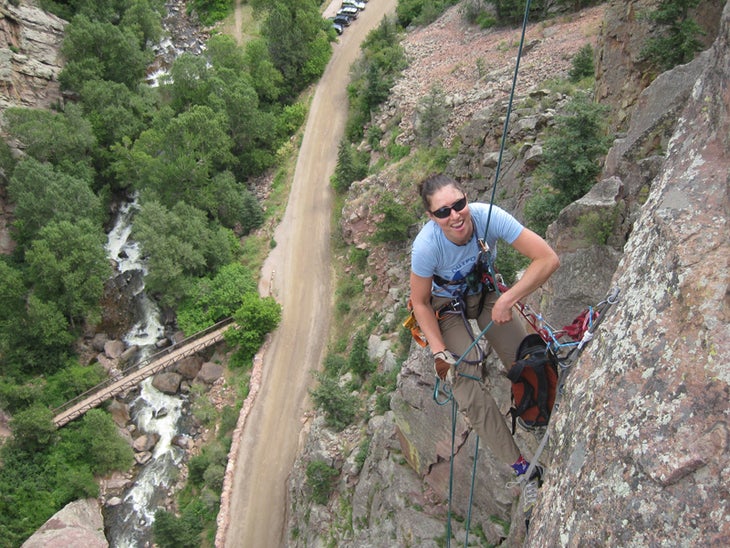 We walked the Fowler Trail out to the Bastille and scrambled up and over to the summit with heavy packs, hoping to find the yellow static line she'd stashed deep in a crack atop the route. Alas, someone had stolen it, so I rapped in on 100 feet of line I had to replace the top three bolts (where Hairstyles links into Space Invaders) while Madaleine went to the car for another rope. We'd started early in the day on a weekday (Friday) hoping to not have anyone under us, on the Bastille Crack, while we did the work, but more and more parties kept queuing up, so we called it after about three hours of work. We were able to remove the old anchor bolts and the top five bolts on the route, but will need to return with the park's assistance to block off the Bastille for a few hours, so we can get "caveman" on the old ring bolts without having to worry about dropping anything onto parties below. For now, the route is equipped in its entirety with good half-inch stainless-steel hardware. And for whoever took Madaleine's static line, I know she'd like it back — see the mountainproject.compage for more info.
MORE ARI UPDATES: